2019 European Championship for Friesian Dressage Horses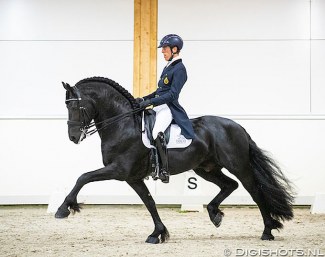 Belgian dressage riders ruled the roost at the 2019 European Championship for Friesian Dressage Horses, held at stud farm Bommelsteijn in Haskerhorne, The Netherlands, on 12 - 13 October 2019. Belgians Patricia Mannaerts and Marc-Peter Spahn became the winners of the small and big tour divisions.
The small tour championships included two rounds with the Prix St Georges and Kur to Music, while the big tour riders competed in the Grand Prix and the freestyle. The Kur finals were judges by C. van den Berg, Joyce Heuitink and Arie Hamoen. 
At small tour level Dutch Patricia Mannaerts and Jelle fan 'e San Ieren (by Beart 411) took the title. She scored 68.235% in the first round and 70.500% in the Intermediaire I Kur to Music. The reserve title went to Marsja Dijkman aboard the mare MGPNGP Geke fan 'e Beijemastate (by Beart 411). She earned 68.162% in the Prix St Georges and posted 69.458% in the Kur. Jeanet Dam and Gijsbert JD (by Tsjalke 397) landed third place with 67.059% and 68.167%. Dutch based Belgian Marc Peter Spahn rode the highest score in the Prix St Georges with Jeroen Pol (by Anders), but opted not to compete in the freestyle on Sunday.
In the big tour division it was a neck-to-neck race between last year's champion, Marc-Peter Spahn and Patricia Mannaerts. Eleven combinations in total came to Haskerhorne to compete at these European Championships. Spahn, who has been showing his Elias 494 (Jorn 430) at international Grand Prix level, took the title after placing second in the Grand Prix (69.95%) and winning the freestyle (74.792 %). Mannaerts and Doeke fan Beritsum (by Olgert 455) earned the silver. She won the Grand Prix with  70,109% and was second in the Kur with 71.458%. Third place went to German Angelika Brück on Rooske fan de Kromme Jelte. She 69,375% in the Kur.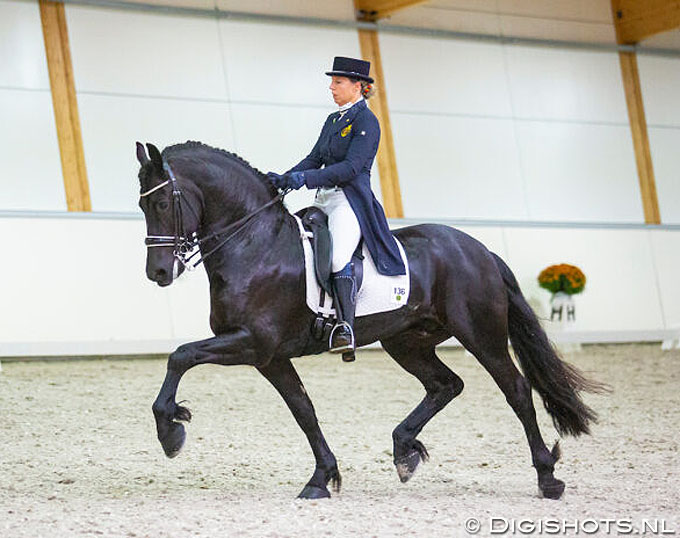 "It was a super thrilling competition," said a thrilled Spahn on Sunday afternoon. "Yesterday I left the arena and I thought I did that well.. it was exciting and I wanted to see what the competition would do with that,  but Patricia overtook me.. So tonight I twisted and turned a few times and was thinking, 'how shall I fix this today'. I started 100% focused and there were really nice bits in the test, there were still a few small mistakes here and there that need to be improved, but I'm super happy with how it went. And I'm super happy to be European Champion."
The Beringen based Mannaerts rung in on her successful weekend in the North of Holland. "I would like to thank everyone who supported me the last days. It was a roller coaster and I haven't been able to thank everyone," she took to Facebook. "For me, the highlight of the weekend was Doeke's victory in the Grand Prix on Saturday!  Now we can end this chapter positive and move on to the national and international FEI competitions! Doeke only gets better!"
Young Horse Power
The 2019 European Friesian Champion also included classes for 4, 5 and 6-year old youngsters. 
Dutch Susan Bouwman Wind steered Yme Ids Galloper (by Hessel 480) to victory in the 4-year old division. The warm up and qualification round both counted towards the championship and Bouwman had built up an advantage in round one with 72.955 points, which led to the top step on the podium on an average of 70.834, after she placed third in the finals with 68.712 points. Thea Dijkstra and Willem van Autofarm (by Michiel 442) was the reserve champion with 72.386 and 68.636 points, which averaged 70.511 points.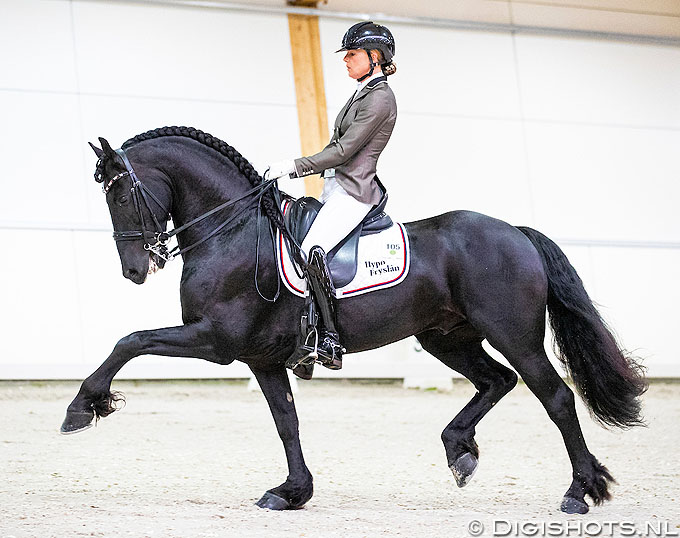 In the 5-year old division Isabelle Vroomans and the mare Vajen T Horsea (by Tymon 456) topped the board with an average score of 73.353 points (73.75 and 72.955 points), well ahead of runner up Leonie Evink on Ulbe 506 (by Anders 421). They posted 72.955 and 66.667 points to average 69.811 points. 
Vroomans also captured the title in the 6-year old division, on another mare, Rensje Carmen fan de Visscherwei (by Tsjalke 397). the duo won the first round with 70.114 points and was fourth in the finals with 66.97, but their average of 68.542 points gave them the title. The reserve champion was Leonie Evink on Sven B (by Wimer 461) with 68.75 and 67.424 points (average 68.087 pts).
In the 7-year old class at M-level there were only three pairs. Harmina Holwerda and MGPNGP Mario van Bokkum (by Jasper 366) topped the board twice with 70.455 and 69.318 to average a winning 69.887 points. They renewed the title as they were the 6-year old champions in 2018. Harmina also captured second place on Stal de Merkens Marten (by Dries 421) with 68.523 and 68.03 points (average 68.277 pts).
Photos © Digishots
Related Links
Fairfax Saddles Launches New Dressage Saddle, the Fairfax Elias
Wilke C van de Wijdewormer Passed Away
Janine Little and Friesian Mare Ebony's Successes Diversify Wellington's CDI Ring
Jessica Suss' Friesian Zorro Passed Away
Jeremy Janjic's Django of Cacharel Retired from Sport
Chere Burger's Sponsor Buys Maurits van Nassau and Handsome
Marc Peter Spahn Sells Friesian Cas to South Africa
Nero, the White Mystery Friesian at Equitana 2007
Fighting Windmills, Friesian-Style