Germany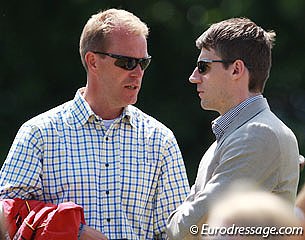 A group of parents of German youth riders have signed a letter in support of Olivier Oelrich, who resigned from his position as German Assistant Youth Team Trainer with the DOKR on 15 January 2020. 
Sudden Resignation
Oelrich's contract was supposed to run through 2020, but the German Olympic Equestrian Federation (DOKR) had communicated to Oelrich that it would not extended the contract beyond the end date. Because the federation did not provide any proper explanation for this decision making in two meetings, Oelrich decided to resign effective immediately. 
Oelrich told Eurodressage that the closest to an explanation he got was: "personal communicative difficulties with individuals from the senior division." 
When the news came out on Eurodressage on 15 January (immediately followed up by a press release from the DOKR/FN), youth riders and fellow trainers united behind Oelrich on social media with the hashtag #TeamOlli. 
The official explanation in the FN press release was that "we are readjusting our Trainers system for dressage after 2020."
Parents Behind Oelrich
Several parents have now co-authored a letter and sent it to the board of directors at the German Equestrian Federation on 17 January 2020 in support of coach Oelrich, praising Oelrich's influence on the character building of their children. They also ask for clarification on the "realingment
"Out of fear for repercussions against certain riders," the parents have chosen to remain anonymous. Both Eurodressage and German equestrian magazine St. Georg received this letter, written in German, in confidence. St. Georg has published it verbatim.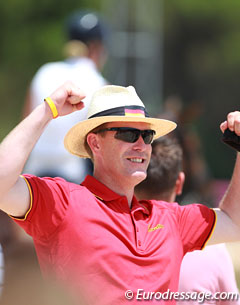 Excerpts from the letter read:
Equestrian sport and the ethical standards inherent in dealing with horses seemed to us all a good compass for adolescents. A competitive sport, in which both the equine partner and the person in the environment have to be taken into consideration, builds character. This is one of the reasons why we enable our children to practice dressage in a time-consuming and costly way.
Last week this compass seemed to have lost its guiding needle. A trainer, who is highly valued by all of us because of his exceptional professional and human skills and his unique commitment, has resigned.
The parents question the "readjusting of the Trainers System" for which no further explanation has been given. In their letter they say:
What this new direction entails remains completely open and, in addition to uncertainty, it also spreads a deep unease. A readjustment always makes sense when things are not going the way you want them to. At no time was this recognizable to us, our children and the general public.
Isn't it the duty of an federation, to which we entrust our children, to formulate motives openly and clearly and thereby build trust and reliability? Certainly, it is not one of the tasks of a sports federation to remain guilty of answers to the athletes and their parents who have been left disoriented in this matter. And that combined with a "request" to no longer comment on Causa Oelrich. We are deeply disturbed by both the conjuring up of the coaching crisis and the crisis management of the DOKR.
We remain with the immediate request to the Presidium of the German Equestrian Federation to give answers here and to rebuild the lost trust.
Related Link
Oliver Oelrich and DOKR Part Ways. No Longer German Assistant Youth Team Trainer