Hit & Run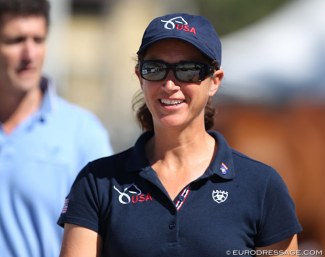 In corona times we are all ordered to stay at home, self quarantine, and do social distancing. With more time on your hands to spend online, Eurodressage launches a "Hit & Run" interview series so that you get to know the world's most famous dressage riders and personalities more closely. 
American Grand Prix rider Catherine Haddad has lived in Germany for 20 years, training with the late Willi Schultheis, Rudolf Zeilinger and Morten Thomsen, before returning to the U.S.A in 2012. Her career making Grand Prix horse was Maximus JSS with whom she competed at the 2007 World Cup Finals. In 2011 she returned to the World Cup Finals on Winyamaro. She represented the U.S.A. in the Nations Cups of Wellington, Aachen, Falsterbo, Rotterdam, and Mondorf les Bains. She has earned her gold medal from both the U.S. Dressage Federation and the German Federation. She is married to veterinarian Greg Staller and splits her time between  New Jersey and Florida.
Hit & Run - Catherine Haddad Staller
What is your earliest memory? 
A pony ride when I was three years old. I remember the feel of the leather on my seat. I was born into a non-horsey family but hooked for life!
Which person alive do you admire the most and why?
I admire so many it's hard to choose. Ruth Bader Ginsberg for her perseverance, courage and wisdom. Isabell Werth for her Mastery and her tenacity. My mother for her independence and kindness.
When were you the happiest?
This morning. Talking to my dog. It's the little things….
What is your biggest fear?
Caterpillers, tomato worms in particular
What was your first thought today?
"Should I make blueberry pancakes for breakfast?"
What is your most annoying character trait?
Honesty
Which trait do you dislike the most in other people?
Meanness
What is your dearest possession?
My Stübben. It will be buried with me.
If you look into the future, what do you see?
Lots of happy horses. A complete re-vamping of the political landscape in the USA.
What makes you unhappy?
Bad shoeing
What is the love of your life?
Piaffe
What was the best choice you ever took in life?
I moved to Germany in 1993 to learn from Willi Schultheis. I stayed 20 years.
What's your guilty pleasure?
Streaming…. Aarrrggghh
What do you owe your parents?
I owe my confidence to them. I had a wonderful childhood. They made me believe in myself so much that I reached for the stars. My father has been gone a long time. I try my best to take care of my mom. But she is healthy and stubborn at 83 years old, so I have to be sneaky about it.
Who can sit next to you at your dream dinner table?
My husband of course. Just in case he is not available, Elon Musk.
What was the worst job you ever did?
I have never taken a job I didn't like. For me, "yes" has to be "oh yes" or it's a "no".
What was your biggest disappointment in life?
Failure to get a horse into the FEI Top Ten thus far. But I am developing a new horse…
What would you change if you can go back into the past?
? I would have kept Willi Schultheis around for a few more years.
Name one thing that would improve your quality of life?
Time to think about my riding and improve my approach to training. This lockdown has been wonderful for me!
What is your biggest achievement?
Competing Semper Fidelis at international Grand Prix. She was a complicated project, but oh so worth it!
What is the most important life lesson you have learnt?
All of us see in others what we know in ourselves.
Where would you like to be right now? 
Doing stand up at a NYC Comedy Club. Alternatively, showing in Aachen.
What's your favourite scent?
Lavender
Which character would you dress up in for Halloween?
Marilyn Monroe. Blond wigs can be fun.
To whom would you like to say sorry?
Semper Fidelis.
What does love feel like for you?
Deep breathing, total connection.
When are you most relaxed?
When I am sitting on a horse. It doesn't really matter where I am or what I am doing.
What super power would you like to have?
The power to heal broken minds and hearts. I don't like to watch anyone suffer.
When did you last cry, and why?
In recent years, I have cried for my country many, many times.
When were you closest to death?
May 1, 2018
How do you want to be remembered?
As a rider of extraordinary feel who could teach a chair to piaffe. Alternatively, for my gnarly sense of humor and practical jokes…
Related Links
Catherine Haddad, in Love with Life
Catherine Haddad and Semper Fidelis Catch the Attention of the U.S. WEG Team Selectors
Catherine Haddad's Maximus Retired
Catherine Haddad's Hotmail Sold to Helgstrand
Haddad Earns Trip to 2011 World Cup Dressage Final
Haddad to Represent the U.S.A at the 2009 CDIO Aachen
Favourite of the Public, Catherine Haddad, Wins "Coup de Coeur" at 2008 CDI Lyon