Danish Warmblood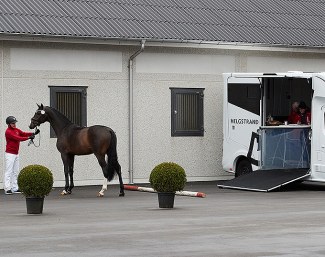 The statement of Jan Pedersen, chair of the Danish warmblood society, about making no exceptions for bigger stallion stations in the licensing process, spurred much debate in the Danish and German breeding world.
Pedersen's statement, published on Ridehesten and a translation in English here on Eurodressage, set Facebook ablaze and resulted in Ridehesten pulling the post off social media. In response to Pedersen's open letter, Helgstrand and the Oldenburg Breed society issued statements on 15 April.
"No Stallion Station Sets the Agenda for Danish Warmblood"
In a long letter Pedersen explained the position of the Danish warmblood society and revealed that it felt pressured into making exceptions to the standard licensing process (licensing AND mandatory 10-day observation test) by Helgstrand Dressage due to the EHV-1 outbreak.
After a consultation round with all stallion owners, DWB decided to go ahead with the 10-day observation test, while Helgstrand chose not to send any of its 12 newly licensed 3-year old stallions to the observation test. This means that they are not allowed to breed this 2021 season for DWB. (editor's note: all 12 are German bred and registered, as well as purchased in Germany).
Pedersen reprimanded the boycott tactic Esben Møller applied to pressure the breed society. In addition, Helgstrand sent out a newsletter to its breeders, offering a special rebate to Danish breeders to register their foals, sired by their untested 3-year olds, with the German Oldenburg Verband.
Pedersen stated that by allowing exceptions for bigger stallion stations, the breed society "would make a laughing stock of the stallion keepers who follow the rules of the game." He added, "it is not sustainable that a stallion station, no matter how big it is, sets the agenda for Danish Warmblood."
Helgstrand Reacts
On 15 April, Helgstrand posted a reaction on its website to Pedersen's statement:
The last 10 years, Helgstrand Dressage has had a goal to promote and improve the breeding within Danish Warmblood through purchasing of horses, sales of DW horses, export of DW horses and thereby broaden the awareness about DW over the whole globe.
We therefore wonder about the accusations about wanting to set the agenda within DW. Jan Pedersen directly accuses us of wanting to boycott and wanting to be in charge of the 10-day test, through threats.
With this statement from chairman Jan Pedersen, we would like to provide everyone with our perception as well, as we cannot accept the wording. We are not happy with the fact that we, and especially Esben Möller, are put in bad standing with our breeders, and are recognized as people who force a decision and an opinion.
As of the first day, when it was announced that the licensing process of 2021 would be different than other years, we have been in dialogue with DW. We have talked to all parties about the consequences of postponements and changes in the whole process. Everyone knows that Helgstrand Dressage is a business of international character and we have a close collaboration with international stallion stations, including Paul Schockemöhle, and therefore our basis of decision related to which horses, that will stay at the stallion station here or abroad, is depending on the demand from various breeding federations.
Already as COVID-19 led to a delay of the 10-day test, we shared our opinion about the potential process of the 10-day test. As then also EHV-1 started rummaging and both DRF and FEI stated that it was not reasonable to put horses together from different stables, it was an obvious case for us to have an open dialogue with our foreign partners and DW about this fact.
Andreas Helgstrand has in the week towards the inspection, several times been in dialogue with Jan Pedersen, where he stated that we considered to stay home from the 10-day test, since both Paul Schockemöhle, Ludger Beerbaum and all German federations made it clear, that they did not want to expose the horses to such a risk, and he thereby expressed his deep concerns about completing the 10-day test.
18th of March, Jan Pedersen is by Esben Møller informed that FN Zucht (the federation that controls all German breeding federations), will host a meeting about the potential cancellations of the German demand for the 14-day test within this year – this as a request by several German breeding federations- related to the EHV-1. With this knowledge, Jan Pedersen told Esben Møller that DW is a small player in this game, however it is possible that they should follow this decision as well, since an opinion from DW cannot be drawn out internationally. However, Jan Pedersen said that he would approach Dr. Klaus Miesner from FN Zucht and get back to Esben Møller with a reply. This never happened. We therefore distance ourselves from the statement from Jan Pedersen, that Esben Møller reportedly should have threatened with a boycott.
In the weekend before the test, Andreas Helgstrand informs Jan Pedersen, that Helgstrand would not participate in the 10-day test. They discussed the consequences related to the 3-year-old stallions. Jan Pedersen expressed that it could be a possible solution, to register the foals, if the stallions take part in a 35-day test later this year, with a minimum score of 800 points. If DW would offer the dispensation. This declaration from Jan Pedersen was obviously no guarantee. Since Helgstrand Dressage is a business, we would like to inform our customers about the possibilities we can offer, if they want to use one of the 3-year-old stallions.
Another opportunity, that also occurred last year, is that the breeders have their mares/offspring licensed in a German federation and that way can use a stallion from Germany, if it is approved in the specific breeding federation.
Andreas Helgstrand has informed and harmonized with Jan Pedersen, what we will inform our breeders.
It can be no surprise for DW, however choosing to accuse Helgstrand indirectly, that they want to draw members from DW, is outrageous.
Helgstrand Dressage has completely by ourselves, decided to not participate in the 10-days test of 2021. The decision was made based on a health and business-related matter. It is perhaps worth noticing, that we have approximately 600 horses stabled at Helgstrand Dressage, and the consequences of getting a potential EHV-1 in, would be such a disaster, hence our decision was made. Our various stakeholders trust us in taking the right decisions. 
Considering the fact, that in the very same week as the 10-days test, an outbreak of the EHV-1 was found not far away from Tørring and that DRF closed all show activities, we are very certain that we made the right decision.
With this said, we do not allude to the fact that others, who took part of the 10-day test, acted irresponsibly. It is more a question about, whether they had the alternatives, as we had.
As a final note related to possibly participating in the 10-day test, that started 13th of April, we would like to inform the breeders, that a consequence was, that the stallions in Germany would be out of the covering program for 6 weeks, as a new EU regulation per 21 April imposes strict regulations related to transport of horses across EU borders. DW should be well informed in this regard. Therefore, we see no opportunity and no benefit for the breeders nor Helgstrand.
We therefore hope that we have demonstrated our acumen in our decision-making processes related to not participating in the DW 10-days test. We have no intentions to harm DW, quite the contrary, we would like to develop the activities together with breeders and DW.
We have no intentions deciding anything else but the things that are related to our own business.
Editor's note: Helgstrand's 600 horses are spread out over five farms in three different countries: Helgstrand Dressage at Møgelmosegaard in Vodskov, DK (approx 140 horses), Helgstrand Academy in Uggerhalne, DK (approx 170), Helgstrand Youngsters at Ny Ravnstrup in Hjallerup, DK (approx 150), Helgstrand Germany in Syke, DE (45) and Helgstrand USA in Wellington, FL (52). 
Oldenburg Verband Replies
In the newsletter that Helgstrand sent to its breeders, it offers a special rebate through a deal it struck with the German Oldenburg Verband.
Lene Birkmose, Helgstrand's breeding manager, wrote in the newsletter: "We have worked on a solution for our breeders, who want to use our stallions. In collaboration with the Oldenburg Verband we can offer membership, mare inspection, registration of the foal, and issuance of a passport for the favourable price of 400 euro instead of the normal price of 680 euro.
Tobias Hemken, press officer for the German Oldenburg society, told Eurodressage that, "we don't have a special 'Action' like this."
On 15 April, the Oldenburg Verband published this statement on their website, in German: 
Oldenburg Is There for All Breeders
The Oldenburg Horse Breeding Association is there for all breeders and friends. Whatever third parties may announce, all members are equally welcome at the Oldenburg Horse Center Vechta and also those who want to become member. Any other messages are wrong.
It is correct: naturally the Oldenburg Horse Breeding Association does not give preference to individual groups of breeders. The Board Members attach great importance to the strict adherence to the principle of equality.
Year after year, the Oldenburg Association offers various offers and specials for members and new breeders. All breeders and newcomers from all nations are very welcome.
Related Links
Danish Warmblood Society Puts Foot Down: No Exceptions, Not Even for Big Stations
Eight Colts Pass 2021 Danish 10-Day Stallion Observation Test
Six Stallions Named Premium on Home Tour for 2021 Danish Warmblood Stallion Licensing
Helgstrand Forced to Close Danish Stallion Station for 10 Days after Blood Sample Swap