2021 Bundeschampionate Qualifier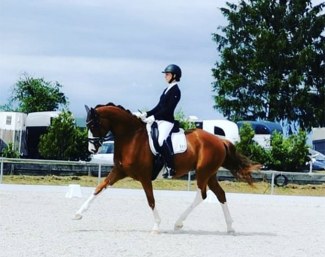 The 5-year old Quick Decision and the 6-year old Diallo became the winners of the Bundeschampionate qualification classes at the regional show at the Fröhnerhof equestrian centre in Mehlingen on 12 June 2021. 
5-YO: Quick Decision 
Just seven pairs competed in the 5-year old class, which was won by Roxana Mohr aboard Martin Schaudt's Hanoverian gelding Quick Decision (by Quaterhall x Rotspon). The duo scored 8 for walk, 9 for trot and canter, 7.5 for submission and 8.5 for general impression to finish first on a winning 8.4 points. Claudia Rassmann and Margerete rauer's Hanoverian mare Tiffany (by Talisman x Rotspon) were the runners-up with 8.3 points. The black mare got 8.5 for walk and trot, 8 for canter and submission and 8.5 for general impression. 
6-YO: Diallo
Roxana Mohr also won the 6-year old division with Martin Schaudt's Hanoverian gelding Diallo (by Dancier x Floriscount). The bay gelding got 8 for walk, 8.5 for trot, 9 for canter, 8.5 for submission and 9 for general impression to total 8.6 points.
Hungarian Mate Garai rode Silke Pelzer's Oldenburg mare Second Sister vom Rosencarree (by Sandro Hit x Royal Diamond) to a second place with 8.0. He tied with Claudia Rassmann on Kim Gläss' Hanoverian gelding Quedez (by Quantensprung x Sirtake).
Results - 2021 Bundeschampionate Qualifier - Fröhnerhof
5-year olds
1 Quick Decision (by Quaterhall / Rotspon) - Mohr,Roxana - 9.00 8.00 9.00 7.50 8.50 --- 8.40
2 Tiffany (by Talisman / Foundation) - Rassmann,Claudia  - 8.50 8.50 8.00 8.00 8.50 --- 8.30
3 Burberry (by Buckingham / Laureus) - Skarsoe,Fie  - 8.50 6.50 8.00 7.50 8.00 --- 7.70
4 Filandro (by Finest / Rotspon) - Kihm,Mariusz  -  7.50 7.50 7.50 7.00 7.50 --- 7.40
5 Secco Noir (by Sir Donnerhal) - Kruft,Julia  - 7.50 7.00 7.50 7.00 7.50 --- 7.30
6 Don Ninju CM (by Don Nobless / Weltregent H) - Greiffenegger,Nina - 7.00 6.50 6.50 6.00 6.50 --- 6.50
Vilanculo (by Veneno / Rohdiamant) - Frast,Lexie - RET
6-year olds
1 Diallo (by Dancier / Floriscount) - Mohr,Roxana - 8.50 8.00 9.00 8.50 9.00 ---- 8.60
2 Second Sister vom Rosencarree (by Sandro Hit / Royal Diamond) - Garai,Mate  - 8.50 8.00 8.00 7.50 8.00 --- 8.00
2 Quedez (by Quantensprung / Sirtaki) - Rassmann,Claudia  - 8.00 8.50 8.00 7.50 8.00 --- 8.00 
4 Barney (by Bordeaux (NLD) / Dancier) - Helmling,Bianca  - 7.50 7.00 7.50 7.50 7.50 --- 7.40
4 Fürst Lauries (by Fürstenball / Lauries Crusador xx) - Siscar,Alvaro  - 8.00 7.00 7.50 7.00 7.50 --- 7.40
6 D'Avina (by Don Index / Likoto xx) - Kihm,Mariusz  - 8.00 8.00 7.00 6.50 7.00---  7.30
7 Coeur J (by Cassitano / Nordos xx) - Janetzky-Stroh,Marion  - 7.00 8.00 7.00 6.00 7.00 --- 7.00
8 Quietschfidel (by Quadroneur / Quando-Quando) - Fraikin,Rena - 7.00 7.00 7.50 6.00 7.00 --- 6.90
Related Link
Eurodressage Coverage of the 2021 Bundeschampionate and qualifiers