Oldenburg Auctions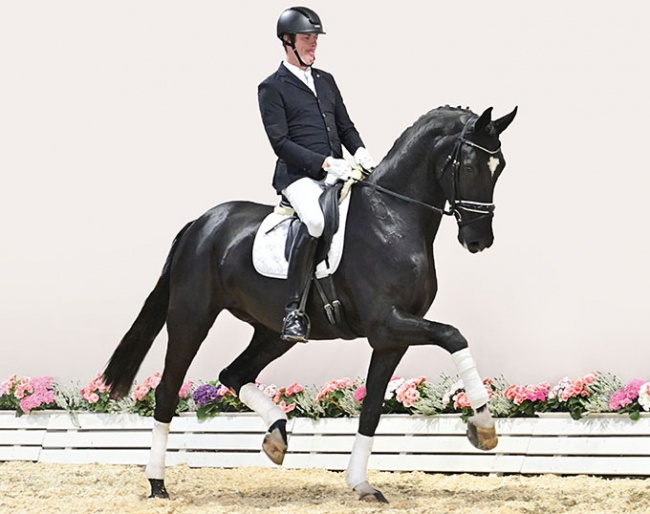 Customers from all over the world secured their Oldenburg future star in Vechta in the 2021 Oldenburger Special Edition auction which concluded on 4 December 2021. 
It was the 6th time that the Oldenburg breed society hosted a "Special Edition" auction. The turn over was over 1 million euro and horses sold to 13 different countries. More than thousand online bids within 24 hours made an ultimate auction finale in the 2021 auction year.
Summerville
The price highlight of the auction was the 4-year old Summerville (by Sezuan x Diamond Hit x Florencio). Bred by Hans & Britta Scherbring, the black sold for 120,000 euro to Switzerland. 
Summerville is from the renowned Fackila dam line. Dam Faszination is the sister of the US Developing GP horse champion Damon's Fantasy (Kathy Priest). This dam line also produced the licensed Grand Prix stallion Fackeltanz OLD from the Max-Theurer dressage stable and the European Championships bronze medallist Delaunay OLD (Patrik Kittel), SWE.
Fleur Belle for Evi Strasser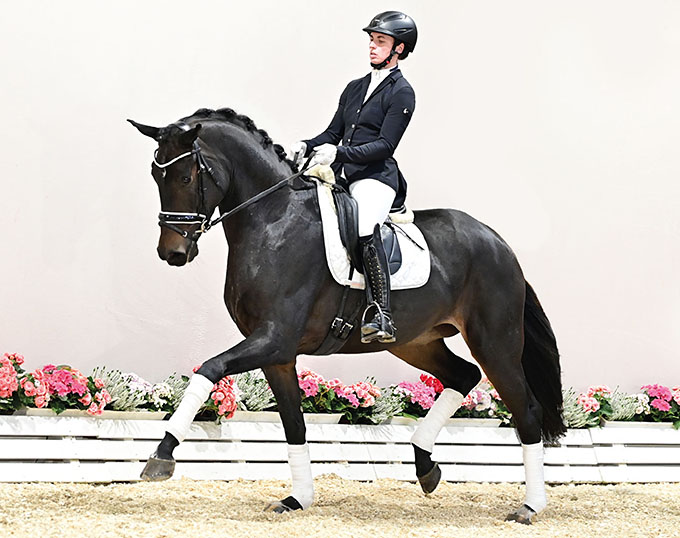 The second most expensive horse in this auction was the 3-year-old Fleur Belle (by Fürst Romancier x Don Larino x Wolkentanz), bred by Beate Wedermann and presented at auction by Stefanie Dresch. She sold for  83,500 euro to Canada.
Her half brother Ben Hur (by Bonifatius) is Intermediaire I successful under Andreas Hubertus. Her dam is sister to Don Frederic (Rodolpho Riskalla, BRA) and Diva Larina (Miriam Alber).
The stunning mare made for the biggest bidding duel of the online auction with over 135 bids. She will be trained by Canadian Olympian Evi Strasser in the future.
Nemo and Rendezvous
With 66,000 euro the third top price was the 5-year-old jumper Nemo (by Nabab de Reve - Van Gogh - Argentinus), bred by Bernhard Moss.  Nemo went to new customers in the USA. The powerful jumper has already been placed in 1.30 m classes. From the line: The internationally successful Argelith Golo/Gerd Wiltfang, Böckmann's Lamour/Gilbert Böckmann and Comcador OLD/Sandra Auffarth.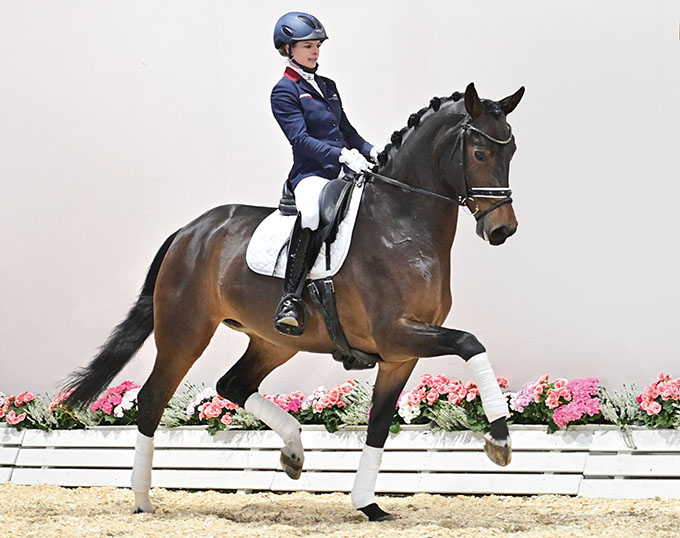 A young European Champion from Germany secured the 4-year-old Rendezvous (by Revolution - Ampere - Sandro Hit), bred by David Taylor and presented for sale by Perkovic Equestrian Investment. The bay mare sold for 58,500 euro. 
Brilliant Auction Year
The 6th Oldenburg Online Special Edition was the crowning finale of a brilliant year. 19 of 31 auction candidates were bought by Oldenburg friends from abroad. In the future they will bring joy to the USA (7), France (1), Great Britain (1), Canada (1), Colombia (1), Norway (1), Austria (1), Portugal (1), Russia (1), Sweden (1), Switzerland (1), Spain (1) and Venezuela (1).
Furst Rover (by Furst Wilhelm x Dimaggio) fetched 57,000 euro and will go into training with a Venezuelan rider. A Columbian purchased Trentino (by Totilas x Furst Romancier) for 33,000 euro.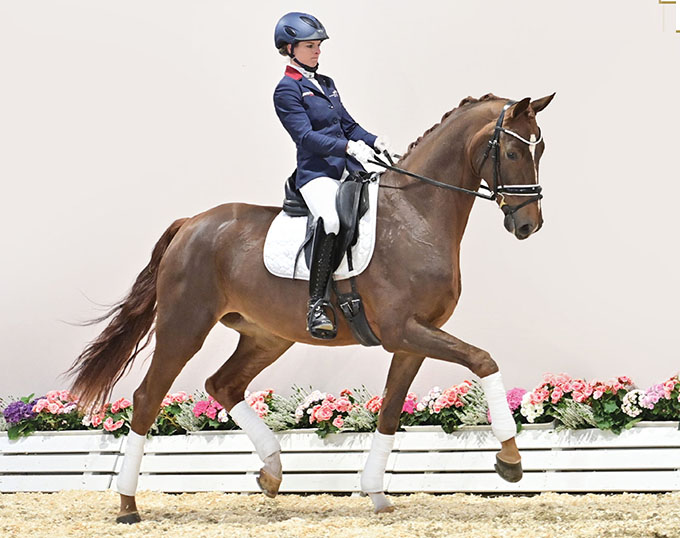 The chestnut Dot Com (by Don Juan de Hus x Dimaggio x Rover) sold for 51,500 euro to a German client. Impressive (by Ibiza x Fidertanz) stays in the country for 47,500 euro. Imagine Dragon (by Ibiza x Furstenball) goes to Sweden for 24,500 euro.
Shakar (by Secret x Ampere x Rubin Royal) sold for 47,000 euro to Canadian Dave Thind. Descartes (by Desperado x Sir Donnerhall) for 34,500 euro and will move to the U.S.A. Jackpot (by Jovian x Stedinger) and Di Livio (by De Niro x Fidertanz) will join them stateside for 30,500 and 22,500 euro.
French clients bought Fun Time (by Franklin x Royal Diamond) for 27,500 euro. Voyage (by Vitalis x San Amour) will voyage to Spain for 20,500 euro, and a Brit bought Fantasia (by Fahrenheit x Don Schufro) for 13,500 euro.
The 6th Oldenburg Special Edition shone with an average price of around 36,500 euros and a turnover of 1,131,000 euros.
Ferrero (by Furstenball x San Amour) moves to Portugal for 26,500 euro, 
"Growth on all Fronts"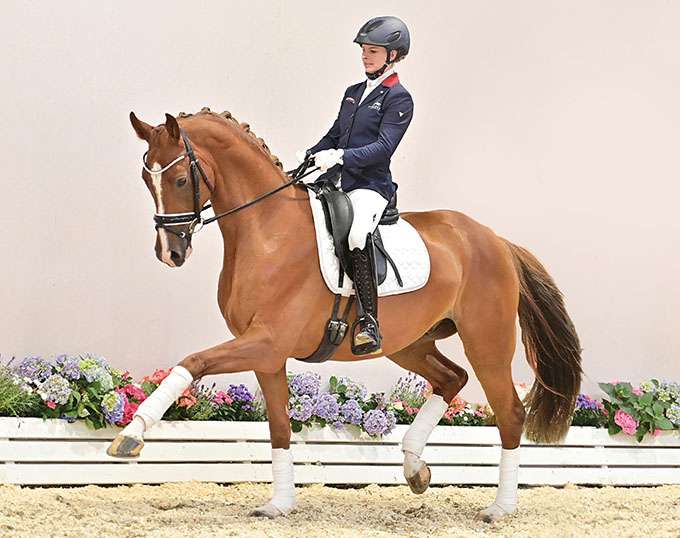 "In 2021 we experienced growth on all fronts. Fantastic auctions characterised a brilliant Oldenburg auction year. For the first time, the Oldenburger Pferde Vermarktungs GmbH organised hybrid auctions in Vechta – with great success. The noble black mare Superb is the ultimate price leader; no three-year-old mare at an association auction has ever been knocked down for a price higher than 450,500 Euros. A brilliant result that we owe above all to our loyal breeders and exhibitors. We wish all Oldenburg friends a wonderful Christmas and continued joy and success with their Oldenburg horses," said Managing Director Heiner Kanowski, summing up an impressive year 2021.