PRE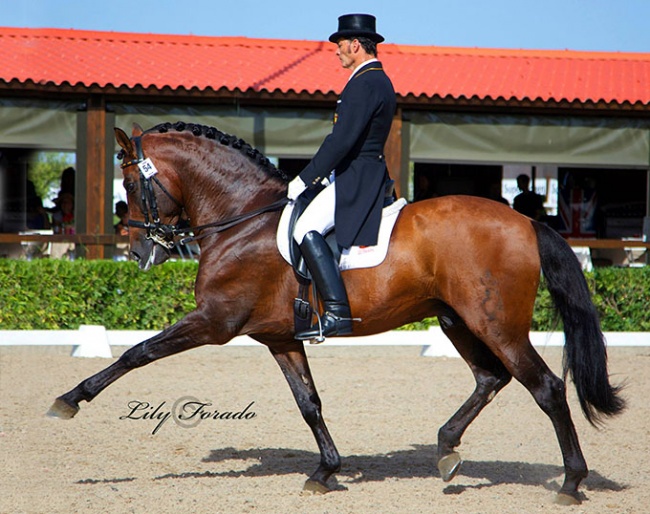 -- by Lily Forado
When you start  to read a book, it is almost impossible not to think about the ending. What will happen to the main character or the other characters? The story of  Fogonero IX is worth telling.
From Great Sport to Uncertain Future
Fogonero IX is a P.R.E horse that has defended the colours of the Spanish flag in the best international arenas in the world. Under the reins of his different riders, but mainly José María Sánchez Cobos, the bay horse mesmerized the audience with his energetic passage and elegant piaffe. After a very remarkable sports career, Fogonero IX continued with his work as a show horse at La Real Escuela de Jérez. However at age 24, his future was uncertain.
At the beginning of February 2022 the news exploded: Fogonero IX was one of the stallions that was part of the sales auction catalog of REAAE. Not only the national media reported it, but also internationally. The social media were fire, the messages were a powerful weapon of rebellion, indignation and also an opportunity to write a new chapter with a pen full of infinite ink and hungry for messages of support.
The appointed day was February 23, when the sale process of Fogonero IX was carried out. In excellent health, Fogonero IX  was acquired by a new owner, who wishes to remain anonymous, and from that moment, his new chapter began.
Shocking Sale
The new owner tells us that on 10 February he became aware of the auction.
"The news shocked me. Like any fan of dressage, I knew Fogonero IX. I saw him for the first time one morning while I was training with Mr. José Mª Sánchez Cobos at the REAAE and he fascinated me. He is a horse that transmits a lot when you see him work. Later, I was able to see him in SICAB where he won the Grand Prix (2012).  When I found out that such a special horse was going to be auctioned, I thought he deserved a special future"
Passionate about horses, the new owner of Fogonero IX could not believe that Fogonero was up for auction and that nobody in his network of connections and friends seemed to act.
"I have breeder friends who were interested in him as a stallion, there was also a lot of international buzz about the auction, but I didn't see anyone determined to offer him that special future, so I tried to offer it to him, and I was lucky"
 A Dream Come True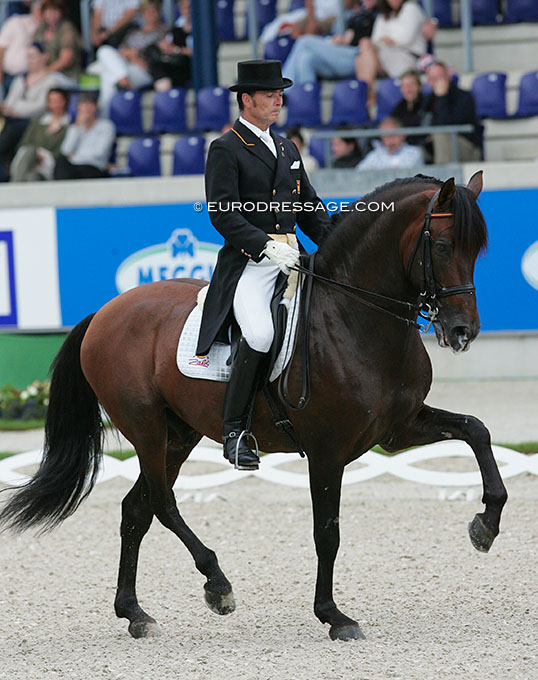 The new owner of Fogonero IX only has words of praise. As a great passionate and lover of the horse in general, the new reality of having acquired the stallion is a dream that he did not expect to achieve.
"Being able to have Fogonero with us is a dream that I didn't expect at all. As we get to know each other more, it surprises me, it is both sweet and impressive," he highlighted excitedly.
To this day Fogonero IX continues to stand in Andalusian lands and specifically in the Equestrian centre Campo Azul in Seville. After his first steps in Seville, the city that fascinates with its culture, beauty and tradition, the horse passed a veterinary check-up and the results were very surprising
"The veterinarian, Dr. Antonio Andrades, came to examine him and found that he is completely healthy, including the radiological examination, as if he were a young horse"
José Maria Sánchez Cobos and Fogonero Meet Again
Goodbyes are hard, but reunions are even better. José Maria Sánchez Cobos was the rider for Fogonero IX and both conquered the Spanish arenas and danced to the sound of Spanish melodies. Their symbiosis was magical and they embody riding art and Spanish soul in its purest form.
His competitive strides are in the past, but his present strides are based on gentle gymnastics and country walks: a royal retirement that is combined with outings in the paddock and unbeatable care.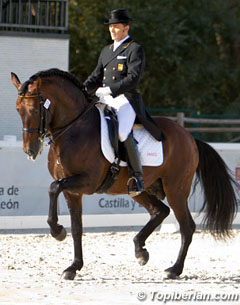 "I decided to contact Jose Mª Sánchez Cobos, who knows him best, to schedule a check-up for Fogonero in co-ordination with the vet. We have  two gentle stretching and gymnastics sessions weekly, and two outings to the field, seeking to maintain his physical tone and current vitality. Fogonero enjoys the paddock daily and all the attention that a horse of his category deserves," the new owner tells us.
Legacy
His role as a stallion has not stopped and the horse will keep his job standing at stud as long as it can.
"In addition to his routine with José Maria, we are going to add some coverings. We know that the horse has a fertility above normal. I am not a breeder, but I am very excited to raise a couple of his sons, I think that Fogonero IX has shown his great value in his national and international career, few horses reach their age so healthy, and I think it would be very positive for the P.R.E. and the sport horse that can transmit its structure, its heart, its great biomechanics, its power and its beauty."
To date Fogonero IX has 22 offspring.
Fogonero  IX is a horse that gave everything in his sporting years. His consolidated career as a dressage horse has allowed him to write several pages in the history of the P.R.E.
At 24 years of age, when everything seemed bleak, his future took a radical turn from one day to another. The story of Fogonero IX shows that happy endings do exist and that even under the most complex, unexpected, and unthinkable circumstances, they can take a turn for the better. 
Photos © Lily Forado - Astrid Appels - Katharina Braren
Related Links
Fogonero IX, Former International Grand Prix Horse, to be Sold in Clearance Sale
Former Spanish Team Horse Norte Up for Auction