The Netherlands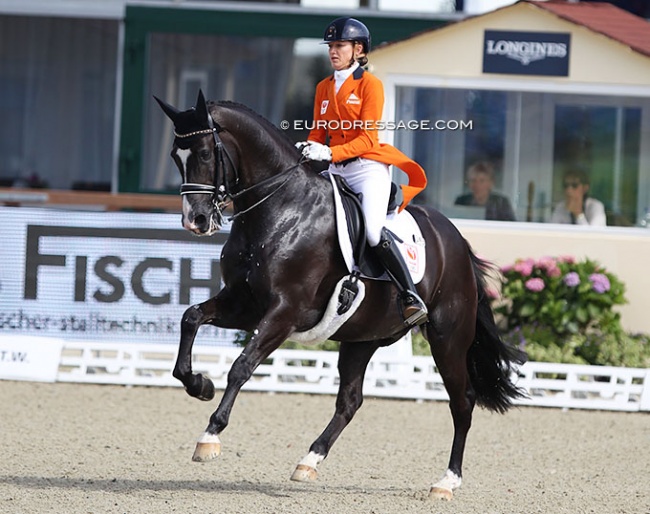 More changes to the Dutch delegation leading up to the big summer events. Marlies van Baalen has withdrawn from competing at the 2022 CDIO Aachen, the final Dutch team selection trial for the 2022 World Championships Dressage. 
Van Baalen and Go Legend (by Totilas x Ferro) already missed out on the second selection trial in Exloo because her horse has a swelling in the girth area. Now they pulled from Aachen too. 
"Unfortunately no CHIO Aachen for Go Legend and me," Marlies stated. "Although his lymphatic inflammation has recovered a lot, stil it's not good enough to put a saddle and girth on him. It's most likely the inflammation was caused by a tick. Time will heal!"
Thamar Zweistra will be substituting for her with her second ride, Hexagons Double Dutch. 
Dutch team trainer Alex van Silfhout has a challenging year ahead of him with the team selection for the World Championships in Herning. His long-time team fixtures Edward Gal and Hans Peter Minderhoud have both dropped out of the race, and Emmelie Scholtens will have to rely on her younger, number two Indian Rock, instead of Desperado. 
Van Silfhout will be testing two teams at the CDIO Rotterdam this week and CDIO Aachen next week before making his final selection.
Riding in Aachen will be: 
Dinja van Liere met Hartsuijker (by Johnson)
Marieke van der Putten met Tørveslettens Titanium (by Totilas)
Karin Nijvelt met Elysias (by Jazz)
Thamar Zweistra met Hexagon's Double Dutch (by Johnson)
Photo © Astrid Appels
Related Links
Dutch Team Announced for 2022 CDIO Rotterdam, Herning Team Taking Shape
Dutch Team Announced for 2022 CDIO Aachen
Dutch Team Trainer Van Silfhout on Selection for Herning after CDI Exloo: "Reading Tea Leaves"