The Netherlands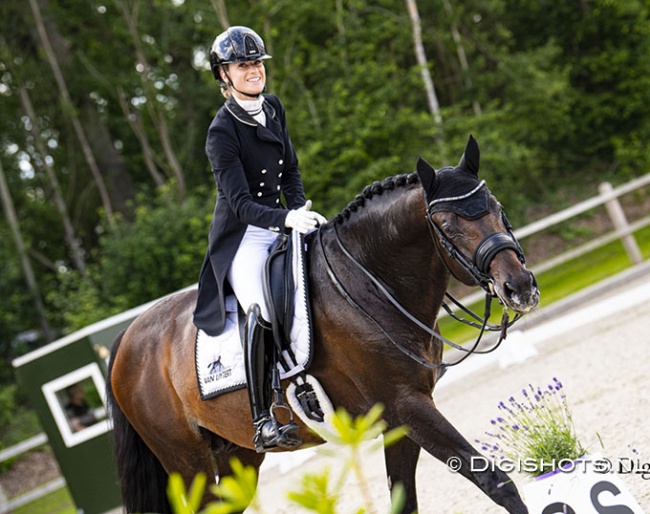 This weekend the second Dutch team selection and observation trial took place in Exloo, The Netherlands. No less than four of Holland's major players in team selection the past few years were absent from this trail. Still, the scores achieved at the CDI Exloo make team trainer Alex van Silfhout hopeful for the future. 
The Netherlands will be bringing a fresh young team to the 2022 World Championships in Herning as several routiniers are absent from the race to Herning this year. Edward Gal is taking a sabbatical, Hans Peter Minderhoud's Dream Boy and Emmelie Scholtens' Desperado are injured, Marlies van Baalen could not make it to Exloo with Go Legend because of an allergic skin reaction, and Adelinde Cornelissen withdrew both Aqiedo and Fleau de Baian from Exloo. Her 2021 European Championship team horse Governor has been out with an injury since that event.
Van Liere Wins CDI Exloo
At the CDI Exloo, it was Holland's newest number one Dinja van Liere who confirmed her strong position aboard the KWPN stallion Hermes (by Easy Game x Flemmingh). She won the Grand Prix with 78.000% and the Special with 77.447%%.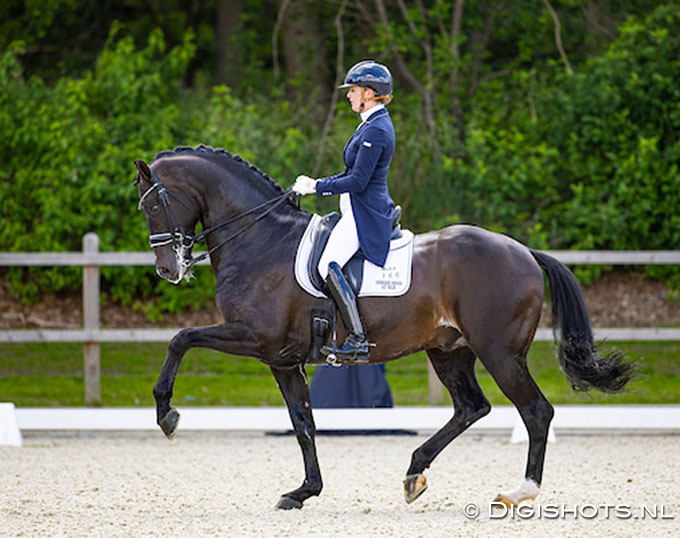 Emmelie Scholtens has a second iron in the fire with the 9-year old Indian Rock (by Apache) and placed second in the Grand Prix with 74.783% and third in the Special with 72.064%%.  The third ranked rider in the Grand Prix was Marieke van der Putten on Tørveslettens Titanium (by Totilas) with 74.565%.
Thamar Zweistra and Hexagon's Ich Weiss (by Rubiquil) ranked fifth with 72.956% and second in the Special with 73.532%. Zweistra and her 9-year old Ich Weiss have now competed in their sixth (!) CDI in less than four months time. At his young age, the grey is ridden full throttle and has done Le Mans, Doha, 's Hertogenbosch, the 2022 World Cup Finals in Leipzig, the CDIO Nations Cup up Compiegne, and CDI Exloo.
Reading Tea Leaves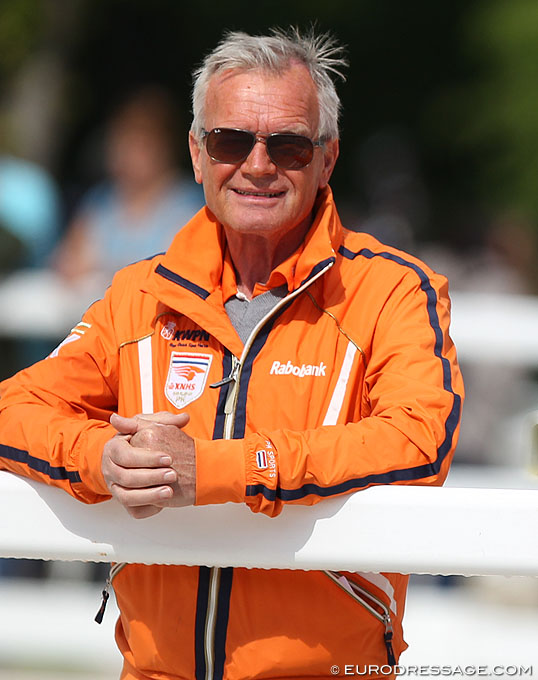 Dutch team trainer Alex van Silfhout is pleased with the performances of the riders in Exloo but still has no idea what the team for Herning will look like.  Two more team selection and observation trials will be held: Rotterdam and Aachen. 
"I can't say much right now," Van Silfhout commenting about a possible team. "It is positive to see new combinations grow and improve, but the for the rest it's reading tea leaves and waiting who has the best cards and fitness level."
He commented on the absent horses: "Dream Boy had a small issue and is back to building up. It seems good and he has to be part of the next observation. Go Legend had an annoying bump where the girth goes, but I count on it that he'll be there next time. Emmelie's Desperado still has to take it easy for a while and it's wait and see how fast he'll get better."
Photos © Digishots - Astrid Appels
Related Links
Scores: 2022 CDI Exloo
Dream Boy and Desperado to Miss Second Team Observation at 2022 CDI Exloo
Dream Boy Withdrawn from 2022 Dutch Dressage Championships, Invictus Entered
Dutch Team Selection Shows for 2022 Summer Dressage Championships Named
Eurodressage Coverage of the World Championships Dressage