History & Education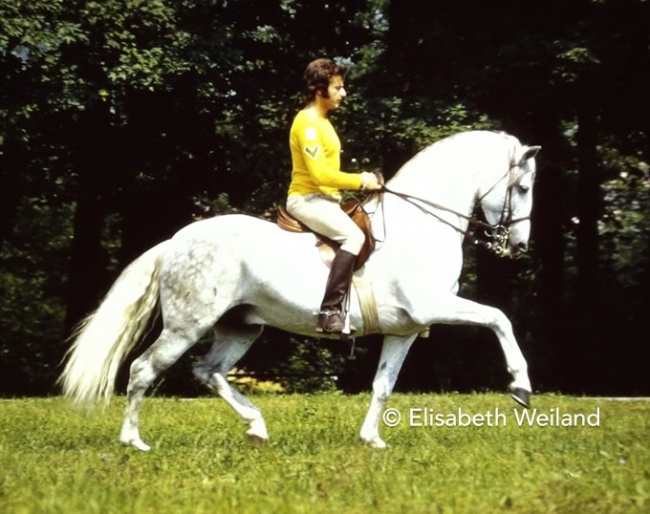 This article is a continuation of 
"Welcome to the Circus" - A New Series on Classical Dressage and the Circus
Part II - "Dressage Needs to be Visualised Love"
Part III - Georg Wahl: From the Spanish Riding School to the Circus
Part IV - Ulrich Lehmann: When An Olympic Cavalry Rider Trains At The Circus
Part V - Antonella Joannou: From the Circus to CDI
Fredy Knie junior - Carrying on the Tradition
In the early morning of 10 August 2022 I waited in my car at the former Cavalry School of Switzerland (now "National Horse Center") for Christine Stückelberger to arrive at Berne station. Christine, dressage celebrity of the 1970s, wanted to accompany me to Circus Knie where I was to interview Fredy Knie junior.
We both headed to the "Allmend," not far away, a big open space opposite the Wankdorf football stadium and there we parked the car in front of the circus.
Open Doors
On a workday morning the usual hustle bustle of the circus world was totally absent. We crossed the welcome area where usually visitors have to show their tickets and entered the huge tent. The first show of the day began in the afternoon and the so-called morning training of horses and animals was in full swing. Everybody who is interested can attend it for free. Fredy Knie junior's father Fredy Knie senior introduced this already in1938 to show to the public in which way the animals are worked.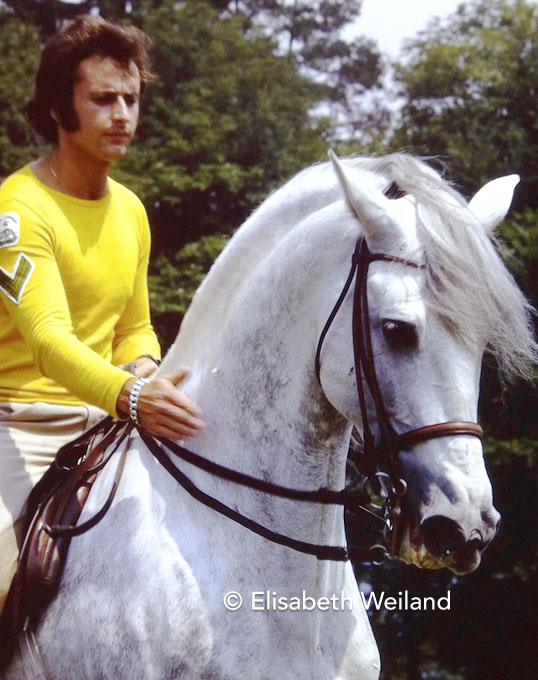 "I don't like prohibitions, I have to convince people with my work," his son told me a bit later during the interview when I asked him if people are allowed to photograph training and show. Fredy junior was down in the manège with a beautiful looking bay PRE stallion who was worked in long reins in piaffe and passage.
It might be an everyday situation for horse and trainer, but Christine and I stopped all conversation and sat spellbound on the plastic seats. When an Olympic champion falls silent, it might mean something. The working atmosphere was calm and focused. Fredy's highly decorated grand-son Ivan (21), a "Golden Clown" prize winner at the renowned Monte Carlo circus festival, had the long reins in hand and his grandfather acted precisely with the whip to ask the stallion for more expression with the front-legs. I admit that a cold shudder ran my spine because the horse expressed so much power and grace, but at the same time so much calmness and focus. Not an inch of tension was visible. It is dressage the way I am addicted to, but which I can so hardly find nowadays.
A few expressive passage steps and the stallion halted, stretched and Fredy junior rewarded him with a quiet pat. It is those moments when you know that driving hundreds of kilometers and leaving the bed early on a summer holiday is the best thing you can do.
Coffee and Dressage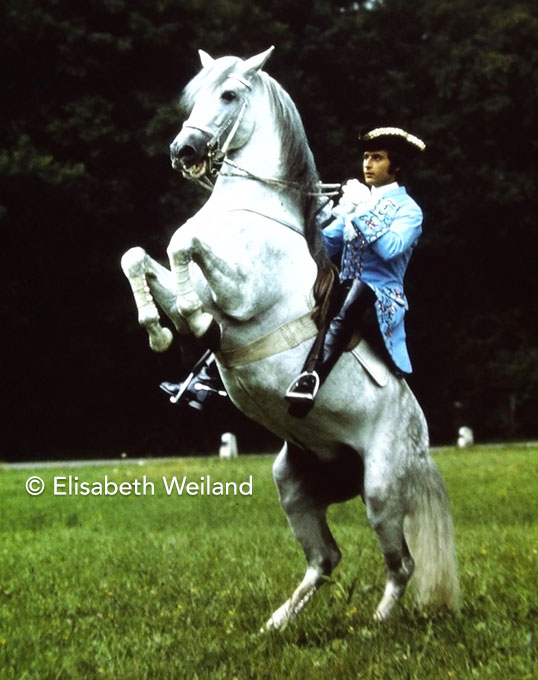 Fredy discovered Christine who (unlike yours truly) is of course very well known to him and he waved. We went down into the manège and left it through the entrance. In the media wagon the green leather seats were comfortable and Fredy junior served coffee before we began the conversation.
It soon became apparent that Christine Stückelberger and he were absolutely on the same wavelength regarding training of horses and dressage sport, although this did not  surprise me.
Fredy Knie junior was born on 30 September 1946 and only four years later had his first appearance as a rider. Although his career in the manège seemed predetermined, he spent several years at boarding school in Belp near Berne as the circus did not have a school on wheels at that time.
Wild Animals
However, after school he followed in his father's footsteps and began to make himself a name as circus rider and animal trainer. Although horses are the animals the public normally connect him to, Fredy junior trained and exhibited all kinds of wild and domesticated animals, most notably a rhino, Bengal tigers, giraffes, zebras, two-humped camels and even a large group of pigs.
His show act of a Bengal tiger riding on a rhino remains unique and his training with these wild animals has been widely acknowledged by scientists which accompanied it.
Fredy and Parzi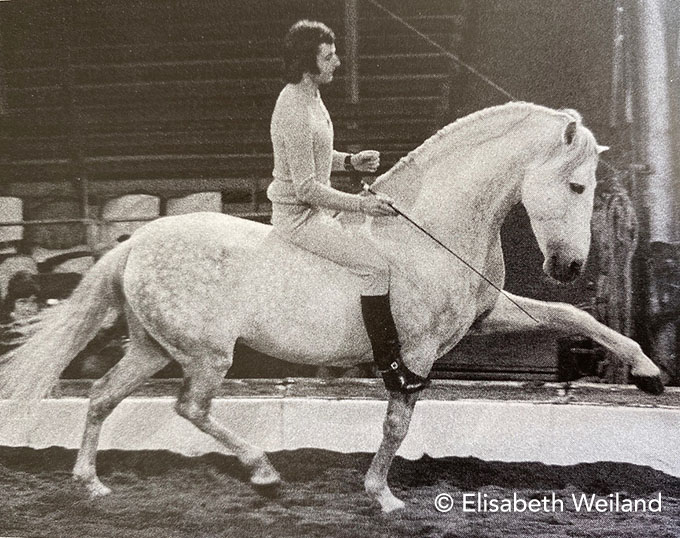 Horse lovers might best remember Knie's fantastic performances with his grey PRE stallion Parzi who joined the circus in 1961 and who was gifted to his son by Fredy senior on his birthday in 1963. This magnificent representative of his breed from the world famous Domeq stud formed an incredibly close partnership with Fredy junior and left spectators' mouths open when showing all High School movements without bridle and saddle, creating the illusion of a centaur in the manège.
In 1969 Fredy junior and his heart horse exhibited their class act on occasion of the show "Artists, Animals, Attractions" in the town hall of Vienna. There Parzi showed 24 subsequent one-time flying changes and impressed the former head rider of the Spanish Riding School, the legendary Alois Podhajsky, deeply. He later wrote about it: "Apart from the few movements bound to circus tradition, the art of classical equitation remained alive here, over all in regards of psychological aspects."
Not only regarding horse training Fredy junior holds the bar high, also their horse keeping has evolved and kept up with the standards of the respective time. About forty years ago their stabling conditions changed from stands to boxes and nowadays all horses have huge boxes with paddocks in front and additionally get turned out in fields if the location allows it. Tall horses even get double boxes with double sized paddocks. A luxury which many stationary horses don't even have!
Succession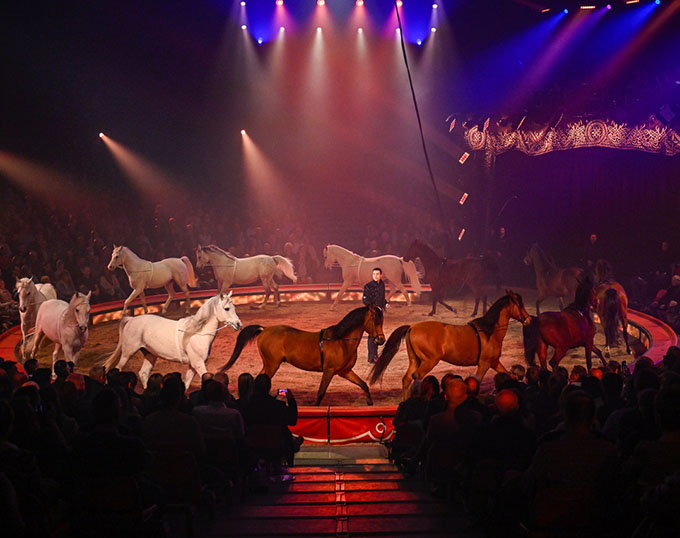 In 2019 Fredy junior passed on the reins to his daughter Geraldine Knie who is responsible for the artistic management of the circus and who herself is a very accomplished rider and trainer.
Her children Ivan (21), Chanel (11) and Maycol junior (4) are now carrying the flag in the manège with their ridden show acts, the 8th generations to do so!
ED: "Circus riding" is often used as a curse word. What do you think is the reason for this bad image of circus riding?
FKj: Sorry, but the reason is simply because there are such who do it badly. There is of course also trick riding and this is not classical. We ourselves show movements like the Spanish walk, but it is also essential how you do it. If the horse is supple and relaxed it is good, but if it is a kind of pedalling it is simply horrible. Here in Switzerland we do not suffer from a bad image. We also have many laymen in the audience and they are thrilled with our horses because they say they are aesthetic and beautifully presented. They do not know the details behind, but if it is beautiful, and horses are beautiful animals, it attracts them.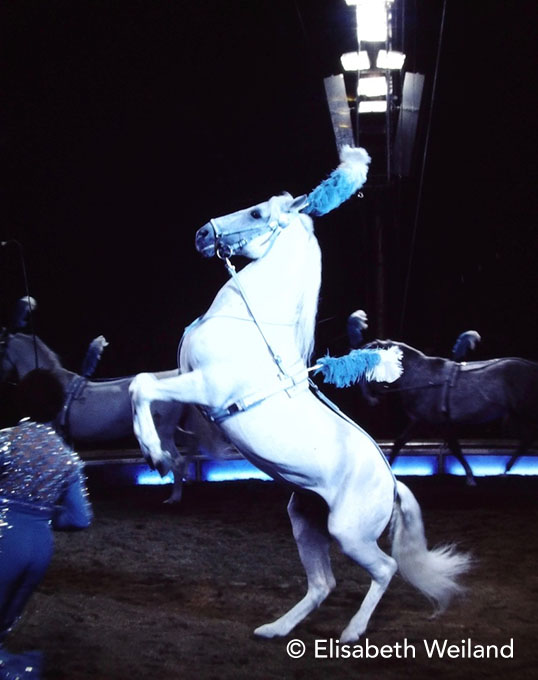 The way of they are presented visually has also changed. At my father's times the horses had the coloured feathers between their ears and nowadays we think it is dispensable.
ED: Sorry to interrupt you here, but your father and you were also the first ones to show High School without any tack. Something Alizée Froment and likes get admired for today.
FKj: Yes, that is right.
Circus Connecting with Sport
ED: Circus and dressage competition had fairly few connecting points before the war, but your father was the one really getting involved regularly from the 1960s on.
FKj: Yes, that is true. Even Germans had once requested my father to come and help them, over all to train piaffe and passage.  My father truly appreciated this request, but he rejected it. He said that he stays with his Swiss. (laughs)
ED: What motivated your father to get involved with training renowned competition riders?
FKj: Well, we were of course traveling a lot, so at one place he had this student, at another place that student and so on. When we were in Berne, Henri Chammartin came and caught interest, rode one of our Friesians and that was how it started. Georg Wahl had of course worked for us as well. Many of these competition riders were generally interested in the question how to teach the horse piaffe and passage. The main thing is that the horses remain calm and relaxed and do not get tense. You saw the horse this morning and he was not tense at all, but when he came from Spain he was beside himself first.
ED: Did dressage competition fascinate your father in the decades that followed?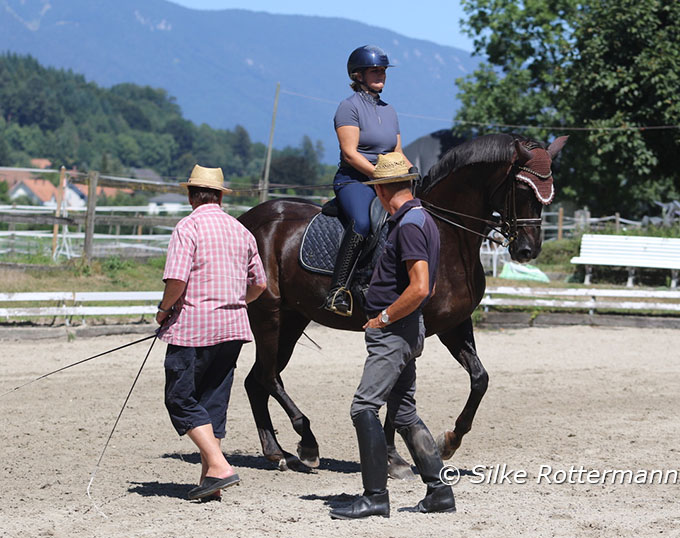 FKj: Yes, it fascinated him and me as well. I also enjoy helping competition riders which I regularly do now, but generally spoken I simply love working with horses. They are not stupid, like some say. It makes me mad when I hear people say horses are not clever. It is absolutely not true. Horses are  extremely sensitive and this is the difficulty. The smallest of mistakes can put a horse off if he did not understand what was asked of him.
ED: What is important in the end when working with horses for whatever purpose?
FKj: We are not allowed to think like a human when we are working with horses. We have to think about how I can explain something to a horse in a way he understands it. And there is not only one way. One horse understands it that way, another a bit differently. We have to make the effort to learn to think like a horse and consider that each is different. And another thing is that I always say "pulling creates counter pulling" and horses are much stronger than we are. We have to be more intelligent.
On Bits, Spurs and Whips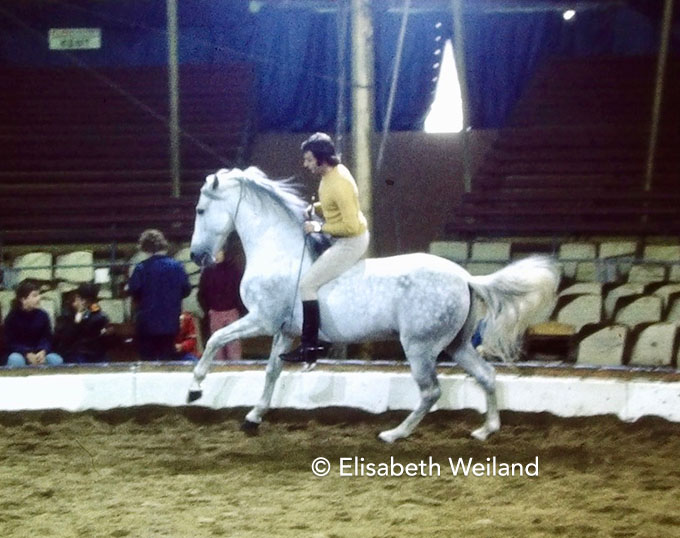 ED: I have the feeling that nowadays we have a sometimes exaggerated anthropomorphism of animals.  The non-horsey public seems very very sensitive to the use of proven established aids, for example the whip, spurs, and bits.
FKj: If we observe horses in the field, fighting or even only playing, that is not cotton wool sometimes. So to touch a horse expertly with a whip to indicate something to him which he understands cannot be wrong. Of course not in a way the horse gets weals or is even bleeding, this is condemnable. However every aid tool I have, may it be bits, whips, spurs, must remain an aid tool and is absolutely not allowed to be turned into an instrument of torture.
The use of the whip during in-hand work is something which requires sensitivity and experience.
So I think it is important to pass such knowledge on. Whoever wants is always welcome to visit the morning training. Just recently I was training one of Switzerland's upcoming riders, Ramona Schmid, and a trainer came and asked to stand next to me during the work to observe it. It turned out he had observed a lot my father at work and had also worked with Georg Wahl. I am happy if such people come. I watched him touch with the whip and he did not hit the horse, but you immediately recognized he knew how to touch, at which moment and which place.
On the Pressure to Perform
ED: Can we compare circus riding with dressage competition?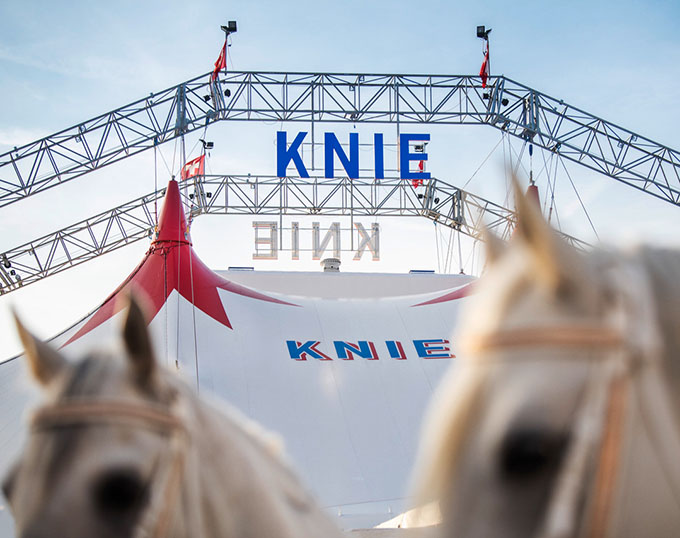 FKj: I think that our circus, where horses are so much in the focus, can compete with dressage competition. We simply have the additional challenge to make the presentations attractive for complete laymen. So we have the lights, the music, the costumes. The big advantage which we have is that we do not have the same pressure to perform. Of course the show should be good, but if a mistake happens, there are no direct consequences. I do not get bad marks and the next day it will be fine again. A sport rider has this pressure to be good on a certain weekend. This is the difficulty, the challenge to motivate the horse to be in form at the right time. Of course horses do not always have the same form. That is the art to motivate a horse to be on form on a certain day. This is the certain extra which characterizes the good riders, also that he manages to show a motivated horse who performs with pleasure.
ED: May I ask who you help in Switzerland who our readers might know?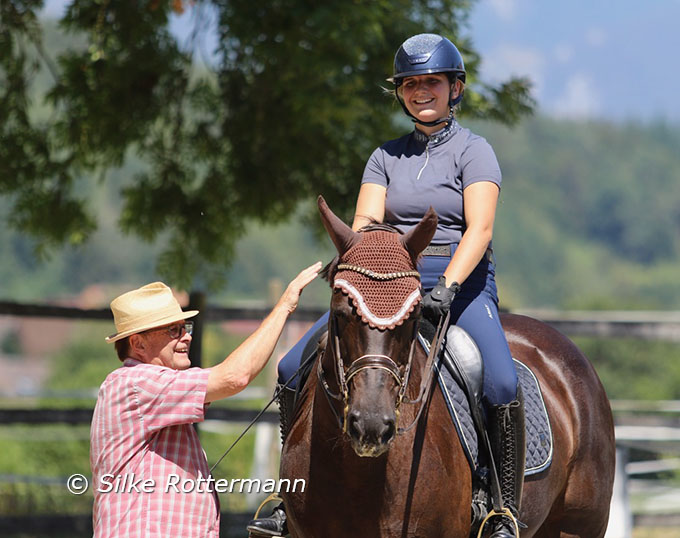 FKj: I occasionally work with Ramona Schmid near Biel, overall I help her with piaffe and passage. If we are close like now I drive to her, but she is also trailering her horse if we are more far away.
I also help Antonella Joannou with her mare, when I am in the French speaking part of Switzerland.
I have delight working with younger riders. It feels good that they listen and do not think we old guys have nothing useful to say anymore. I do not say we old guys are the only ones, but if we can help it feels good. In the end we want what is good for the horses.
Silke Rottermann interviewed Fredy Knie senior for Eurodressage in Berne on 10th August 2022.
Photos © Elisabeth Weiland - Archive Circus Knie - Katja Stuppia - Silke Rottermann - private
Related Links
"Welcome to the Circus" - Part I - A New Series on Classical Dressage and the Circus
Welcome to the Circus - Part II - "Dressage Needs to be Visualised Love"
Welcome to the Circus - Part III - Georg Wahl: From the Spanish Riding School to the Circus