Danish Warmblood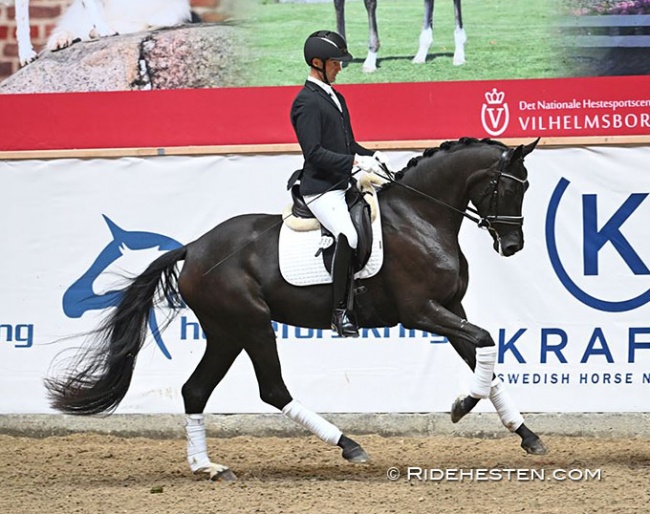 The 3-year old black Polka Perfection M has proclaimed the champion of the 2023 Danish Warmblood Elite Mare Show that took place in Vilhelmsborg on 1 - 3 September 2023. 
Judges Vicky Nortvig, Jens Søgaard, Johnny Sørensen and Karsten Petersen assessed the mares, first in the saddle test this summer, and then again under saddle and in-hand at the elite show. 
The judges awarded 34 breeder medals in bronze, 11 silver medals and 3 gold medals. The three gold medals were awarded to the three finalists: extremely well-behaved, expressive young mares.
The best represented sire in the collection of mares was Franklin with no less than 7 offspring, followed by Janeiro Platinum and Secret, each with three offspring in the lot. 
Polka Perfection M
Three mares stood out in the crop and were decorated with the gold medal.  Polka Perfection M was named the champion of champions. 
Polka Perfection M (by Secret x Fürstenball) is bred and owned by Sanne Mathiasen and shown under saddle by Dennis Kjær. The judges described her as a "very feminine, harmonious and noble mare of excellent type. She works well under rider, uses her whole body. She passed the highest riding test with 890 points.
Two More Gold Medal Mares
The two other gold medal were Atterupgaards Daimi (by Springbank II x Bon Bravour) and Færgelundens Masala (by Hesselhøj Donkey Boy x Blue Hors Rush Hour)
Atterupgaards Daimi is bred and owned by Atterupgaard and was shown by Selina Solberg Vittinghus. She was described as a "charming tall and well-developed mare. She is extremely supple and uses her body well in all gaits and constantly with energy." She scored 850 points in the saddle test.
Færgelundens Masala  is  bred and owned by Lise Skovsbo ​​and was shown by Ida Hofman Bang. The judges praised her for being an "appealing, harmonious, suitable noble mare with good female characteristics. She has a supple, well-functioning topline and a particularly good trot and canter and an extremely nice walk." She scored 840 points in the saddle test. 
Photo © Ridehesten
Related Links
Dina Holmklit Named 2022 Danish Warmblood Elite Mare Champion
Valerie B Named 2021 Danish Warmblood Elite Mare Champion
Atterupgaards Lady Hamilton Named 2019 Danish Warmblood Elite Mare Champion
Grevens Fakina Named 2018 Danish Warmblood Elite Mare Champion
Skovens Tzarina Named Champion of the 2017 Danish Warmblood Elite Mare Show
Sezuanna Named 2016 Danish Warmblood Mare of the Year 
Delicious, Mildura, Schwarze Schwalbe, Tebaldo Winners of 2015 Danish Warmblood Elite Show
Lillevangs Pari-Diva Named 2014 Danish Warmblood Mare of the Year
Stigma Named 2013 Danish Warmblood Mare of the Year
Tirana Named Danish Mare of the Year 2012
Prima Donna Named Danish Mare of the Year 2011
Sirikit, 2010 Danish Warmblood Mare of the Year
Fabrix Miss Ésandri, 2009 Danish Warmblood Mare Champion
Bøgegaardens Don Romina, 2006 Danish Warmblood Mare of the Year