Austrian Warmblood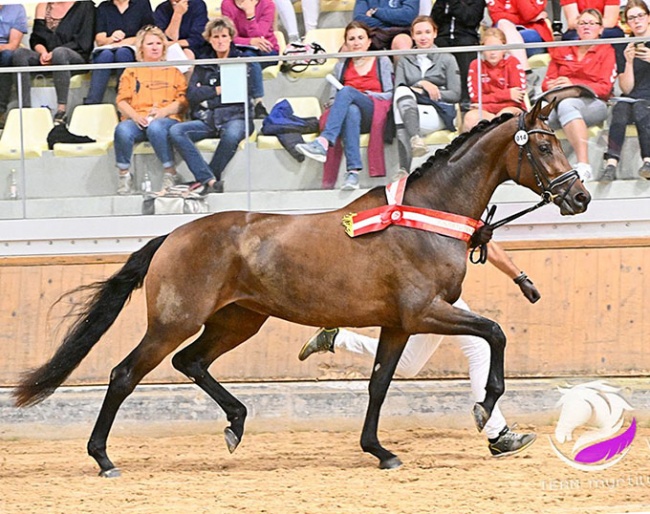 The 3-year old Francine and the 4-year old Black Pearl W became the winners of the 2023 Austrian Warmblood Mare Championship held in Stadl Paura on 14 - 17 September 2023.
The mare championship was judged by Hans-Heinrich Brüning and Roland Metz.
3-YO: Francine
Seventeen mares were selected for the championship ring for 3-year olds and it was Franz Hummer-Niedermayr's mare Francine (by Van Vivaldi x Florencio) who topped the board with a total score of 9.0 points. She received 9.5 for her conformation, 8.5 for correctness, 8.5 for walk, and 9.5 for trot.
Kings Lady (by Bon Courage x Feedback) became the reserve champion with 8.9 points. She got 9.5 for conformation, 8.5 for correctness and walk and 9 for trot. 
4-YO: Black Pearl W
In the 4-year old mare category there were nine mares competing.
Andreas Winter's Black Pearl W (by For Gold x Quantensprung) aced the division with 8.8 points. She got 8.5 for conformation and correctness, and 9 for walk and trot.
Franz Karl and Maria Gutschy returned home with the reserve champion's title won by their mare Stellas Highlight MFG (by Furst Wilhelm x Rubin Royal). She totalled 8.6 points with 9 for conformation, 8 for correctness, 8.5 for walk and 9 for trot.
Results - 2022 Austrian Warmblood Mare Championship: 3-year olds - 4-year olds
Photo © Team Myrtill - courtesy Pferdezucht Austria
Related Links
Tahliya MH and Auheim's Sarah Kay Win 2022 Austrian Warmblood Mare Championship
Novara MB and Sherazade von der Aue, 2020 Austrian Warmblood Mare Champions
Broadmoars Leonora and Florina MBH, 2019 Austrian Warmblood Mare Champions
Championess K and Geraldine Chaplin, 2018 Austrian Warmblood Mare Champions
Corazon Named 2017 Austrian Warmblood Elite Mare Champion
Fraulein Smilla Named Champion of the 2016 Austrian Warmblood Elite Mare Show 
Wonderfull Named Champion of the 2015 Austrian Warmblood Elite Mare Show
Larissa, Cassandra L, Maurizio, Giulietta Win 2013 Austrian Warmblood Mare and Foal Championship