Dutch Dressage News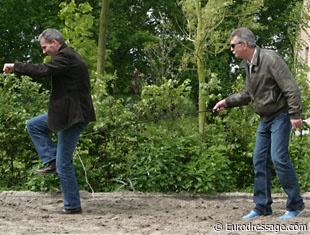 The world famous Dutch composers Cees Slings and Victor Kerkhof have ended their partnership as a composers' duo. The pair gained international fame for making the revolutionary beautiful freestyles of Anky van Grunsven since the 1996 Olympic Games.
Slings & Kerkhof will finish making a new kur for Van Grunsven and her Olympic gold medal winning horse Salinero, which is to replace L'Esprit Chanson, before officially splitting up as a duo.
"We lost our inspiration and motivation as a duo. It's like having sex, and not making love," Slings poetically described the ending of his professional relationship with Victor Kerkhof.
Cees Slings will continue the freestyle business with his company Slings Music Cast. Not only will he continue to compose freestyles, but he will also provide professional advise for the improvement of existing kurs, for instance by changing the choreography to better fit the music.
Slings will be working with a new team of technical engineers and musicians in hisShepherd Studio in Leersum, The Netherlands. Besides Anky's, Slings is currently working on two new kurs for international dressage riders.
Photo copyrighted: Astrid Appels / Eurodressage
Related Links
The Making of Il Passeggiato
Slings and Kerkhof, No Longer Exclusive Kur Composers for Anky
New Freestyle for Anky van Grunsven