2009 World Cup Finals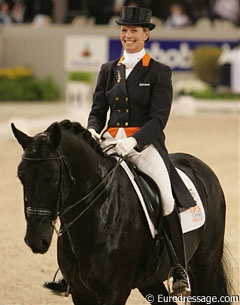 Anky van Grunsven has decided to ride Painted Black at the 2009 World Cup Finals in Las Vegas.
Last weekend at the 2009 CDI-W 's Hertogenbosch, Van Grunsven claimed that she was in doubt about taking Painted Black to Vegas because Painted Black's not such a consistent scorer as her top horse Salinero. "If she goes, she goes to win," according to her partner Sjef Janssen and Painted Black could not guarantee a victory. Today however, she announced she's definitely riding Painted Black at the finals.
According to her own press officer, Van Grunsven has withdrawn from taking any legal steps against the FEI, as the international equestrian federation did not allow her to ride Salinero in Las Vegas because she hadn't complied with the FEI rules (which instructed her as title defender to show her horse of choice in at least two qualifiers).
In her column in the Dutch news paper De Telegraaf Anky wrote that "as of 1 January 2009 the dressage rules have been changed. In some passages of the competition rules combinations are not mentioned but only riders. This would imply that I have a free choice in which horse I take. Furthermore, the organisation of the World Cup Finals has their final say in the approvement of potential participation of a different horse. Las Vegas could agree that Salinero will be the substitute for Painted Black without the FEI having a say in it. Besides that, the FEI has the right to grant permission to compete a horse in to two special cases. I would fall under that category. But the FEI is firm in its viewpoint that I can't compete Salinero. This is a pity for the sport and the audience."
On her own website she mentioned again that she preferred to ride Salinero. "The articles of the FEI World Cup Regulations allowed me to ride him," she wrote. Eva Salomon, FEI Dressage director, clearly stated at the CDI-W Den Bosch press conference that Anky did not fulfil the rules to show Salinero as she had to compete him in two qualifiers. Furthermore, the Dutch Equestrian Federation had not requested a wild card (which follows the same rules).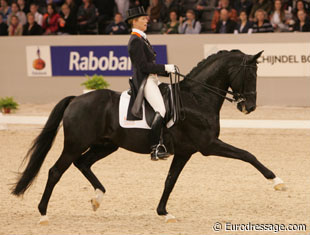 Janssen's behaviour to threathen with legal actions has been considered bad sportmanship by her fans and many other dressage enthusiasts who consider it team Van Grunsven's own mismanagement of schedule and disapprove of her unfair "I only go to win" attitude. Many, riders go to the World Cup Finals with the knowledge that they will not be in the winner's circle. If they were all to stay home, the World Cup Finals would only be between Anky van Grunsven and Isabell Werth.
Fortunately, Van Grunsven has realised this and announced that she "does not want to dissapoint her fans in the United States. I very much look forward to the World Cup Finals and I'll do my best with Painted Black."
In De Telegraaf she added that "the question remains if it's good for the sport that I enforce the righteousness of my viewpoint. I don't think so and I want to keep honour to myself. I consider myself too much a topsport athlete not be trying for Las Vegas with Painted Black. I feel a sense of responsibility to the organisation and the audience. Who knows me, knows that because of all that has happened I'm extra motivated to establish a good result in Las Vegas."
The crowds will be happy that Anky's competing, even with Painted Black!
Related Links
Back to the 2009 World Cup Index
Janssen to Find a Way for Anky to Compete Salinero in Las Vegas
No Las Vegas Wild Card for Salinero, Western European Qualificants Known