A Walk on the Premises of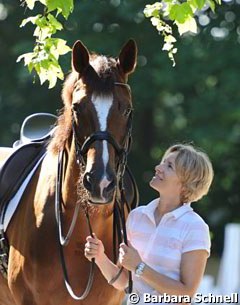 One of the questions Nadine Capellmann gets asked most frequently by her fans is the request to visit her and watch her work her horses at home. So frequently that her answer is regretfully, but invariably no. Eurodressage's Barbara Schnell, however, got the chance to take a walk on the premises of Capellmann's stable in Würselen and see her ride at home.
A native of Aachen, Nadine lives almost within shooting distance of the Soers – the CHIO show grounds -- and she shares her home with seven horses, including her oldies: 25-year-old Gracioso and the 30-year-old stallion My Lord, the first horse ever to grant her a spot on the German A-team. Her youngsters are the strikingly colored, seven-year-old chestnut mare Diamond Girl (by Diamond Hit) and Antonello, a nine-year-old giant by Ad Hoc. Last, but not least, the three Grand Prix horses: Elvis, with whom she won team gold at the WEG in Aachen and at the Hong Kong Olympics; Raffaldo, whom Klaus Balkenhol calls "a horse of unlimited possibility," and her latest newcomer, Girasol, who created quite a splash at this year's CDI in Hagen by being proclaimed "The German answer to Totilas."
Gymnastics with Elvis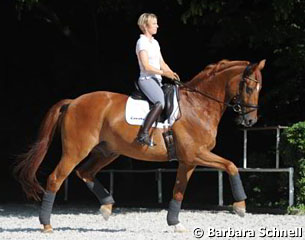 As I arrive at Nadine's place at nine in the morning, you can already feel the summer heat building, even though the old stone buildings and stables of Gut Heidchen are always cool and trees throw plenty of shadow. Nadine is already warming up Elvis, so we can start taking pictures before it gets too hot. She does a couple of half passes and flying changes and a few meters of passage for the camera, and then she just lets him jog.
"With a horse like Elvis, who is a very big mover, you have to be careful not to wear him out," she says. "To ask everything of him every day, to ride one trot extension after the other, would be an unnecessary waste of his joints and tendons. So I try to pick one movement a time – one day I work on the flying changes, another day on the pirouettes, and only when a show gets closer I start stringing them together. But usually in my daily work I aim for muscle training and suppleness much more than for movements. If the horse is really with me, ready for my aids, the movements are a given, and I don't have to practice complete tests every day. So, if you want your horse to keep having fun while working, and if you want him to stay healthy, don't overdo it at home. You should peak in competition, not at home, and I don't have to be the queen of the warm-up arena, either," said a decisive Capellmann.
Fine Tuning Girasol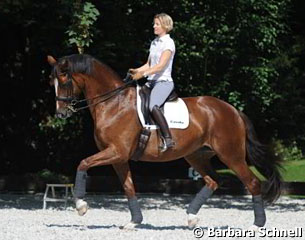 Enter Girasol. "I had never even heard of this horse before I saw her in Hagen," says Nadine. "And then I saw her, and it was just like – wow, what is that?" It was no secret that the horse was for sale; Nadine persisted, and on May 22, the nine-year-old mare by Gribaldi, that was previously owned and competed by Jasmin Schaudt, moved into her stable.
Three weeks later, Nadine and Girasol entered their first competition in Isernhagen and qualified for the Medien Cup final. "I rode two 'safety tests' in Isernhagen, but by then, I had been working with Girasol for only three weeks. Now we need to work on our fine tuning – she has so much expression; Isernhagen really was only the beginning of what she can do."
And yet: "Again, when training her at home, the same priciple holds true. I start with a quarter of an hour of walking her on a long rein, and I put my emphasis on suppleness, on the interplay between tension and relaxation rather than doing one movement after the next. This is very important, especially for petite, female riders, I think – a horse has to react to minimal aids; it should be a dance, not a bodybuilding session."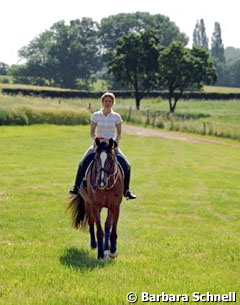 When she talks about Girasol as a dance partner, she cannot stop smiling: "Riding her is pure, simple fun. She has no real weakness, no weaker side, no problematic movement. You can walk her in perfect relaxation, and then when you shorten the reins, she's there for you. She's perfectly at ease with herself. I turn out all my sport horses at least for a while every day, but Martin and Jasmin kept Girasol in the field all day, and I admit that this made me pause at first." But Girasol isn't only fun to work with – she's also calm and sweet, and so after work and a little round in the fields Nadine gives her a sponge bath, and then we walk her to the grass paddock next to the stable, Nadine turns her loose, and Girasol just puts her nose in the grass and forgets everything around her. "She goes out at least four hours every day."
After two team medals and her World Champion's title and team gold medal at the 2002 World Equestrian Games in Jerez with Farbenfroh, it is still Nadine's goal and dream to achieve an individual Olympic medal. Taking it one step at a time, this year she aims for the Medien Cup – but she does hope that in 2012, London will be calling.
Check out additional photos in the gallery at the bottom of this article. Fifteen pictures are uploaded and you can browse by clicking on the thumbnail or the "1 of 3" at the bottom of the gallery
Text and Photos © Barbara Schnell
Related Links
Girasol Sold to Nadine Capellmann
Scores 2010 CDN Isernhagen 
Nadine Capellmann World Champion