2011 CDN Schaijk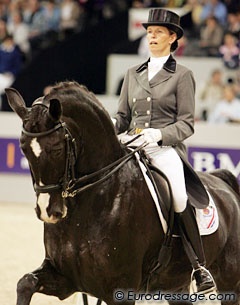 Anky's come back to the dressage show ring was all hush hush until two hours before the competition she tweeted to her fans that she was on the road way to a show with Salinero. After a 14 month break from the show ring, Van Grunsven rode Salinero at the national Subtop competition at Stable Swanenberg in Schaijk today.
The Dutch judges left no doubt about it that they were very pleased to see Anky and her double Olympic gold medal winning Salinero (by Salieri x Lungau) back in the ring. They scored Anky's Grand Prix test with 77.80%.
"77:80 procent. I am happy for the first start again," she posted on Twitter. "He was fresh unloading from the lorry so I decided to warm hi up longer. In the end that wasn't necessary so no I know that next time I can do less. He did a really nice test. I made a stupid mistake myself by thinking too early of the half in the final passage. Of course there were a few things which could have been better, but I'm very happy. I hadn't ridden the test in its entirety at home, but it went well in Schaijk. It's fantastic to be able to take him to shows again."
Van Grunsven and her 17-year old Salinero are back on form after motivation problems and an injury to the horse's withers kept the duo home for more than one year. Their last show together was in March 2010 at the CDI-W 's Hertogenbosch, where they missed out on riding in the World Cup Finals but competed in the CDI tour instead. They scored 70.500 in the Grand Prix (5th) and won the Special with 74.208%
In a recent interview with the official magazine of the Dutch Equestrian Federation, Van Grunsven said she has no plans on qualifying Salinero for the Dutch team for the 2011 European Championships, held in Rotterdam in August. "The European Championships in Rotterdam are not an option," Van Grunsven told journalist Melissen. "I had decided that the World Equestrian Games (in Kentucky) would have been his final big championship and I'm sticking to that. The only reason why I still want to do a few shows with him is because he's fit, he enjoys it and I have fun at it. I hope that there is a possibility to retire him next year at Indoor Brabant."
Van Grunsven has planned on riding Salinero at a national show in Uden next week and then the CDI Falsterbo in July.
Related Links
Anky on Salinero's Career before his Retirement
The Rise of Rath and the End of an Era at the 2010 CDI-W 's Hertogenbosch?