Swedish Dressage News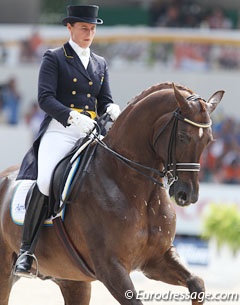 Swedish team rider Tinne Vilhelmson-Silfven has a gutsy surprise in store as she will be riding Antonia Ax:son-Johnson's Grand Prix horse Favourit (by Fidermark x Worldchamp) to brand new freestyle music based on legendary Broadway hits.
Tinne Vilhelmson's "It's Broadway" kur has been designed by Slings Music Cast and apparently will come with a complete package: a making of video, a show version as well as a  competition freestyle.
Eurodressage asked Slings why this freestyle is any different from the rest. "For our new project for Tinne Vilhelmson-Silfvén and Favourit we have taken it a step further,"the Dutchman said.  "We have many innovative treats in store which will be surprising, entertaining and interesting for the judges and audience."
To keep a modern and original influx on the 1930-1940s' broadway theme, Slings teamed up with renowned DJ D-Rok who travelled the world with hit singer Caro Emerald.
In the first "trailer" Slings personally takes the viewer in easy steps through the studio process and shows his world of recording studios, engineers and musicians. A brief lecture about musical instruments, trumpet-mutes, sordinos and all sorts of arrangements from the roaring forties is one story, and his musical ideas and amazing guest musicians are the main subject in this trailer.
Tinne's freestyle is surprisingly original with its modern touches and the trailer gives the viewer a better insight in the complexities of producing a custom-made freestyle with real depth in sound and tailored to the movements of the horse.
With dressage top sport being more cutting-edge than ever and as a larger group of horses is now involved in a neck-to-neck battle for the ultimate victory, the right composition and professional music will be decisive factors in judges attributing the victory to a rider who stays fault-free in the Kur to Music.
Well informed sources told Eurodressage that O-judge Eric Lette, who witnessed the first privately held premiere of this show last weekend in Stockholm, said it was about the best he had heard. Lette added, "we old judges like music that puts us in a good mood." 
According to Antonia Ax:son-Johnson several people had tears in their eyes. "The magic was there," she confirmed. "It was a snazzy, happy, energizing performance and some people were dancing as they watched!"
The first trailer released includes end titles hinting at forthcoming video clips, or even a new DVD about this Broadway musical work for dressage.
Related Links
Lovsta Future Challenge Cup, a New Initiative to Strengthen the Future of Swedish Dressage
Axel Johnson Group Sponsors World Dressage Masters
Favourit Sold to Tinne Vilhelmson
Sanneke Rothenberger to Premier Slings Arranged Freestyle
Cees Slings and Victor Kerkhof Reveal the Secrets to their Success
The Making of Wayne Channon's Kur to Music "Il Passeggiato"