Belgian Dressage News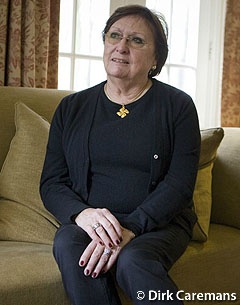 Longtime Belgian international dressage judge Mariette Withages officiated at her last international dressage competition in Mechelen, Belgium on 27 - 29 December 2013. Withages has reached the FEI's official age limit for judges and as of 2014 can only continue to judge on a national level.
The 72-year old Mariette Withages is one of the powerhouses in the dressage world. A highly respected and critical judge, Withages was a member of the ground jury at some of the most important international dressage competitions in the last thirty years.
Mariette started her judging career at age 28 by starting as a scribe. She quickly became secratary-general of the Union of Dressage Riders and established herself as notable dressage judge in Belgium. In 1973 the Belgian Equestrian Federation gave her a Prix St Georges judging licence and  three years later she followed courses for candidate international judges in the Swiss Elgg. In 1974 the CDI Brussels was the first show of a large string of international competitions which led to Olympic (5*) juding in 1989.
In the past decade she was president of the Ground Jury at the 1998 World Equestrian Games in Rome and 2001 European Championships in Verden in 2001. She officiated at the 2002 World Equestrian Games in Jerez de la Frontera, Spain, and was the Technical Delegate during the 2000 Olympic Games in Sydney. She judged at the 2004 Olympic Games in Athens.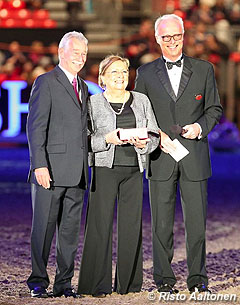 Withages was a driving force in the establishment and popularity of the Kur to Music. Together with Dr Reiner Klimke and Herman Duckek she initiated the World Cup Finals series with the kur to music as deciding class for the title.
For many years Withages is  the chair of the International Dressage Officials Club (IDOC). She was also chair of the FEI Dressage Committee until FEI President Princess Haya ask for the committee's resignation in 2008. At the time it was implied that that too many judges had too much influence on the committee. Four out of six committee members were a judge at the time.
Due to her vast experience Withages is still a much sought after clinician, keynote speaker, trainer and equestrian show consultant. At the 2013 IDOC General Assembly during the CDI-W London mid-December she was honoured by her colleagues for her long career and dedication to the sport.
Photos © Dirk Caremans - Risto Aaltonen
Related Links
Eurodressage Photo Database: Mariette Withages
Mariette Withages Reacts to "Mechelen Music Massacre"
Classical Training: A Lesson with O-judge Mariette Withages
Withages and Fouad Head Gruppo Italiano Dressage Seminar in Caselle, Italy
Judging Refresher Course in Brazil with O-judge Mariette Withages
Mariette Withages: "The FEI is Not a Democracy"
Mariette Withages, Chair of FEI Dressage Committee, Replies
Mariette Withages Resigns as Chair of FEI Dressage Committee
FEI President Princess Haya Asks for Resignation FEI Dressage Committee
WEG Review with Mariette Withages
Mariette Withages, O-Judge from Belgium