Brazilian Dressage News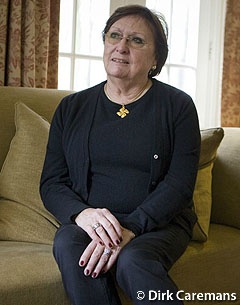 Recently retired 5* dressage judge Mariette Withages has been appointed the official dressage team trainer and technical advisor of the Brazilian Equestrian Federation. Withages will have to coach the Brazilian dressage riders towards to the 2016 Olympic Games in Rio de Janeiro. 
Withages travelled to Sao Paulo, Brazil two weeks ago for her first clinic with the potential team candidates for the 2014 South American Games, which take place in Chile on 7 - 18 March 2014. The clinic was held at Coudelaria Ilha Verde in Araçoiaba Serra.
"I'm very happy and proud with the appointment as Brazilian team leader for dressage," Withages commented. "I'm looking forward to the future. This was my first meeting with them all. Some of the riders I had already judges and others were new to me. The quality of the horses and the motivation of the readers were a pleasant surprise. I can't predict the future but we will work hard to achieve at least a team medal at the South American Games."
The 2014 South American Games are a 2015 Pan American Games' selection trial. "Our goal is to win a medal so we can go to the Pan Amerian Games," said Sandra Smith, dressage director of the Brazilian Equestrian Federation. "We want to bridge the gap between Brazil and Europe and Mariette will surely be able to help us on a technical level."
The Brazilian Equestrian Federation has hired three foreign experts as team trainers for show jumping (Jean Maurice Bonneau), eventing (Mark Todd) and dressage (Mariette Withages) in the lead up to the 2016 Rio Olympic Games.
Withages aims to train both the senior Grand Prix riders as well as the youth riders and wants to set up a system of A- and B-teams as well as a talent scouting program. "Besides those technical aspects, I really would like to focus on team spirit, respect and discipline, as well as a good physical fitness for rider and horse," Withages explained.
Photo © Dirk Caremans
Related Links
Belgian Mariette Withages Retires as International O-Judge
Classical Training: A Lesson with O-judge Mariette Withages
Mariette Withages: "The FEI is Not a Democracy"
Mariette Withages Resigns as Chair of FEI Dressage Committee
Mariette Withages, O-Judge from Belgium