2014 World Equestrian Games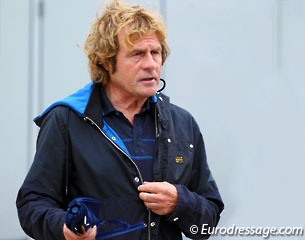 The road to qualification for Belgian Grand Prix team hopefuls for the 2014 World Equestrian Games has been set by Belgian technical advisor Sjef Janssen in co-operation with the Belgian Equestrian Federation (KBRSF). Two national shows will serve as observation trial and the achievements of riders at national and international competitions as well as at the official training sessions will be taken into account.
According to chef d'equipe Jeroen van Lent, the Belgian WEG plan was laid out during a team meeting in February. The national show in Diepenbeek on 29 June 2014 and the 2014 Belgian Dressage Championships at the end of July will serve as two selection/observation trials.
"There were also been a few national team selection shows marked on the calendar which count as well," Van Lent added. "All other international show results help to determine the teams and selection."
Riders in the running for a spot on the Belgian WEG team are most likely those currently ranked in the A and B+ team. Those include A-team riders Claudia Fassaert (Donnerfee) and Julie de Deken (Lucky Dance), and B+ team riders Philippe Jorissen (Le Beau), Delphine Meiresonne (Wipsy van 't Heihof), Jeroen Devroe (Eres DL), Simon Missiaen (Vradin), Françoise Hologne-Joux (Wodan), Mario van Orshaegen (Wilco V), Ona Dewagenaere (Dabanos d'O4), David Engelen (Royal Rubinstein), Marc Peter Spahn (Ekwador) and Laurence Vanommeslaghe (Avec Plaisir).
"The fact that the observation competitions have been announced only now is because we have long looked at the very busy national and international calendar and after much consideration found the best compromise," Sjef Janssen told Eurodressage. "With the announcement of the dates, there still is plenty of time in everyone's planning and (the qualifiers) were already provisionally announced in our last team meeting in February."
The actual WEG team selection will not only be based on the top four combinations achieving the best results in Diepenbeek and at the Belgian Championships, but more factors will count.
"The selection happens the same way as I carried it out in The Netherlands and where it functioned well," Janssen explained. "The two (national) shows are observation trials and as we have told the riders as well, everything will come into play in our final decision, even trainings, but also international shows and team competitions."
"Often it does come down to the last shows, but not always," Janssen added. "Because I always schedule the shows as closely together right before a big championship, there will be signs who performs well under pressure and what the fitness and shape of the moment are."
Photos © Astrid Appels
Related Links
Sjef Janssen Hired as Dressage Technical Advisor for Belgium
Sjef Janssen Announces Belgian A, B, C and High Potential Teams
Julie de Deken and Lucky Dance Show Their Moves at the 2014 CDI Nieuw en St. Joosland
Jeroen Devroe Returns to the Grand Prix Ring with Eres DL