British Dressage News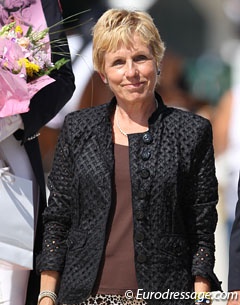 Katrina Wüst will be the guest speaker at the 2015 British Dressage Judges Convention at Warwick Hall, Stoneleigh Park (Warwickshire) on 25 March 2015. This year's convention is set to be one with a difference. Katrina will be illustrating her points using video footage specifically taken for this event.
Undoubtedly one of the most respected judges in the world, Katrina Wuest was a dedicated and successful dressage rider from the early 1970s to the early 80s. A member of the German B-squad for 10 years, she competed at German championships, winning more than 60 competitions at a high level.
At the beginning of the 90s, Katrina decided to retire from competition and, instead, shift her focus towards judging; although she still rides her own horses regularly. In 1994, she became an FEI judge and, later, an FEI 5* judge. Since then, Katrina has judged at many international competitions in Germany and abroad, including four World Cup finals and a European championship. She was one of the leaders in the development of the FEI Dressage Judges Handbook and is also a leading trainer of dressage judges around the world.
Covering the basic principles and movements, as well as those at higher levels, the day will be equally relevant to judges at any level – and, of course, riders and trainers are also welcome.
For those who feel that, previously, there has not been enough audience participation; changes have been made to create more opportunity for the audience to comment in a structured way.
Tickets for the day are £20.00 for listed judges and £25.00 for trainee judges and all others. These can be purchased via the Shop or through Claire Carter on +44 247 669 8833.
Photo © Astrid Appels
Related Links
Stephen Clarke to Present 2013 British National BHS Spring Convention
Harvey and Halsall to Speak at 2013 Principles of Judging Seminar in U.K.
Olympic Judges Open Door to Discussion at 2012 BDSC National Judges Convention
BDSC Judges Convention Showcases 'Sympathetic' British Riding