KWPN Breeding News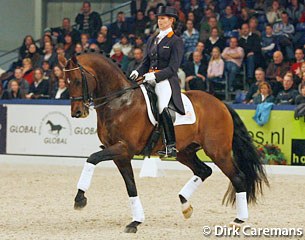 The 25-year old KWPN licensed breeding stallion and former Dutch Grand Prix team horse Krack C has passed away on Tuesday morning 9 May 2017. The stallion died at stud farm Van Uytert from an aortic rupture during his daily turnout.
"Krack C was till his last day in very good health," said stallion owner Joop van Uytert. "Of course he was old and he was no longer breeding, but he was turned out daily and was fresh. We showed him to the group of KWPN Young Breeders last weekend. This morning (9 May) he was out in the sun and just died. He passed in between the mares, which was very beautiful."
Bred by Stoeterij 't Centrum, Krack C was born in 1992 and was by Flemmingh out of Gicara (by Beaujolais x Ulrich). 't Centrum initially owned Krack C but in 2009 the horse was registered with the FEI as owned by F. Vlaar.
The bay stallion was first competed by American Nick Wagman, who became the double consecutive Pavo Cup winner in 1996 and 1997.
In April 2000 Krack C moved to Anky van Grunsven. In 2007 he was trained by Hans Peter Minderhoud, who then worked as an assistant trainer at Anky's.
Van Grunsven made her Grand Prix debut on Krack C at the 2002 CDN Kootwijk. The same year Anky and Krack C competed on the Dutch team at the 2002 World Equestrian Games in Jerez. Initially Anky aimed to qualify Gestion Idool for Jerez, but had to rely on the young Krack C instead. However, team Orange stayed far away from the team medals, weakened after the retirement of Bonfire. The pair finished 8th individually.
Krack C injured himself in the winter of 2002-2003 and except for one appearance at the 2003 Dutch Championships, the horse spent almost a year and a half off from competition. He made his come back at the 2004 CDN Roosendaal, but was no longer submitted on the Dutch team as Salinero had taken over the number one spot in Anky's barn.
Krack C competed last at international shows in 2007, winning the CDI's in Arnheim, Oslo and Helsinki. The latter event in October 2007 was his final CDI in his career. He retired from competition as a 15-year old and received a special ceremony at the 2008 KWPN Stallion Licensing. In 2010 a brief announcement was made that Krack C would return to the show ring as a schoolmaster for Birgit van der Drift, but nothing really came to fruition.
As a breeding stallion, Krack C sired 10 licensed sons with the KWPN society, including Redford, Trento B, Tuschinski, Tolando, United, Velazquez, Vivaldi, Webster, Zhivago and Dorado. In Germany he has sired 15 licensed sons, amongst them Kaiser Franz, Kansas C, and Köpenick.
Numerous Krack C offspring are competing at Grand Prix level, including Paso Doble, Symphonie , Spargo, Samaranch, Santo Domingo, Trento B, Tenson, Twister RVL, Ucola, Veni Vidi Vici C, Karolus von Wittenstein, Werner, Zygrande le Coupied and Zamora.
Photo © Dirk Caremans
Related Links
Eurodressage Photo Database: Krack C 
Krack C Retired
Krack C Comeback with a Victory at 2004 CDN Roosendaal
Dutch Equestrian Federation Announces a Stallion Quartet WEG Team
Anky van Grunsven Pulls Gestion Idool out of Dutch WEG Selection Trials
Winning Grand Prix Debut for Krack C
KWPN Stallion Krack C to Anky van Grunsven