Finnish Dressage News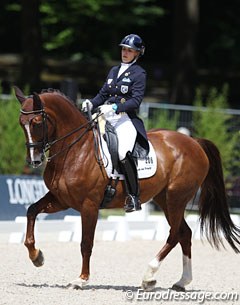 Finnish Grand Prix rider Terhi Stegars is on the road to recovery after injuring herself severely in a riding accident. On 3 November 2017 her top horse Axis landed on top of her when he tragically collapsed and died from an aortic rupture.
Stegards had to transported to hospital and was operated on two days later to treat multiple fractures of the left shoulder socket. Terhi is now back home and on the road to recovery although it make take a couple of months before she is back in the saddle.
"The surgery went well and fortunately the splintered shoulder was able to be fixed with screws and a titanium plate," Terhi told Eurodressage. "The initial prognosis was quite bad but after the first check up it seems I will recover fully and will be back riding in a couple of months."
Stegars is based at Tanya Kayser's yard A Bis Grand Prix in Luxembourg. Her horses are currently being ridden by assistant trainers Minna Uronen and Marco Ulrich
I have been visiting the stables on and off," Terhi explained. "So all is good so far, but I have to admit that the stables feels very empty with out our much beloved Axis."
Terhi will have to go back to the hospital in two weeks for her next X-ray and will then get to a prognosis of when she can return to the saddle.
Related Links
Terhi Stegars' Axis TSF Passed Away 
Terhi Stegars and Tanja Kayser Acquire Axis TSF
Finnish Terhi Stegars Relocates to Luxembourg
Terhi Stegars Gaves Birth to Baby Boy