2018 Central American and Caribbean Games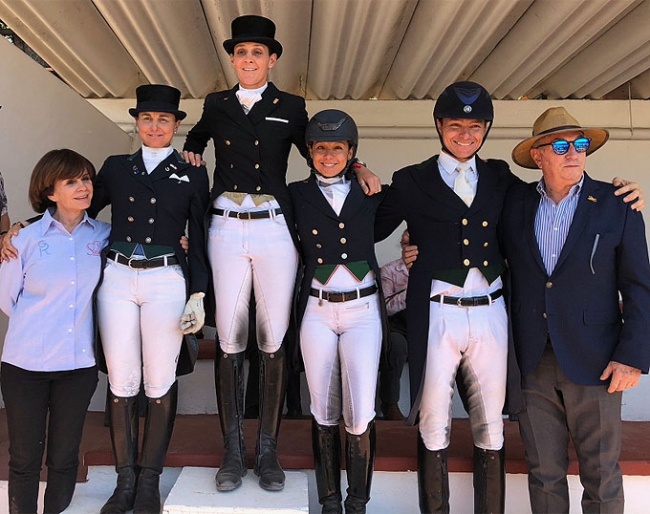 This past weekend Dressage Mexico concluded its Selection Trials for the 2018 Central American and Caribbean Games in Bogota, Colombia, in July 2018. After three well attended qualifiers, the official Mexican team has been selected.
After three qualifiers, all hosted in Mexico City, the four best combinations are:
Mariana Quintana - Benzemá
Bernadette Pujals - Heslegards Rolex
Mónica Burssens - Elfentanz
Enrique Palacios - Lorenzo
Selection Process Based on Ranking Point System
The Selection Process consisted of three qualifier CDI's staged in Mexico City at Small Tour level, including thePrix St Georges and Intermediate I tests, with the added requirement of presenting a Ku to music on the last qualifier. However, only the technical tests would earn points.
The points system was as following: 60.000% = 1 point; 61.000% = 2 points; 62.000% = 3 points; and so on, including three decimals.
The overall champion of the Selection Process was Mariana Quintana with Benzemá, the same mount with whom she participated 4 years ago at the 2014 CACG  in Veracruz. She earned 39.029 points after discarding her two worst scores, one each from PSG and Intermediate 1, both received in the third qualifier.
In second place is Bernadette Pujals, who dropped her 2016 Olympic Rio ride Heslegards Rolex from Grand Prix level to small tour level for the CACG. She won both classes in the last qualifier, but ranked second place overall after having skipped the second qualifier earlier this month. She earned her 38.383 points. Bernadette has already won two individual bronze medals at the CACG in 1998 and 2002, and went on to win individual bronze in 2002; team gold in 2002, team silver in 2006, team bronze in 2010 and individual gold as well as team gold in 2014.
In third place is newcomer Mónica Burssens, following in her father's footsteps, having come all the way from Wellington to participate in this Selection Process. Mónica obtained 37.294 points with Elfentanz. Mónica's father, Patrik Burssens won individual and team gold at the 1993 CACG in Ponce, Puerto Rico. He went on to win team and individual gold at the 1995 Pan American Games in Argentina.
In fourth place is Enrique Palacios with Lorenzo with 34.676 points. Enrique has previously competed in the 2015 Pan Am games with Wizard. He qualified in 2014 for Veracruz's CACG but his mount, Showtime, suffered an accident and had to be euthanized.
The official reserve  is young rider Carlos Maldonado with Massimo, who has represented Mexico at the NAJYR Championships twice in the last 2 years. He will not travel to Colombia unless one of the other combinations is unable to do so.
Unprecedented Attendance for Selection Trials
This year's selection trials marked a historic point for the sport in Mexico because at the beginning 22 combinations entered the selection process. Several riders had more than one mount, such as Bernadette Pujals, Mónica Burssens, Carlos Maldonado, Enrique Palacios, and Antonio Rivera.
"The number of combinations capable of participating at small tour level signifies a growth in numbers of riders, horses and the ovarall quality of the sport. Compared to USA or Canada may be peanuts, but it must be understood that there is no schooling system for equestrianism in Mexico that makes riders go through training levels in order to compete," said Dressage Mexico's press officer Eugenia de Larrea.
Jumping is the most popular and therefore well funded equestrian discipline in Mexico, with thousands of riders in the country. Dressage has more consistently brought regional games medals and Bernadette Pujals is the most decorated rider in the country at Grand Prix level, while the Belgian born Patrik Burssens has done the same for his country at small tour level. Further Mexican riders of note are without a doubt Joaquín Orth, Antonio Rivera, Margarita Nava, Karina Amoros, and Cristóbal Egerstrom who have been on the podium.
Mariana Quintana champion of the Selection Process had this to say: "I am enormously proud to represent Mexico once again in the Central American and Caribbean Games. It fills me with satisfaction the fact that a great team has been formed because we're very well prepared combinations and we hope to excellently represent our country in this Games. For myself I have to thank all the institutions, sponsors and people who have supported me to achieve this dream as a professional rider."
In the history of the CAC Games, Dressage made its debut in 1935 in individual form, then Mexico earned two medals: one gold one silver. Then in 1938 Mexico fielded a team for the first time, obtaining team silver. Since then Mexico won team gold in the 1986, 1990,1993, & 2002 editions. In 2006 it was team silver, being beaten by arch-rival Colombia; then in 2010 it was team bronze being beaten by Colombia with the gold and Guatemala with the silver. At the last edition in Veracruz, Mexico in 2014 Mexico won team gold again.
Related Links
Scores: 2018 CDI Mexico City
Scores: 2018 CDI Mexico City
Mexico Wins Team Gold at 2014 Central American and Caribbean Games