Interview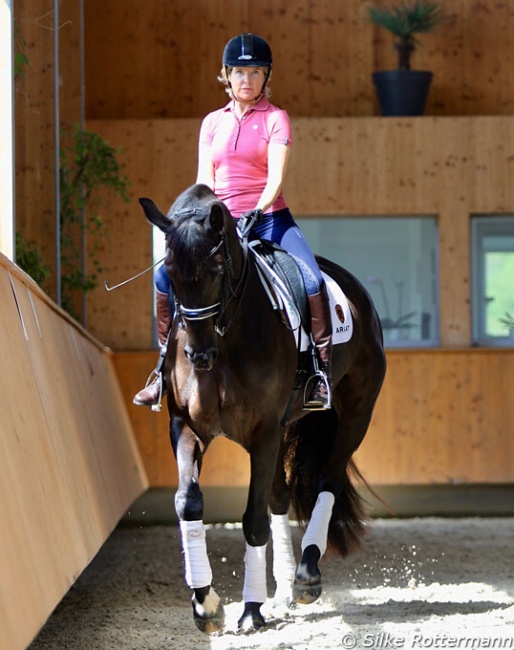 Verity Smith became blind at the tender age of 8 after contracting encephalitis and meningitis. This didn't hinder her in pursuing her goal of becoming "the best rider I possibly could be."
British born Verity trained in England with Olympians Sandy Phillips and Laura Tomlinson, as well as in Sweden with Maria Borg and Louise Carlen. Before this she had competed on the British para-dressage team at the 1991 World championships in Aarhus, after which she decided she would focus completely on the able-bodied classes.
She successfully competed and won up to Intermediate I with her trusted partner Szekit, an Oldenburger by Sandro Hit x Rubinstein) who at the point that he was Grand Prix-ready, sustained laminitis and sadly had to be retired in 2018. Before his retirement he and Verity were competing and winning at the highest level ever achieved by a blind rider. This included being ranked 12th in France at able bodied Elite level, competing in the top 10 able bodied at Equita Lyon and winning Equimasters 2017 France.
In January 2019 Verity started a new partnership with the talented Hanoverian mare Daisy (by Dancier x Walt Disney) with whom she moved to Alain Francois' equestrian center "Saumur Dressage". There she trains with Francois as well as with French international judge Alain Francqueville to prepare for an ambitious goal: Competing successfully on the French para team as well as competing at Grand Prix level.
Eurodressage caught up with Verity to speak about her life, about competing as a blind rider in a world of vision, and the effect this might have to change the perception of para classes in the equestrian world.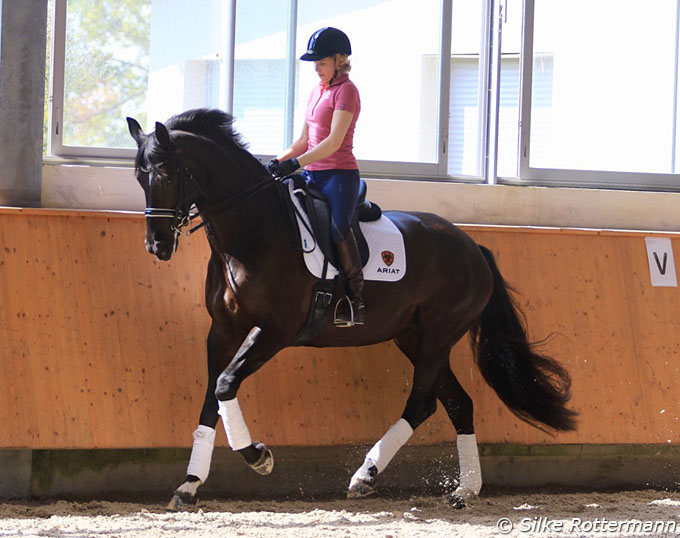 Eurodressage: Verity, you aim to be the first blind dressage rider to compete in a Grand Prix. What makes that great challenge so attractive to you?
Verity Smith: I love to go out to compete and win at a high level and at the same time I love changing perceptions. If I compete, I want to do it well and aim to win. I'll only go out if I am ready for that. It will make me so proud when Daisy and I compete Grand Prix and win possibly next year. There is a whole team behind me and this would be the best way of thanking them for all they do for me. But it is more than just having success. It is about changing perceptions in a positive way. I hope people will watch, that it will give them courage to believe that anything is possible and I hope that it will maybe inspire parents of blind children.
ED: Your Hanoverian mare Daisy and you are a very new team, but it looks already familiar between the two of you?
VS: I found Daisy in Sweden after my trainer Maria Borg saw her in Germany and took her home. When my trusted partner Szekit got laminitis, I first wanted to stop, but then I met Daisy and through crowd-funding I was able to acquire her as my future horse. She is now 10 years of age and has been competing at Inter 1 level. Daisy is a saint and very patient with me. Sometimes she seems to ask 'What are you doing?', but she always tries.
We have been together now for only a few months so we are only at the beginning of getting to know each other, but we get closer day by day and our mutual understanding is ever growing. We haven't competed yet. I took her to the Deauville Para International dressage competition a few weeks ago for training purposes to see how she reacts to the surroundings and she did well.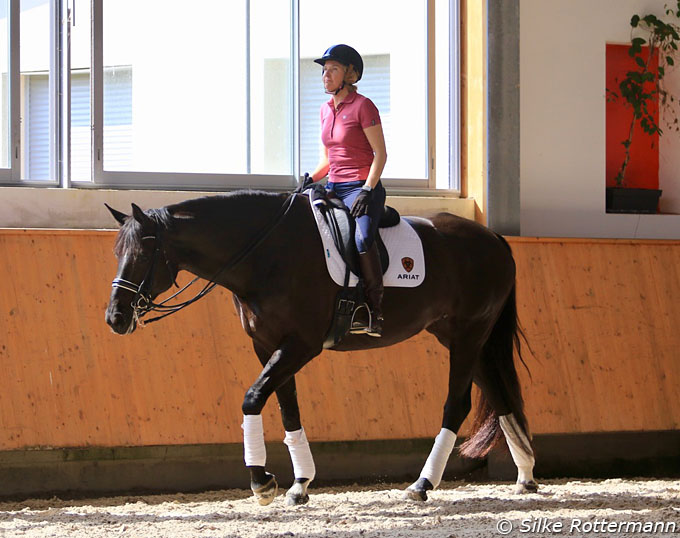 ED: Watching you ride, I really couldn't see the slightest difference to an able-bodied rider. How do you orientate yourself in the arena?
VS: Basically it works through counting my horse's strides. All horses have different strides, and individual horse's strides can also vary, when they are for example tired or stiff. With Szekit, whom I rode for the past six years, I did not need to count my strides between the arena letters anymore, it was pretty symbiotic between the two of us.  With Daisy we are at the beginning of the relationship, so I have not as yet memorised her strides. At the moment, I count and I ride at the same time and it is not yet perfect. 
A few days ago I trained with Alain Francqueville at the ENE in an outside arena and my mother sat, as usual, on a jumping block at C. Outside it is more difficult than indoors as the walls are missing. On that day I tried to do three things at the same time: To follow Alain's instructions, listen to my mother who calls letter C, and ride my horse. I forgot to count for a brief moment, Daisy left the arena and almost trotted over my mother!
As Daisy is a new horse and as her strides are different to Szekit's, I have to recalibrate my brain and retrain. That is why my orientation in the arena at the moment isn't as sharp as it will be. To succeed I have to put in many more kilometers in the saddle. So currently the two trainers I have here in France have to help with my orientation, which they usually forget after five minutes as they are concentrating on my riding not my orientation.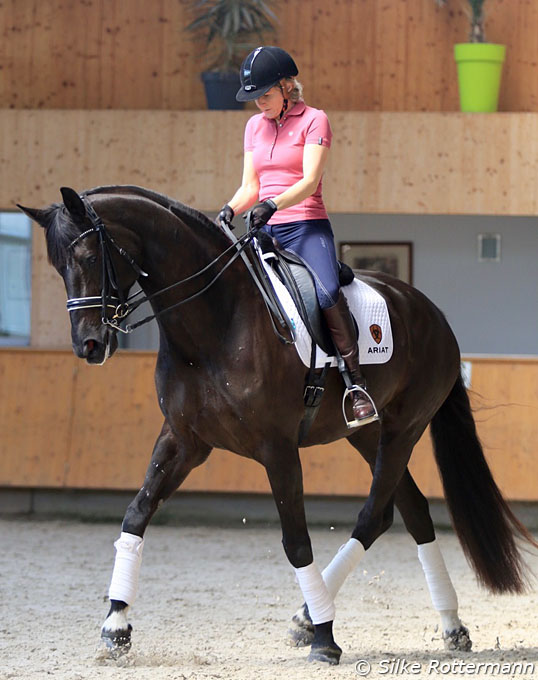 When I train alone at home, I always start at the same point in the arena. I warm-up in walk and takes time as this helps me to re-establish my orientation. So though the walk at the beginning is there for the horse, it is also a kind of mapping-process in which I calculate the strides. During a competition, I have one caller at X and the arena letters are called by up to 8 other individuals as allowed by the FEI. These callers give me a sound reference rather than the normal visual letter references used by sighted riders.
ED: What advantage does a blind rider have in comparison to an able-bodied rider?
VS: When the homework of assessing and counting the horse's strides is done, actually I have an advantage. I feel my horse's movements, I become part of my horses and I count the strides through the engagement of the hind legs. If you observe riders, you'll sometimes see them closing their eyes or looking down. Even if it is not the right thing to do, I do believe they forget the vision and they are feeling the horse's movements.
For my trainers it is quite difficult as I have never seen dressage, I do not know what flying changes look like or a pirouette. But that is also a good thing because of the precision in which I have to understand the movement, the detail means everything, I have to think about every little aid I am giving to create the right movement. So I am forced to ride with precision.
The one thing that is quite hard is that I cannot see a flexion. A sighted rider will use mirrors. That is something I have to be very precise about, but once you get the feeling you can duplicate it.
ED: How do you know your horse moves in the right frame then?
VS: That is something you learn with the horse and for that reason it had been a learning process with Daisy the past two months. You can feel when the horse is round, if he is together, but I cannot tell exactly the head-neck-position. For example, when Daisy arrived in France, I asked Alain (Francois) to let me know when she in front or behind the vertical. But it took just a day to say "yes" or "no" or "that's it" and it was in my head.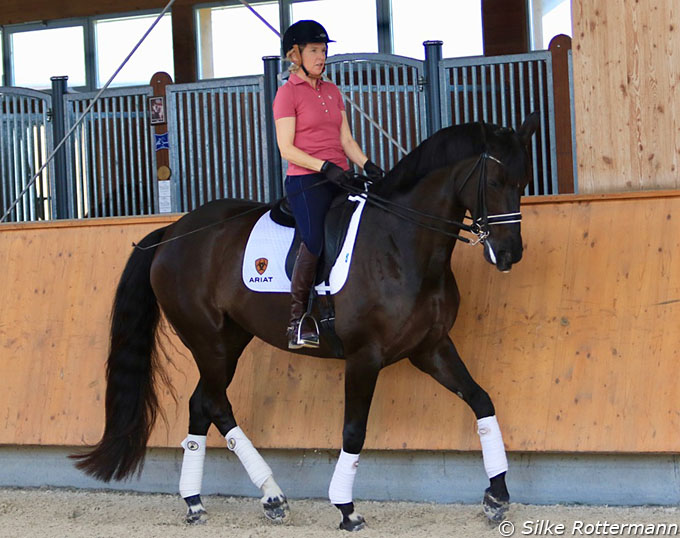 The one thing that is a problem with not being able to see, especially with a new horse, is that if I have not calibrated my strides, I am worried about causing an accident by riding into the wall or over boards. This can mean that I ride with the handbrake on as I get tension in my shoulders, close my hands and that causes confusion.
ED: Unlike most handicapped riders you have entirely focused on the able-bodied classes up to Intermediate I level over the majority of your career. For which reason?
VS: Now this year is a new beginning for me with para competitions. I last did them when I was 18 and was on the British team at the World championships. Since then I haven't actually ridden in any para class. For me it was always the able-bodied that has drawn me. The reason I chose dressage was because it is a sport I could compete at without my disability affecting my ability to do the best I could. If I count my strides, concentrate, train as hard as I can, there is no reason that not seeing should affect the performance of the horse. I love the opportunity and winning against able bodied riders. I admit I have a dream which I know is massive: I hope that one day I will represent France on the able-bodied and the para team.
ED: You are classified grade IV and while the tests there aren't easy themselves, how do you manage to ride such a complex program like an Intermediate I test?
VS: Actually it is easier for me to ride an Inter I test than a grade IV para test as I find the strides easier to count in Inter 1. This is because in Inter1 the movements are more tightly packed in the test so there are less strides to count between figures. I have not yet ridden the para grade IV tests as many times as the Inter 1 so this also makes a difference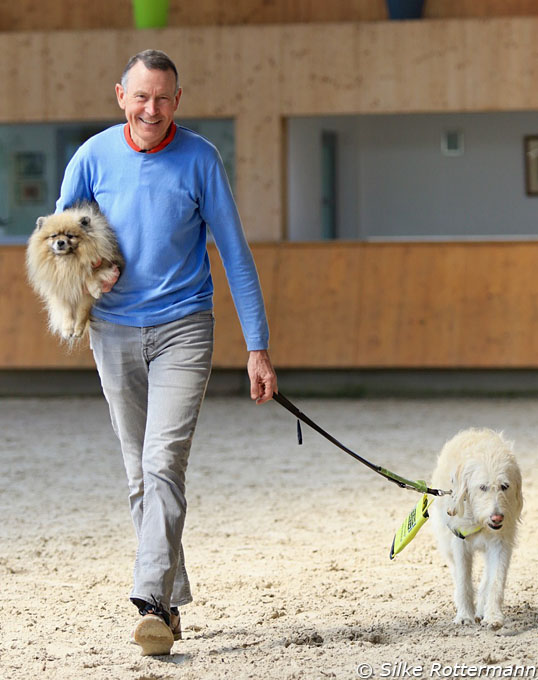 Generally a vital part of me being able to ride such tests are my 'scoobies' or callers who are there for me at every single show. We are a team of nine people. They wear matching outfits and they go to the arena letters before my programme begins. We try to do that in a discrete way that is not disruptive for the judges. It is great that the FEI allows these callers. They are my audio reference to where the letters are.
When I compete, the music is less loud or entirely switched off so that I can hear exactly where I am. The spectators are also very polite and quiet and very supportive and interested. But as much as I am dependent on my callers, it is pretty hard work to accustom a horse to them. For a horse it isn't natural to go near people who are shouting letters. On the one hand we want our horses to be sensitive and sharp to our aids, on the other hand we ask them to ignore all that shouting.
ED: But how are you able to ride a freestyle to music like that?
VS: I did freestyles with callers and I found it distracting. If I do, then the judges must find it distracting as well. What I intend to do when we take Daisy out is to reduce to one caller, so that if something happens, that caller can reset where I am. It will be difficult but it will be my own programme rather than a written test. I think for the judges the less we can affect the music the better. Otherwise we end up sounding a bit like a street festival.
ED: Having repeatedly written about successful para riders, I got the impression that the usual equestrian public doesn't acknowledge them enough because their classes are usually less spectacular. That being said, do you think more para riders should leave the "para-shell" and contest in regular competitions?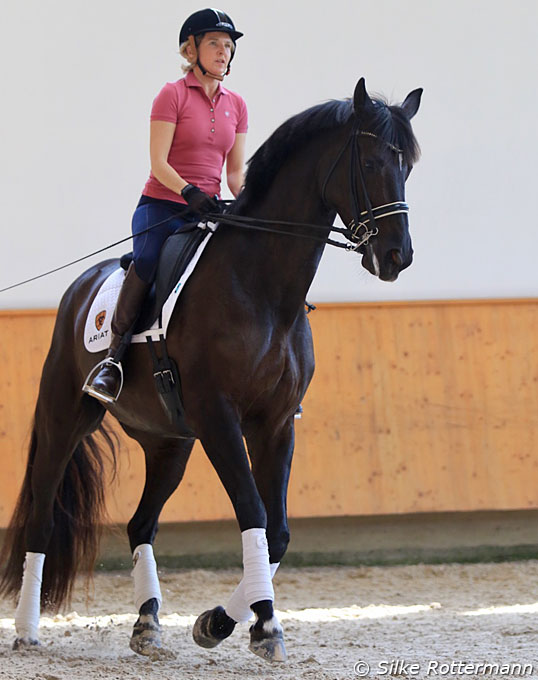 VS: Basically I agree. I think the amazing miracle and beauty of para dressage, is the ability the riders have to do what they do with their horses, but for spectators it is very hard to appreciate what is happening, as it sometimes feels as if nothing much is going on. It is difficult to move forward with para dressage because of the way it is structured, you are limited to your grade. For example Lee Pearson who is in grade 2 can ride a Prix St. Georges.
I have wondered if there should be something like a Para Celebration of ability prize where everybody is allowed to show what they wish to do. It would not be part of the medal system but I think this could bring in the crowds. Grade V attracts people as they allow Prix St. Georges movements in the freestyle. I think we should also think about bringing the sport of dressage together. As we already sometimes compete on the same sites during the same shows, why not, for example, twin an Isabell (Werth) with a Hanne (Brenner) for a special exhibition.
However, I absolutely think para riders should also compete in able-bodied classes. Many of the para riders I know also compete in regular classes and I think it would be brilliant to see more para riders out there. It is often a question of finance. There are some fantastic horses including those we now have in the para classes, but competing successfully in able-bodied classes is definitely down to horse-power. These horses come at a price and often para riders don't have that much money and are lacking sponsors or patrons who make suitable horses available. It is marvellous that someone like Rudolpho Riskalla who is also successfully competing at S-level against the able-bodied is given such a horse by the Linsenhoff family. That is the support one needs I could only buy Daisy through crowd-funding. Financially it is a struggle for all riders, so sponsorship would be the key. This lack of sponsorship is exactly what prevents many para riders branching out and blossoming.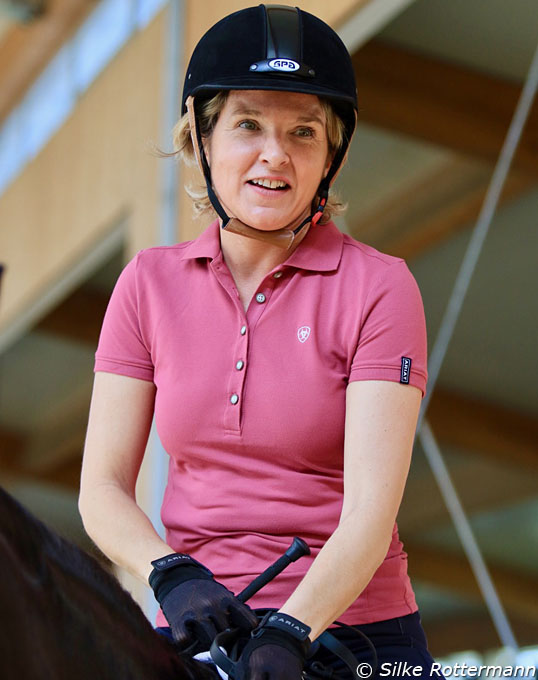 Recently I read an article about sporting heroes and those who often remain in the people's hearts and who are most lucrative for sponsors They are not necessarily the ones who won the gold medals. They are the ones who beat the odds because that embodies what sportsmanship is. Sponsors could look at para sport in that way.
With better finance more riders would be able to compete both at Para and able bodied competitions I now have less than 5% of vision but horses are my passion. My hope is that these beautiful, generous creatures will partner me in my aim to compete and win at the highest level of dressage and show people the "Ability in Disability."
Interview and photos © Silke Rottermann for Eurodressage.com
Related Links
Sophie Wells: Ability Counts
First Combined FEI Dressage and Para Dressage Competition at CPE-DI Moorsele
Para Dressage, Harmony and Petersen Make Day Two of 2014 Global Dressage Forum
Paralympian Natasha Baker Gets Ride on Mount St. John's Diva Dannebrog