Education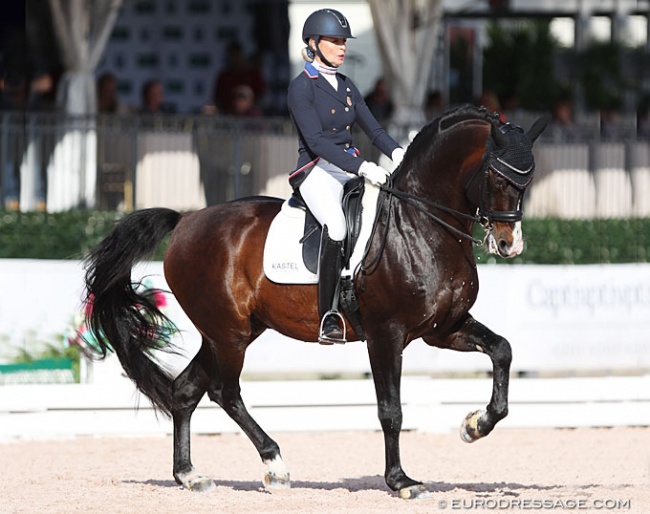 Hailing from a total of 31 countries, 241 dressage enthusiasts joined Dave Thind, Johan Zagers and Charlotte Jorst on Sunday April 19 for a live webinar on the classical seat. Questions were sent in by registrants and answered either in a round-table fashion, or individually.
After a brief welcome and introduction of the three-member teaching panel as well as their charming moderator Jean Rude, the webinar began with all three answering a simple but profound question from Ruth Mueller in Switzerland – "What is the classical seat?"
Each of the three experts answered in a heartfelt way on what this question personally meant to them. What we heard was all three united in standing up for withholding the classical seat, and classical riding. A tradition of a fair and clear training methodology based on the rider communicating from an educated, supple and balanced seat. We were also reminded that classical training is based on the laws of biomechanics and a clear understanding of horse physiology and the psychology of a flight animal.
here is the video! 
"And the result must be that our horses are more beautiful, more strong and more easy to ride. This is the idea of classical riding," stated Olympic level trainer Zagers.
Having only started riding at age 35, American Team rider honestly Charlotte Jorst was an open book and added "I'm still learning to such a large extent what I need to be doing to really stay with the horse and at the same time be beautiful." Jorst has been a member of the United States Dressage Team for the last 6 years.
The Classical Seat
The next question came from Live in Norway. "At what time in your career did you fully understand the importance of having a good seat, and what is your single most important tip to improve it?
Biomechanics expert and German Certified Trainer Dave Thind revealed that when he started riding in Canada he was "tall, lanky and uncoordinated", adding that his first trainer thought that riding was just not for him. He spoke of being lucky to learn to ride in Canada where in the hunter/jumper style of riding, he was taught to have soft aids. He also added that he personally had a strong desire to have good communication with his horses, therefore the natural interest in developing his seat.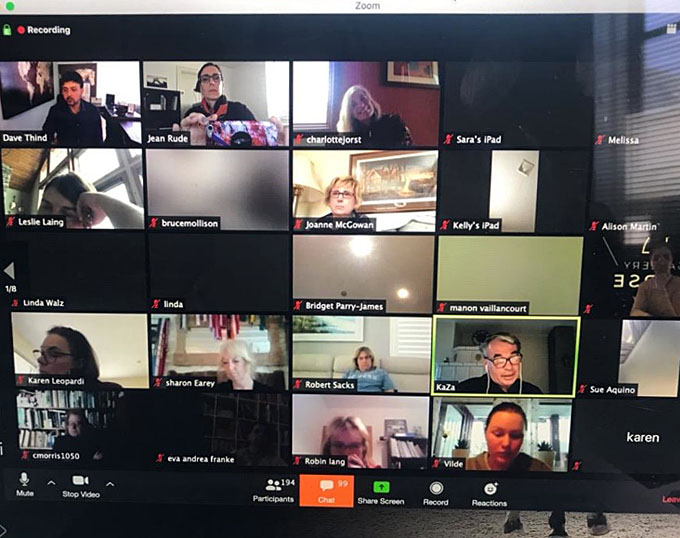 Finally years later when severe injury caused a major setback, "everything was hurting and nobody could help me." Thind knew he has to learn about biomechanics to help himself. "That's when I decided that this would be my focus in my riding and my teaching."
Thind proclaimed that the Feldenkrais Method is his single best advice, or even secret weapon to improve a rider's seat.
Then partipants watched a video of German Team rider Uta Gräf. She works with a Feldenkrais practitioner once weekly in Germany. Thind also talked about a special quality in her seat, that one could even see her seat looks happy; almost smiling as opposed to frowning.
Zagers spoke of his experience by starting with being influenced when he moved to Germany to train. He explained that his Master taught him that "training a horse is like one big puzzle, like building a house going from the base up to the top. You must learn to think what you do, and everything that you think has to work together from your seat to the horse, and to the exercises."
His second big influence was working with two members of the Spanish Riding School. "They really taught me so strong to be so precise with my seat, to the biomechanics of the horse, that means really that you have to be adapted to the movement of the horse with your seat to be very, very, very, balanced. They taught me it's not like sitting, it's not like standing in the saddle, but rather in between. They taught be that me that you have to be very different on the left side and on the right side in order to get the horse clearly bent and flexed, and not to pull with the reins.
Zagers agreed about Uta's beautiful straight, long-lined seat and that the horse was moving very nicely.
At the end of the webinar it was agreed that the conversation was not over since so many (over 100) questions sent in were left unanswered. Attendees were encouraged to look for answers posted to the Dave Thind Method facebook page.
Last week's attendees, as well as those who could not make it, are invited to attend part II.
Part II of the Free Webinar, Sunday 26 April 2020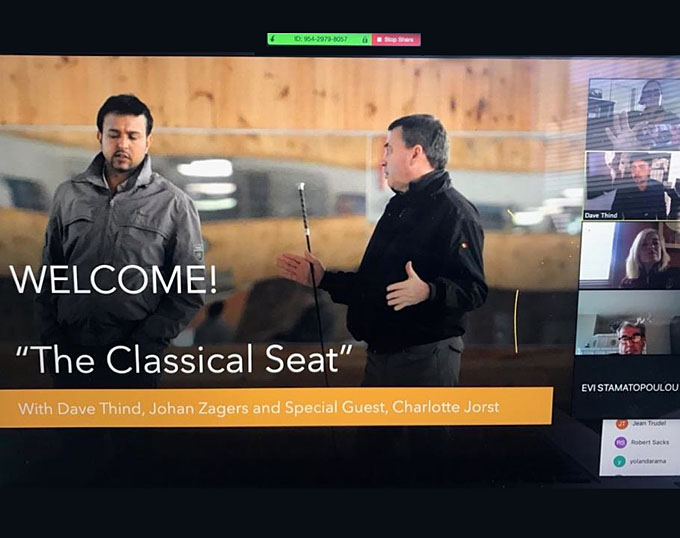 "The Classical Seat" Part II is a Free Webinar with Dave Thind. Thind will be teaching a Feldenkrais for Riders (DTM) lesson entitled "Find Your Seat Bones and & Easy Vertical Alignment."
It will be held Sunday, April 26 at 2pm Eastern Standard Time / 8pm Central European Time.
To attend, please register at https://www.davethindmethod.com/webinarwithzagers
For more information on the Dave Thind Method, visit www.DaveThindMethod.com or on Facebook.
Related Links
Free Webinar "The Classical Seat" with Dave Thind, Johan Zagers and Charlotte Jorst
Community Service - Free Online Class: Hijack Your Posture to Change your Emotions
Dressage Trainer Dave Thind Relocates to His Own Aspire Farm