Italy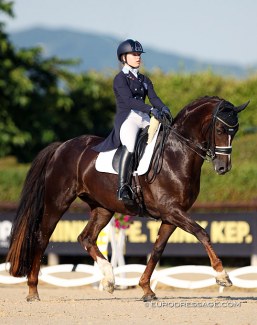 Four days after announcing the children and junior team for the 2020 European Youth Championships, the Italian Equestrian Federation has released the names of the Italian Young Riders team. 
Due to the corona pandemic, FISE decided to base its team selection on the two best results team candidates achieved in the period 1 January 2020 - 20 July 2020 with the CDN Ornago as an observation trial. 
FISE decided to send no Under 25 combinations to Budapest based on the results that have been scored. No announcement has been made yet about a pony team.
The Italian Young Riders Team includes:
Beatrice Arturi - Grandeur
Melanie Bartz - Diary Dream OLD
Filippo di Marco - Fidergald
Alice Campanella - Gracile D.E.S.
The first reserve is Ginevra Coperchio (Edipo el Bayo), the second reserve is Francesca Cintia (Moyito) and the third reserve is Valentina Ugenti (Britney)
Photo © Astrid Appels
Related Links
Italian Children and Junior Team for 2020 European Youth Championships Named
Eurodressage Coverage of the 2020 European Youth Championships