2020 U.S Dressage Championships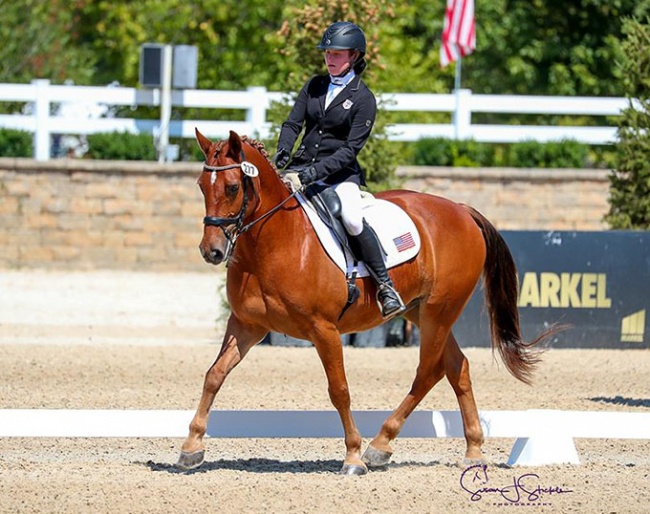 Abby Fodor became the 2020 U.S. Pony Champion, Avery Allen the Junior Champion and Endel Ots swept the Small Tour Championship at the 2020 U.S. Dressage Championship at Lamplight Equestrian Centre in Wayne, ILL. 
Fodor Pony Champion
Nine combinations performed the Pony Individual Test in hopes of winning the US Pony Championship.
Abby Fodor (Bloomsbury, N.J.) and Slip and Slide held on to their top spot on the leaderboard with an overall score of 68.227% to take home the win. Fodor and Marie Fodor's 17-year-old Quarter Horse/Haflinger gelding had some bobbles in the FEI Pony Rider Individual Test, but their score of 66.216% enough to earn them top honors. The pair won the 2017 USEF Children Dressage National Championship, adding another impressive result to their resume.
"I think he was a little tired today compared to yesterday, but I was still happy with it," said Fodor. "I think his lateral work and shoulder-ins and half-passes were a lot better. I think my serpentine was good."
Carmen Stephens (Saratoga, Calif.) and Woldhoeve's Silco, her 20-year-old KWPN/Welsh gelding, earned the reserve national champion title with an overall score of 67.657%. Olivia Brown (Charlotte, N.C.) and Balthazar, her 18-year-old Belgian Riding Pony gelding, were third in the overall standings with a score of 66.558%.
From the Mixed Zone:
Tell us about your test.
Stephens: "The test went really well today. The simple changes were a lot better than yesterday. He was just more on me aids, but he was getting a little bit tired. I could tell in the trot work that I was having to push him a little more than yesterday, but I am really happy with how the test went."
How does it feel to be a national champion?
Fodor: "I think it is nice to come back to ponies because I took a year of doing regular shows and then decided to come back to ponies this year. It feels good to win because it is my last year of doing it and I will age out."
Tell us about Slip and Slide's breed.
Fodor: "He is a Quarter Horse/Haflinger pony. He used to be a Western pony from an auction and we bought him from Canada. His owner in Canada taught him a little bit [about dressage], then I taught him more and added more to his knowledge when he came to the U.S.
What plans do you have for the future?
Fodor: "I think I will move him up the levels a little bit."
Stephens: I'm starting to get too big for him, so it's my last year with him. I have had him for five years, and we are going to look for someone to lease him and kind of just do the lower levels and someone who he can teach dressage to. I hope to eventually do the juniors and young riders.
Is the reserve national champion title special since it is your last year with Woldhoeve's Silco?
Stephens: "Yeah. We did Children's last year and got reserve. It was really special to be back again this year."
Allen Wins Junior Title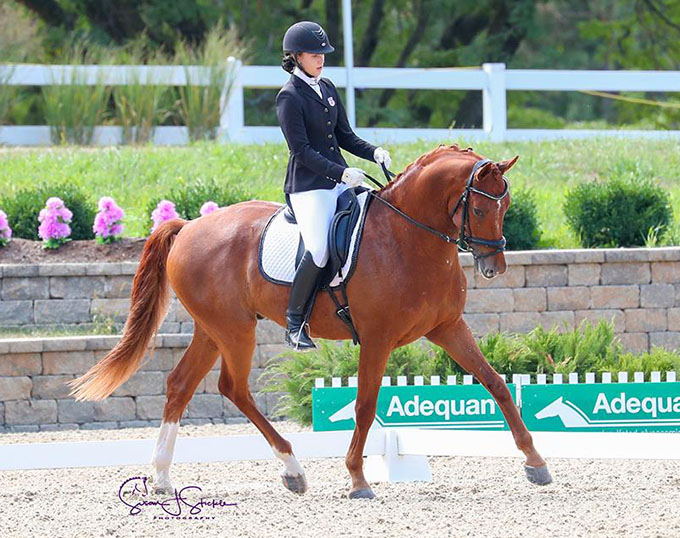 Sixteen combinations had their focus on taking home the U.S. Junior Championship title.
Averi Allen (Pleasant Hill, Mo.) and Superman put forth a solid effort in the FEI Junior Individual Test, earning a score of 70.637%. Allen, a frequent USEF Dressage Seat Medal Final competitor, and Jonni Allen's seven-year-old Hanoverian gelding maintained their lead from Friday to win the overall national championship with a score of 70.723%.
"It's overwhelming. I am really happy! I don't really know what to say. I'm just really happy," said Allen. "I'm proud of my horse and thankful for everyone who has helped me along the way. My mom is very helpful with everything."
Annelise Klepper (McCutchenville, Ohio) and Happy Texas Moonlight, Shannon Klepper's 13-year-old Oldenburg gelding, claimed reserve national champion honors with an overall score of 69.627%. Sydney Lipar and Herzkonig were third with an overall score of 68.178%.
From the Mixed Zone:
Tell us about your test.
Allen: "I feel okay about it. We have done better ones. I think I just held back way too much. I felt like if I pushed him more, then we would have had incidents. I am really happy with it other than the fact that I waited too long and just was maybe a little afraid. I didn't want to make a mistake. Other than that, I think he stayed with me pretty much.
"I am happy with the changes. He did all of them basically when I asked, unlike yesterday. I am happy with our walk pirouettes; they were a little nicer. Then, the medium trots, I felt like they were a little bit better."
Klepper: "I was really, really proud of my horse. He was amazing. We were a little bit lethargic during team test day [on Friday], so I was really trying to push him forward and go for everything a little bit more. The trot work was a lot better, but it was also a lot more tiring. The canter work was a little bit slow, which I didn't realize until after the fact. Overall, it was a clean test, which is really exciting. I was just really proud of my horse. He really gave me his all, which is all you can ask for. I was just happy. The score was the same as yesterday, but I felt like we had improved a lot, so I was just really, really happy."
What is next for you?
Allen: "I believe next year we will do young riders. I'm not entirely sure. We will have to see how winter goes with getting there. After that we will do U25 and then see how it goes throughout the years
Klepper: "I am still 15 so I am probably going to be doing juniors for at least another year or so. I will see how that goes, maybe dabble a little bit in Prix St. Georges. In the immediate future, my horse is getting a big break, which is nice. He is just going to be home with us and go do some trails and just enjoy and be a horse. After that, who know
Endel Ots Wins 2020 U.S. Small Tour Championship
Twelve combinations headed down the centerline to perform their Intermediate I Freestyle Test, the third and final test in the US Intermediaire I Championship.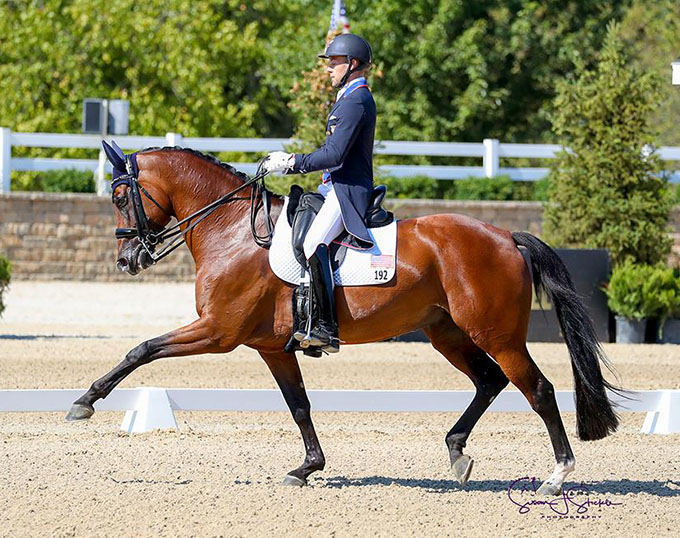 Endel Ots (Wellington, Fla.) and Sonnenberg's Everdance put on a stellar performance for the judges to earn a score of 77.645%. Ots and Sonnenberg Farm LLC's 11-year-old KWPN mare led the national championship division from start to finish, earning the title with an overall score of 75.572%.
"I was very happy with it," said Ots of his freestyle. "Yesterday, I just took her on hand walks and let her sleep in the stall. She basically slept all day. Then, we did just a nice little short warm-up so she had a lot of energy. I was very happy with her. She carried me through the test and was nice and forward. It was really, really nice to be able to ride the freestyle in competition. I haven't been able to ride it in competition. I was planning on doing it in Florida before COVID, so this was the first time I did it and I was very happy with it."
David Blake (Cardiff by the Sea, Calif.) and Heide Spirit, his 10-year-old Oldenburg mare, earned the reserve national champion title with an overall score of 72.368%. Callie Jones (Henderson, Ky.) and Don Philippo, her 12-year-old Hanoverian gelding, finished third in the national championship with an overall score of 71.055%.
From the Mixed Zone:
Tell us about your ride.
Blake: "That was the first freestyle with her so I was a little nervous in the beginning, but it worked out really nicely. I stayed on my music, which was pretty impressive for her because she can really, really go so the worry was, 'Am I going to get ahead of my music?' I was so happy when I walked at C. It was good. There is a lot of blood in that horse. She kept her act together so I am very proud of her."
How did you come up with your freestyle?
Ots: "The choreography is actually the same as I had with Lucky for his freestyle, but I wanted something a little bit more powerful in the music. I always liked Edward [Gal's] freestyles and the powerful music he has, but not so pop-y and super boring classical music. That is what I talked to Karen Robinson about, something a little bit powerful, a little bit Edward Gal-esque, like what he has. I was very happy with how it turned out."
Blake: "My wife actually came up with the freestyle for her horse. She does a bunch of them yearly and I said, 'Do you think I can use that and make my own choreography to it and then change the tempos a little bit?' I like 'Shut Up and Dance with Me' for her. It is really good, upbeat, and works for her.
"The choreography is simple for her because she is not very experienced. The trickiest part was when I got done with my pirouette and realized I needed to do my two [tempis] and not walk. I broke it up a little bit so I could take two walk breaks for her to calm her down. The only bummer was not really realizing when to start my twos. Other than that I thought it went great."
What is it like to be the national champion?
Ots: "I would say this year is really great because it is a new partnership. She is an old soul of a mare. She is very uncomplicated to ride. It is just a nice feeling. It took us a little bit of time to get to know each other and speak the same language. Once we got on the same page, now both of us understand each other. When maybe one of us is not 100% there, the other really helps. Maybe she is a little tired, then I will help her a little bit. Maybe when I am a little maybe not 100% on, she turns up everything. It is really a comfortable feeling."
What are your goals for the future with your horse?
Ots: "I really haven't thought too much of it right now. When I met with Dan and Gina [Ruediger of Sonnenberg Farms], the goal I gave them in October [2019], I said, 'I want to win the I-I championship with her. I want to qualify first and I want to win all three days. I think that is possible with her.' Past that I haven't thought of it too much. We have played around with some of the grand prix things. She can play with all the grand prix movements, but for me, I try to have one set goal on there. With every horse-and-rider combination, I try to set goals where they have to stretch and reach them, not over face them. For her, she can play with all the grand prix movements and it is nice but I want everything to be fun and happy for everybody so that it doesn't over face them and everybody is happy with the results."
Blake: "I think we are going to have to get the grand prix finished up. She is very close already, but that horse can't be rushed. Everything is on her terms, but I think she is going to get there. She has a lot of talent."
Related Links
Scores: 2020 U.S. Dressage Championships
Gluch, Ots, and Mathews Take Top Placings on Day Two of 2020 U.S. Dressage Championships