2020 U.S. Young & Developing Horse Championship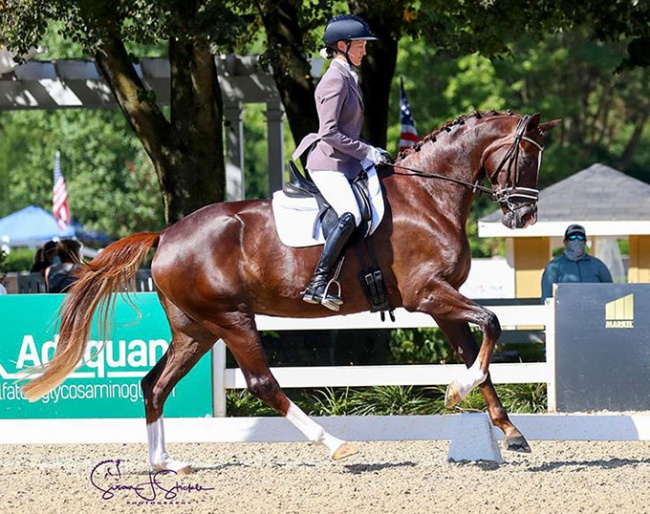 The 4-year old Gjenganger, the 5-year old Easy di Fonte Abeti, the 6-year old Spirit of Joy, the Developing Prix St Georges horse Stenagars Wyatt Earp and the Developing Grand Prix horse Donatella M became the national champions in their respective age divisions at the 2020 U.S. Dressage Championships in Wayne, ILL. on 19 - 25 August 2020.
Gjengager Sweeps 4-year old Class
The 4-year old Championship division closed out with 15 exceptional youngsters having a second go at the USEF Four-Year-Old Test in front of the four-judge panel.
Alice Tarjan (Oldwick, N.J.) rode her own Danish Warmblood mare, Gjenganger, to a score of 8.54, which was enough for second place in today's class and a first-place finish overall for the division. The striking chestnut mare is by Grand Galaxy Win, and the judges believe she has strong potential for the future.
"I think this horse has got three solid gaits, and she's quite rideable," said Tarjan. "I think she's a really good horse for the future.
"I think she was a little bit tired, so she got a little bit curly and the judges noticed that," Tarjan explained. "I'm really happy; she still went in and did her job. That's all you can ask of them."
Tarjan is also the owner of the winner of Saturday's USEF Four-Year-Old Test, Glory Day. Glory Day is also by Grand Galaxy Win, and was ridden to an 8.84 by Marcus Orlob. He finished the division as Reserve National Champion. He is bred by JJ Horses in Denmark.
"He was more relaxed today. That made it much easier for me to just let him cruise around," said Orlob. "The quality is amazing. He's just sometimes a little bit spooky. He's green. But he was very relaxed today and let me do my job much easier, so I was very happy with him."
From the Mixed Zone:
Tell us about your test today.
Alice Tarjan: "I don't think it was quite as good as the other day. I think she was a little bit tired…[but]I'm really happy. She still went in and did her job. That's all you can ask for them. It's a long week for them. She was a little bit tired. She's four. You don't have a lot of strength to go on. It's a matter of making sure they're not too wild and then not too tired. Maybe I went a little bit, a tiny bit too tired. She still went in, she did her job."
Can you talk about how you're feeling about owning first and second place?
Tarjan: "Yeah, I'm thrilled! It was a tough morning. It's been a busy morning. But I'm really happy. I'm really happy for Marcus with Glory. He's doing a great job with that horse, so that's exciting."
How did you decide to send him to Marcus?
Tarjan: "We brought the horse over last year. It's a stallion. He was quite good for a while and then he started getting a little feisty and he was more than I wanted to ride, so I got Marcus to do it for me and he's been doing it ever since. He's been doing a good job."
How did that partnership develop?
Tarjan: "He helps me with the other horses too. He's been helping me with the horses for a while. It's good. I train with Lars when I'm in Florida but then I kind of need some continuity with the training when we go to New Jersey, so he's close in New Jersey so he comes over a couple days a week and helps me, and then he's down in Florida, too. So that's good for me.
Talk about Glory Day, watching him from the sidelines.
Tarjan: "I love watching the horse. I think it's a really dynamic horse. He's got three good gaits and he can really work for you. He's just gotten a little bit too strong for me. I would say I admire the horse and I really enjoy watching them work, but it's the first time I've ever really played owner, so it's kind of fun to watch him go and succeed. It's nice to be able to watch the horse go and compete and not have the stress of doing it myself. So I can see why people like to play owner!"
Were you able to watch his ride today? Did you have any thoughts about it?
Tarjan: "Yes, we were able to watch. The horse is a young stallion and sometimes the hormones get the best of him, so we had low expectations. We were just hoping to bring him for the experience and get him through the test. We know the horse has good quality, but just trying to get him in the routine of working all the time has sort of been the goal . And the other thing is, like I said last time, this is probably the best four-year-old class I've ever seen. There's gotta be at least six horses in there that could win on any day. The horses are fantastic quality. Every single one you're like, 'Oh, I'd bring that one home!' It's really, really fun. That's been fun."
What is in the future once he grows up? Do you plan on taking over the ride of Glory Day?
Tarjan: "I like training my horses and developing a relationship with them and my guess is that by the time I feel comfortable riding that horse it's going to be quite trained and I have no interest in taking somebody else's training. No offense to Marcus whatsoever! He's doing a brilliant job. I like the process myself. That's why I do it. If he trains the horse, good for him, then he can do whatever he wants with it. It makes no difference to me."
Grand Galaxy Win sired both of the top two horses in this class. Tell us a little bit about Grand Galaxy and the qualities he passed on to these two horses.
Tarjan: "Yeah, I think that both of them have three quality gaits. They have good rideability and they have good mechanics for the upper level work. I think both of them are solid packages. They're not lacking anything really. I think Grand Galaxy makes a lot of good horses. He's younger so the horses are just kind of starting to get out there and get under saddle. I think maybe a lot of people were hesitant to breed to him because of his breeding. Personally I'm a huge Apache fan. I love the breeding which is why I breed to him. I think he's proving now that he can put quality on the ground and they're ridable and able to do the upper levels, maybe."
Anything else?
Tarjan: "It takes a village to do this. I brought five horses and Glory. My husband is here and the girls back at the barn, and my friend Lauren [Chumley] has been helping me out and running every which way to keep me on a horse. It's been really busy. And Desi Olland helps me out. We've been keeping it running. Without them I couldn't do this. You just see the tip of the iceberg. You don't see the chaos back there!"
Tell us about your ride today.
Marcus Orlob: "He was more relaxed today that made it much easier for me to just let him cruise around. The quality is amazing, so he's just sometimes a little bit spooky. He's green. But he was very relaxed today and let me do my job much easier, so I was very happy with him."
How does it feel riding Alice's horse to a reserve championship?
Orlob: "It's very nice. To be honest, she's tough to beat. I guess she's the king of the young horses here. To be honest, it's an honor to ride this horse, so I think I got close but it's a nice feeling to have a good horse be behind Alice is OK. She can win. Ladies first."
Talk about your third-place horse as well.
Orlob: "I'm also very happy with him because he is more green to me than Glory Day. I've had him since the end of April but I was stuck in Florida and he went to New Jersey because I thought I would go home much earlier, but the COVID changed plans. So we still have to get to know each other, but, overall, I'm super happy and I never thought I would be in the top three with him here. I think he would be also in the future a very great horse. He's just a little bit more green than Glory."
Alice says Glory Day is pretty strong and quite a character. Can you tell us what it's been like getting to know him and develop him?
Orlob: "To be honest, it's a little bit like I would say we always call him Macho Boy in the barn. He's just a young stallion. Pretty wild and playful. I don't get mad at him. I let him play. I let him do his stuff, and then he settles quite nicely. Everything at first is a little bit of drama. 'Oh, there's a flower box.' He just uses it as an excuse to play. Once he's over this, then it's really all easy for him."
Have you felt like his confidence in you has been a contributing factor in him succeeding here today?
Orlob: "I know him now pretty good and I know when he wants to spook now and what I can do to protect this from happening. I think we have a good relationship now."
How long have you had the ride on him?
Orlob: "I had him for a while in November. And then he was fine then he went down to Florida with Alice and then I believe I started riding him like in January again."
Alice is on record as being very happy with your work with this horse. Do you have any aspirations for him?
Orlob: "That's a question for the owner. I pray that I can keep the ride, but who knows.
Easy di Fonte Abeti Ymas, Spanish Owned and Ridden, Italian Bred and German Registered, U.S. 5-YO Champion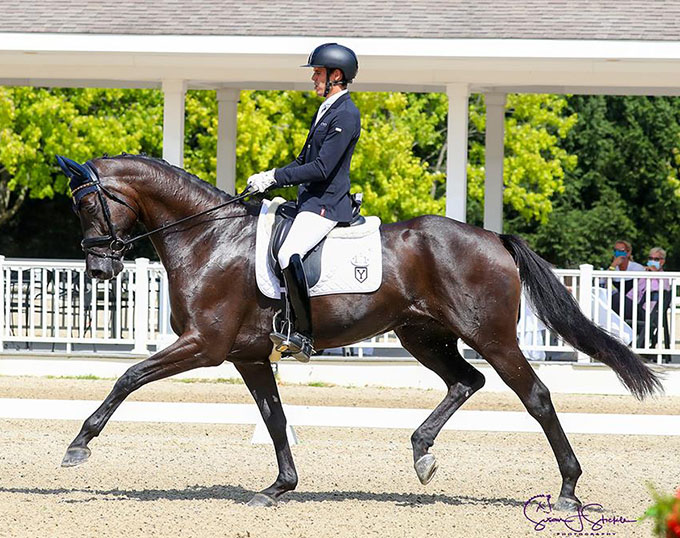 In the Five-Year-Old Division, it was Cristina Danguillecourt and Yeguada Des Ymas S.L.'s black Rhinelander gelding, Easy Di Fonteabeti Ymas, taking the National Champion title with rider Pablo Gomez Molina (Wellington, Fla.)
"It's the first big trip that we've done with him, and today I felt him a little bit tired," said Gomez Molina. "The ride was a little bit more trying to keep him together and trying to get a lot of power. But even if he felt tired, he was with me all the time and I'm really proud of him because he was a pretty good boy today."
Alice Tarjan (Oldwick, N.J.) added another success to her long list of Festival of Champions accomplishments, riding her own Summersby II, an Oldenburg mare, to the Reserve National Championship title in the division.
"I think this is a great show to bring the young horses to," said Tarjan. "I think the championships are fantastic. It's really good for the young horses to get the experience to show come out here and show in this type of environment. We really try to get them qualified to bring them out here for that aspect; to hope that when they become grand prix horses they'll already have a lot of experience under their belt and seeing the bigger venues won't be such an issue.
From the Mixed Zone:
How does it feel to come out of here with a big win today?
Pablo Gomez Molina: "I'm really proud because I think it's the work of all the year with the horse and I think it's a big thing for Yeguada Des Ymas. I'm really grateful to them because they're giving me the opportunity to compete to go to shows and I think all of us should be proud."
Tell us about your experience here.
Gomez Molina: "This is my third year that I've come. I'm really happy because every year I've been doing a little bit better. Now to top it with a win is really nice. I still have one more day to go. Tomorrow I have a six-year-old horse. But I'm really happy. I really enjoy coming here. This year was a little bit weird because of the situation. But I really enjoyed to come here. I think it's a really, really good show. The organization does an amazing job too. I hope to keep coming next year."
What is your goal for Easy going into next year?
Gomez Molina: "We want to just keep improving at the end of the day, and then the six-year-old will be our goal for the next year. The problem and the advantage is this season in Florida comes a little bit early, so when you come to the six-year-old it's a little more difficult so we will see how he is. But our goal is to do the six-year-old, and then come here and maybe try to go to Europe too."
Tell us about your test today:
Alice Tarjan: It was a little better than the first test. She settled pretty well. I think the connection is pretty solid. I'm really pleased."
What's next for you with her?
Tarjan: She'll get a couple of weeks off and then we'll kind of start training for the six-year-old test and start the changes and a little piaffe and stuff like that. She won't show anymore for this year. Six year olds next year, I think."
Spirit of Joy, 6-year old Champion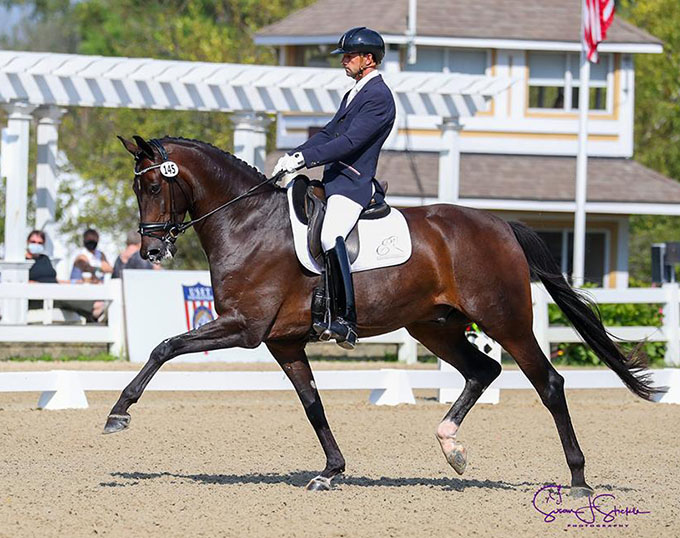 Sunday's schedule kicked off with the FEI Six-Year-Old Final Test for the Six-Year-Old Dressage National Championship. Thirteen combinations entered the arena for their second test before the four-judge panel. For the second time this week, the judges were most impressed by Marcus Orlob (Annandale, N.J.) and Spirit of Joy's performance. The dark bay Westphalian gelding earned high marks across the board to win the class and the National Champion title.
"I had a good lead, so I didn't have to put so much pressure on the horse," said Orlob. "I rode a little bit more conservatively than the first day, but I knew, going around the ring, that the horse was with me and I had a feeling I could pull off a clean test. And it was pretty much clean, so I was very happy with him. He was actually a little bit more rideable than the first day."
Jennifer Schrader-Williams (Olympia, Wash.) took home the Reserve Champion title with Joppe Partners, LLC's KWPN gelding, Joppe K.
"When I was going around the outside, the cheers went off for Marcus right before me and my youngster isn't used to hearing that, so he got a little excited," said Schrader-Williams. "But I thought he came back together quite nicely. He went down centerline to put in a pretty mistake-free test.
"There were moments of tension today," Schrader-Williams continued. "I would really like to make him just a little bit softer in the contact, but he is such a willing, athletic horse and I thought he gave a really nice performance. He tried very hard to keep his focus in the electric environment today."
From the Mixed Zone:
Does Spirit of Joy improve as the show goes on or get tired?
Orlob: "For sure not tired. He's not the type who gets tired. I think the more he sees the ring, the more confidence he gets. I think he improves each day a little bit more."
What do you have planned next for him?
Orlob: "I don't have anything planned yet. The question is, if I make the jump into the small tour CDI over there for the Festival or do the Developing Prix St. Georges over here, so I'm not sure what direction I will go with him."
What did you think of the judges' marks today?
Orlob: "I think they were very fair, because I rode a little more conservative and at times I felt I had the neck a little bit shorter, which they commented on, but overall I think it was a totally fair score."
How does it feel to be going home with a top placing?
Orlob: "It feels good because I came in 2015, I got the red blanket in the Developing Horse Grand Prix, and yesterday I got the red blanket in the [Young Horse Four-Year-Old division], so now I have finally a blue one and it feels great."
How did you feel about the judges' comments?
Jennifer Schrader-Williams: "I always find them very helpful. I was a little surprised on the walk score, but there was some tension in there so for sure there's always going to be pieces that we want to make better. I always try to bring it back to myself, what can I do to help the horse be more confident, more relaxed, more out to the contact, and sometimes he just gets a little bit tight, so I'm going to just help him with that over the off season this winter."
Tell us about your support system.
Schrader-Williams: "I really have such a special team of not only owners, but folks who stay home and groom and take care of our sale horses at home. I got a great picture this morning of a five-year-old and my husband sending me FaceTime photos of them watching our ride this morning. It just makes it special. I've been really trying to keep all of the owners, all of the horses that I have, several of them have multiple owners, so I try to really keep them connected and enjoying the experience since they couldn't come this time. And just really appreciative for USEF doing all that they do with the live scoring and the live videos. It has made it an enjoyable experience for them as well."
What's next on your schedule?
Schrader-Williams: "I want to really continue to develop Joppe. He's extremely talented. We want to see how far he can go and keep him loving what he's doing. He's a very joyful horse and we'll head to Florida in December. We plan to take six or seven this time so we're really trying to make that a consistent winter option, so we'll keep developing him, and I've got some really nice young ones coming up behind him as well."
Stenagers Wyat Earp, 2020 Developing PSG Champion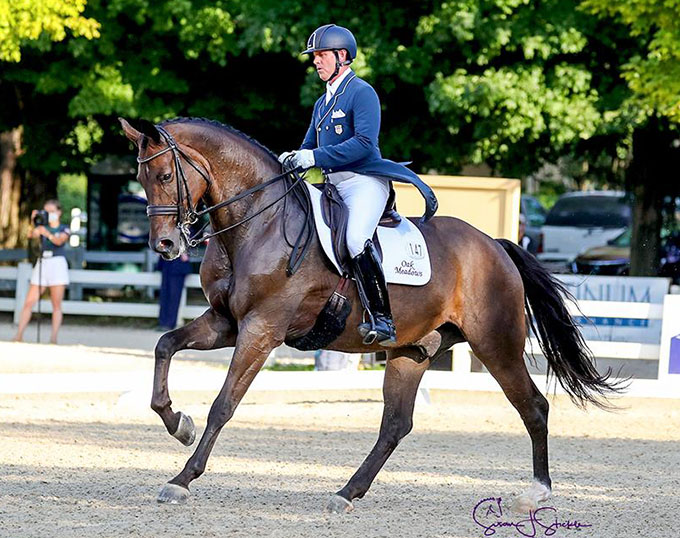 Closing out Saturday's competition, 15 combinations in the Developing Prix St. Georges Horse Championship completed the Developing Horse Prix St. Georges Test before a panel of three judges.
Christopher Hickey (Wellington, Fla.) and Cecelia Stewart's Danish Warmblood gelding, Stenagers Wyatt Earp, repeated their win from earlier in the week, earning a score of 71.958% to win the class and the National Champion title.
"He was a little more electric [today]," said Hickey. "When he gets really electric and tight, he can be hiking his hind legs up and being a little crazy-legged, and there was a little bit of that. He is a horse that gets hot, and for a grand prix horse, to still be going at the end of a test, you need to have a horse that's got some spice, so I really love that about him."
Jennifer Wetterau (Mission Viejo, Calif.) had a spooky moment in her test with her own KWPN, Hartog, but the talented pair still scored a 70.042%, which was good enough to earn fourth place in the class and a Reserve National Champion title for the division.
"I'm thrilled!" said Wetterau. "This is our third time here. I think I was the only amateur in the class, so it's a lot of hard work. I've had [Hartog] since he was coming four…He kind of looked like a Great Dane puppy when I bought him and to see how he's kind of growing into his body and getting more balanced in stronger. I'm just really excited. He's such a good boy and really tries hard. I just want to do him justice and be able to show everyone what he's capable of."
From the Mixed Zone:
Tell us about your horse.
Jennifer Wetterau: "I bought him with Sarah Lockman, who's been my coach for the last five years. So she's been with us throughout the journey along with Scott Hassler, and then Lee Tubman has been an integral part of our training and it's just really started to come together."
What about him stood out to you?
Wetterau: "It's funny, it was the first day I was in Holland and I sat on him, the second horse. I got off and I made an offer and that was it. He just, there's a certain go-y feeling he gives you. He has this internal energy but he also has such a good mind. He really wants to try for you. If anything, I have to tell him, 'Hey, it's OK, take it down a notch.' Sometimes he just tries so hard. It's a lot of fun. I jump him once a month. I take him on trail rides, we've gone to the beach, he's really an all-around horse that I also can take out in the ring and he can be a competitive dressage horse. So he's been really a kind of special horse in my life."
What happened when he spooked on the diagonal?
Wetterau: "Here I'm saying he's the most reliable horse. I like hot horses. He's not really that hot. If anything I want him to be hotter and what's funny is the only thing he has spooked at since I bought him is a motorcycle. And a motorcycle backfired in the middle of our second trot, and I was like, 'Of course it's going to happen!' But you know, when he was four, it would have been lucky if I stayed in the arena, and now for him to come right back in the corner and do a halt-reinback right after that, I was so proud of him because he was genuinely just scared and he came right back and said, 'Yes ma'am, let's keep going.' That's all I could ask of him. Not our best test today, but I think there were still highlights and moments and this was our fourth PSG ever so he's really, he's got a long ways to go."
What do you do professionally? How do you balance work and horses?
Wetterau: "I'm in a medical sales industry. I've been in training, I'm going into a digital marketing role shortly. My passion and my other business is called Dressage Horse Source and it's in dressage development and sales, I do it with Sarah, and I've done that for four years, it'll potentially be a full time thing in the future, but right now I kind of dabble in both. My role is remote, so I get to work from the barn and bring my laptop to the barn, so I'm there six days a week. It's pretty perfect. I had to find a career where I can make horses honestly my priority, so it's really hard I know a lot of amateurs don't have the luxury of remote roles. With COVID a lot of those roles are becoming more remote. But since I graduated from college I've always picked remote roles so I can focus on my riding."
Did you get to show much this year before? How was your experience here this week?
Wetterau: "I didn't. I'm in California and he was just coming into his first season at PSG and I wanted to feel really confident so the shows I'd planned on for April and May were canceled so we showed our first show in June. One in June, two in July, to practice for this. So it was a condensed season but we were really lucky in California to still have enough competitions that were qualifiers. I'm very grateful for the people that put those together. This experience, even with the new protocols we have to have, was, I mean it's really amazing. First of all, we have a great community of Californians here and dressage riders from the West Coast. So it's a lot of fun to all be here and it's quite a journey for us. We flew the horses and it's a big investment of time and funds to get here so we put a lot into this and it's fun to see other people that motivated. They did an amazing job organizing this championship. I can't ask for much more as far as keeping everyone safe and making sure everyone is sticking to the rules but we're still able to enjoy rides. It didn't completely take away from the experience of enjoying the competition. It was a really, really enjoyable week. Definitely glad we came."
Tell us about your ride today and how it compared to your earlier ride with this horse.
Hickey: "He was a little more electric. My warmup perhaps was a little too long. I maybe could have shortened that. But he still, even with little bobbles, he overtook me in one of the pirouettes and he overtook me in a canter half-pass, so there were a couple of mistakes. When he gets really electric and tight he can be hiking his hind legs up and being a little crazy-legged, and there was a little bit of that, a moment here and there. So he wasn't quite as relaxed today in the ring as he was the first day, but he is a horse that gets hot. For a grand prix horse, to still be going at the end of a test, you need to have a horse that's got some spice so I really love that about him. He and I still have to get familiar with each other in this kind of venue. I haven't ridden in this kind of venue, this championship-feeling ring and arena, and I've been taking my time with him and doing national shows and just having him be relaxed and calm. I think that's important for this horse."
Tell us about your experiences with the Young Horse and Developing Program in here at Festival of Champions?
Hickey: "Today I came out of the ring and I heard my scores and I got a little teary because it made me think of Cabana Boy. Cabana Boy was really special to me, there was only one Cabana Boy in so many ways. This horse has more quality than Cabana Boy, but Cabana Boy was very, very special to me. And at that time was special for Hilltop.
"I've had a lot of horses come from my program whether I rode them or I taught other people, I've had lots of students that have come in the four- five- and six-year-old and developing, and I think that [USEF Dressage] programs continue to get better and better. The coaches are fantastic. We're lucky to have such educated and passionate coaches in our sport and I hope that other people realize how lucky we are that those people care so much, because without the coaches and without the USEF staff who work so hard to make this happen. Between the sponsors [Markel] and the horse owners, it really does take a village to get here and you do well and it makes all the difference, because there are certainly plenty of low spots in this industry and in this sport, so when you have a high note it helps bring you through the low spots."
Any other thoughts?
Hickey: "I've been working with Anne Gribbons. I would not be successful with this horse today if not for Anne."
Donatella M, 2020 U.S. Developing Grand Prix Horse Champion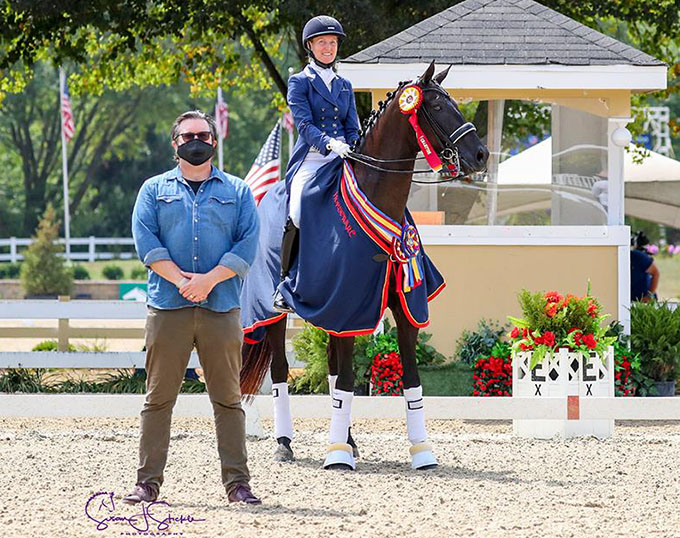 The Developing Grand Prix horses closed out competition in the Young and Developing Horse Arena on Sunday afternoon 23 August 2020.
Twelve entries completed the U.S. Developing Horse Grand Prix Test, and in the end, one owner/rider took home both the National Champion and Reserve National Champion titles from the division.
Alice Tarjan (Oldwick, N.J.) and her nine-year-old Oldenburg mare, Donatella M, added another win to their resume, scoring a 71.708% to earn place first in the class and the division. With Harvest, her eight-year-old KWPN stallion, Tarjan was second in the class and reserve in the division. Even with her decisive victories, Tarjan was pleasantly surprised to find herself sweeping the top two spots.
"I'm thrilled," said Tarjan. "It's not what I was expecting at all. They're both pretty green. It's been a good week. We've had our ups and our downs, but that's horses for you."
Tarjan first came to the U.S. Dressage Festival of Champions 10 years ago, and she reflected on how her program has developed through the decade.
"I came the first time on a four-year-old, so it's really fun to come back to try to build up the horses," said Tarjan. "You start from the bottom and you get them trained to the top, so that's kind of exciting.
From the Mixed Zone:
Take us through your two rides.
Tarjan: "Donatella put in a pretty decent test, same as she did on Friday. It's about where she's at right now. The changes are green and they swing a little. Piaffe/passage, we've got to work on the rhythm a lot. But she's very honest and very rideable in the test. That's good, and she's pretty good on the connection.
"Harvest is much greener at this level. He's only eight. We just brought him for the experience. He put in a better test than he did on Friday, so I'm very pleased about that. We got our ones, so that's good, and the piaffe was better. He's really green. It's just a work in progress. I really wasn't expecting much. I know we made a lot of mistakes still, so to have done so well, I'm happy.
Are you planning to go to U.S. Dressage Finals?
Tarjan: "That's kind of the tentative plan. Everything's up in the air. They are qualified. That was sort of the idea was to try for regionals and then Kentucky to get them some more ring time."
What's your plan for next year?
Tarjan: "We go down to Florida for the weather. Beyond that, [my plan is to] keep the horses happy in training and sound. They'll get some downtime after this for sure, and then start legging them back up for regionals and train on them and see where it goes. The horses kind of tell you what they're ready for or not."
Do you have any goals with these two?
Tarjan: "I really think that the horses tell you when they're ready to do stuff or not, so I just kind of follow where they lead. It's nice to have three grand prix horses now. I've been working for it for a long time. I've been going to Lamplight now, ten years ago was my first time. I think I missed maybe two years."
Related Links
Damon's Fantasy and Ferano Win Developing Horse Titles at 2019 U.S. Dressage Championships
Sonnenberg's Kain, Sole Mio, SenSation HW Win Young Horse Titles at 2019 U.S. Dressage Championships
Sole Mio, SenSation HW, Lucky Strike Take First Titles at 2018 U.S. Young Horse Championships
Ravenna and Fashion Designer OLD Win Titles at 2017 U.S. Young & Developing Horse Championships
Serenade MF, Darius, Frankie Win 2017 U.S. Young & Developing Horse Championship
Habanero CWS, Desario, Horizon Win Title at 2016 U.S. Young & Developing Horse Championships
Tiko, Rosalut NHF, Folkestone Take First National Titles at 2015 U.S. Young Horse Championships
Rosalut NHF, Emilion SA, Donatus Win 2014 U.S. Young and Developing Horse Championships
Rebellienne, Fashion Designer, Vitalis Win 2013 U.S. Young Dressage Horse Championships
Bragdell and Hemmingway Win 4-Year Old Division at 2012 U.S. Young Horse Championships
Tarjan and Somer Hit Win 6-year old Division at 2012 U.S. Young Horse Championships
Schueler and Regalo Win 5-year old Division at 2012 U.S. Young Horse Championship
Tarjan and Somer Hit Win 6-year old Division at 2012 U.S. Young Horse Championships
Schueler and Regalo Win 5-year old Division at 2012 U.S. Young Horse Championship
Furst Fiorano and Donna Tella Win Big at 2011 U.S. Young Dressage Horse Championship
Bragdell and Hemmingway Win 4-Year Old Division at 2012 U.S. Young Horse Championships
Aesthete, Selten HW, Pikko del Cerro Win 2009 U.S. Young Horse Championships
Selten HW, Winsor and Cabana Boy Win 2008 U.S. Young Horse Championships
Cabana Boy and Grandioso are 2007 Markel U.S Young Horse Dressage Champions
Currency DC and Sir Sinclair Win at 2005 USEF/Markel Young Horse Dressage National Championships
Royal Prince and Revolution win 2004 American Young Horse Championships