Thoroughbreds in Dressage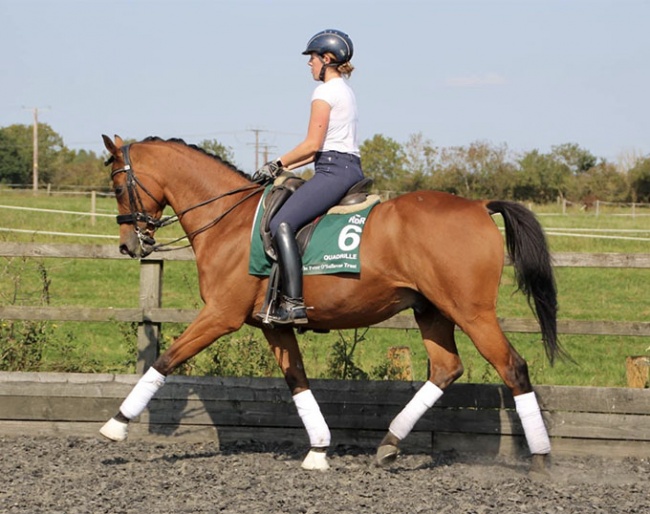 This interview is a continuation of the series "From Flying Past to Flying Change: Thoroughbreds in Dressage Competition."
Read Part I (introduction), Part II (TB between Wars), Part III (Post War, 1960s), Part IV (TB losing relevance), Part V (1970s), and Part VI (1980-1990s). Read an Interview on Thoroughbreds with Monica Theodorescu, Rozzie Ryan, and Sue Gallagher.
Being Successful with Thoroughbreds - Two Examples of Our Days
While there had been distinct thoroughbred dressage riders in the past, such as Sweden's Henri St. Cyr in the 1950s and early 1960s, these horses could also now and then be found in professional dressage stables in the first three decades after the war.
Nowadays to find a thoroughbred competing at advanced, let alone FEI-level is almost like finding the needle in the haystack.
Louise Robson
Eurodressage spoke with Louise Robson (33) who has competed several OTTB at advanced level and whose current top horse Quadrille xx (by Danehill Dancer xx) is not only bred and owned by HM Queen Elizabeth II, but has won up to Inter I level and working towards Grand Prix.
After having trained one of her previous thoroughbreds at Monica Theodorescu's stable and having worked as Monica's traveling groom, Louise founded "Thoroughbred Dressage" in 2013. This training and dressage stable at Padbury near Buckingham in Great Britain might be pretty unique as it focuses on retraining and competing OTTB in dressage.
ED: When did you found your stable and why does it focus on training thoroughbreds into dressage?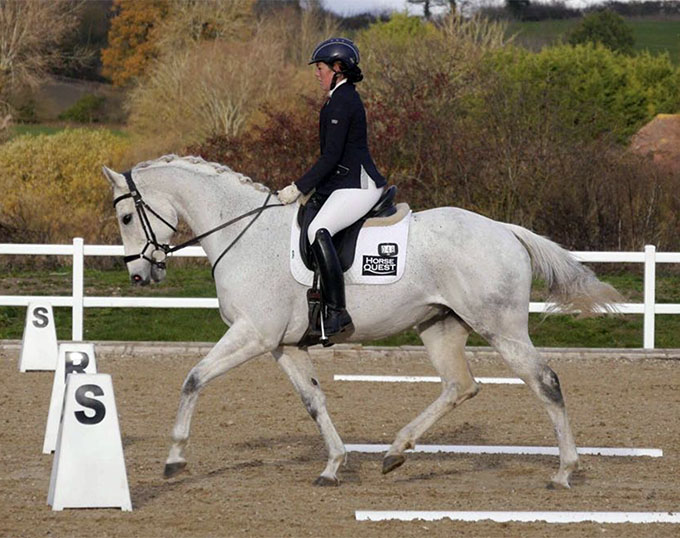 Louise Robson: Mister Glum (owner by HM The Queen) was my first successful xx into dressage. He reached PSG level before retiring and was my 'foundation' horse for Thoroughbred Dressage. Whilst training with Monica Theodorescu, we talked a lot about the thorougbred and training them. When I returned from my stay at Monica's, I founded my training stable "Thoroughbred Dressage" in 2013. I have never had the money to go and buy a 'proper' dressage horse, but I have always believed that the thoroughbred can compete and do well in the dressage arena and with over 7000 racehorses leaving racing every year, I wanted to provide a place that helps develop these horses post racing. 
ED: To the best of my knowledge you are the only training stable of this kind. Is there a lot of request for that sort of training in Great Britain?
Louise Robson: For me the difficulty is finding owners or people wanting to invest in the 'long run' of retraining their ex racehorse into dressage. The support for showing and eventing is a lot greater as the rewards, from an owner's perspective, is bigger. The shows are bigger and exciting to watch. Dressage can take years and there is no guarantee of a win or a placing against the warmbloods. 
There is a lot of training requests of people at the lower levels, or for horses just starting their retraining. We have some horses come in for training that are due to go eventing and need some help on the flat. The number of thoroughbreds at higher levels are very very small as anything past medium level requires the conformation of most of the thoroughbred to be challenged. 
ED: Most of your horses somehow "found" you. But if you are looking for a thoroughbred for dressage, what are you looking for?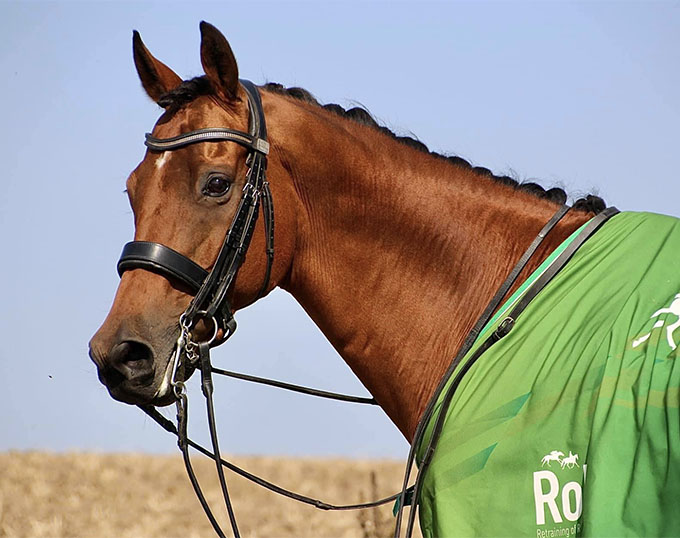 Louise Robson: A horse who isn't too long in the frame, but equally not so short in the middle that we struggle getting a saddle to fit. If possible, one that isn't croup high, and with the neck sitting on top, rather than below the wither. A good walk, with not too big of an over track and a good canter are my main 'go to' points. I am not too worried about the trot as I know that that can be developed. Some mobility through the hock and knee joints. A kind attitude and outlook to life. It doesn't matter to me if the horse has never raced, raced a little, or had a long successful career. We have horses who have won over £100k in prize money, one with 67 races under their belt and some that have just been awful. Although with each scenario we have to be aware of possible injuries and how the horse will cope with re-training, but to me, as long as their heart and brain wants to work with us, we will always 'give it a go'.
ED: You are successfully training warmbloods and thoroughbreds alike. Where are the most significant differences when you train them through the levels?
Louise Robson: I find the most significant differences are the speed of learning, the workmanship and the natural ability. With the warmbloods I find the learning rate to be a little slower than that of a thoroughbred. With a thoroughbred the early years are the hardest as mentally they take everything on and their brains soak everything up like a sponge. It is hard to keep the brain occupied and focused whilst the body catches up with the changes in their way of going, muscular developments etc. A thoroughbred will work so hard for you and try to give you everything (sometimes a little too much). As the advanced work develops the rate at which they learn and understand things is far superior to that of a warmblood. Sometimes with the warmblood we have to break everything down just that bit more to make it a little more comprehensive.
It is no lie that one of the joys of working with the warmbloods is that once the foundations are secure, developing the work is easier than the thoroughbred as the conformation allows the body to work, connect and ultimately express themselves very well. For the thoroughbred the connection is always very hard to achieve, their conformation doesn't naturally allow them to.
ED: England is THE Thoroughbred country, but even the xx horse has disappeared from higher level dressage. Do you need a warmblood today to really succeed?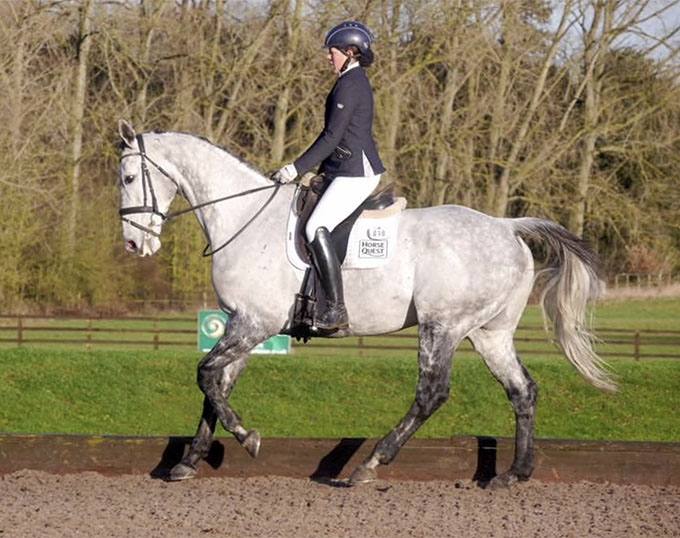 Louise Robson: It depends what you define as 'succeed.' The breeding in warmbloods in dressage is so exceptional nowadays that it can be challenging riding a horse who is not purpose bred for the job. It is not to say that you cannot succeed, win or be competitive against the finely bred warmbloods. It just means that it may not be so straight forward, or come so easily. Patience and good and correct training is really to focus to success with the thoroughbred, or any horse for that matter. With the thoroughbred we have to remember that we are asking a horse who is bred for speed and endurance to be supple, collected and expressive without tension. The fantastic thing about the thoroughbred is their brains, their 'try hard to please' attitudes and their workman like approach to training. They are bred with good walks and very good canters. Any good rider knows they can develop the trot with training.
They will give you much 'success' in the dressage arena from grass roots to national level, it is our responsibility to guide, train and develop them and not compare them to the finely bred, naturally gifted moving warmblood, but to allow them to shine in their own light for who they are.  
Text © Eurodressage - Photos © Chantal Wooten - private
Related Links
Louise Robson on a Mission Appointed by Her Majesty
From Flying Past to Flying Change - Part VI: The Thoroughbred in the 1980s and 1990s
From Flying Past to Flying Change - Part V: The Thoroughbred in the 1970s
From Flying Past to Flying Change - Part IV: On Thoroughbreds Losing Relevance in Dressage
From Flying Past to Flying Change - Part III: The Thoroughbred from the Post-War Times into the 1960s
From Flying Past to Flying Change - Part II: Thoroughbred Champions Between the Wars
From Flying Past to Flying Change - Part I: Thoroughbreds in Dressage Competition