F.O.C.U.S.
Dutch pony team newcomer Sita Hopman achieved an early career highlight when she won team bronze and placed 10th in the Kur to Music Finals at the 2020 European Pony Championships in Hungary.
The road to Budapest was not the easiest one for the team new comer, whose pony career has now come to an end after just 1.5 year competing on the international show circuit. 2020 was het last year of eligibility on ponies and the Nijkerk (NED) based has made the most out of this year, opening doors to a professional life with horses for this 16-year old.
Bolting Pony
Infected with the 'horse virus' from an early age, Hopman began riding ponies first for Tessa Koning and then for horse dealer Renate Langeberg. Three years ago she was allocated the ride on the now 9-year old Dutch Welsh pony Brouwershaven Uthopia II (by Metall x Vita Nova's Hanassie) because the pony proved too difficult and sensitive for novice children. 
"To me Uthopia is not a normal pony. He came to Renate because he always bolted and was super spooky of everything," Sita told Eurodressage. "I was asked to ride him to see if I could make something out of him. I said I would give it a try. At the time he was at L-level (E) with a small girl who got too scared to mount him and he wasn't easy for me either. So often he bolted with me that at a certain point I no longer knew what to do. Renate and I both knew the pony had potential so I continued, and then it started going well."
As soon as Sita and Uthopia found their groove, the rider began to dream big. "I wanted to get somewhere with this pony so we bought him ourselves and then we reached Z2 level," she added.  Hopman began her international show career on her Uthopia at the CDI Nieuw en St. Joosland in April 2019. At the same event she also showed the 7-year old Dutch Welsh pony Demaggio (by Brouwershaven Diamond Hit x Hagelkruis Valentijn).
Talent Spotting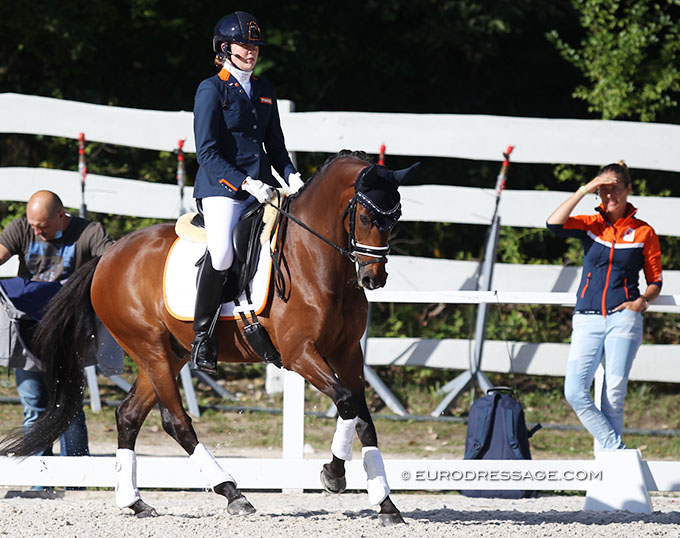 While Demaggio continued to be ridden by Sita, but was no longer taken to any CDI's, Uthopia became Sita's primary focus. The duo competed in Exloo that year and in February 2020 travelled to the CDI Le Mans in France, where started with a 66.288% in the team test and ended with 68.958% in the Kur to Music.
The pair was spotted by the Dutch Talent Team and this is how she ended up with her current trainer, former Dutch Grand Prix team star Adelinde Cornelissen. 
"It's actually quite funny because you were allowed to pick three persons from whom you could get seven lessons and my choice wasn't Adelinde. I had no idea who she even was," Sita confessed. "I had a training week with (Dutch pony team trainer) Imke Bartels, and by accident, she mentioned that I would click even better with Adelinde, so we made an appointment for a lesson with her. I was quite nervous the first time, as I didn't know what to expect, but the first lesson went really well. I learnt so much in one lesson that I wanted to keep her as a trainer."
15 and Independent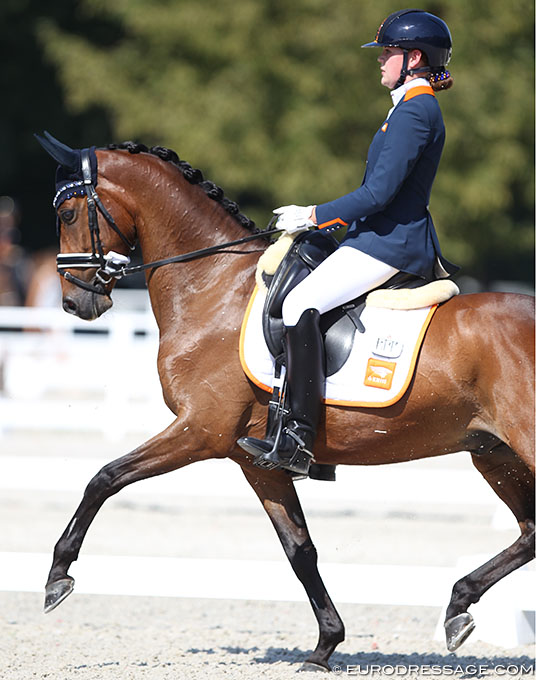 Dreaming of Dutch pony team selection in her last year on ponies, Sita decided to give it her all. Only after her third lesson with Adelince, the Dutch Olympian asked for a meeting and suggested Sita would like to ride young horses for her. "My answer was absolutely yet," Sita confessed. "It's so cool to hear that you ride with much feeling and that you get such a change with a super talented rider."
In the middle of March 2020 Sita moved from Schoorl by the North Sea coast to central Holland at Adelinde's yard in Nijkerk, The Netherlands. Aged 15, Sita went to live in an apartment, all by herself, to work and train with 2012 Olympic individual silver medal winner. 
"Corona was quite convenient for me because I had to do online school and had more time to ride," Hopman explained. "I asked Adelinde if I could stay with her for a while and ride more horses and she was ok with that. So I ended up in an apartment. I never expected to stay this long, but the riding went so well on all horses that I wanted to continue."
Sita decided to choose a semi-professional life on horses at such an early age and switched schools, now attending Aeres college in Nijkerk.
Roller Coaster
The 2020 corona year was a roller coast for pony kids across Europe with all CDI's cancelled and then Strzegom pulling out of the organisation of the 2020 European Pony Championship.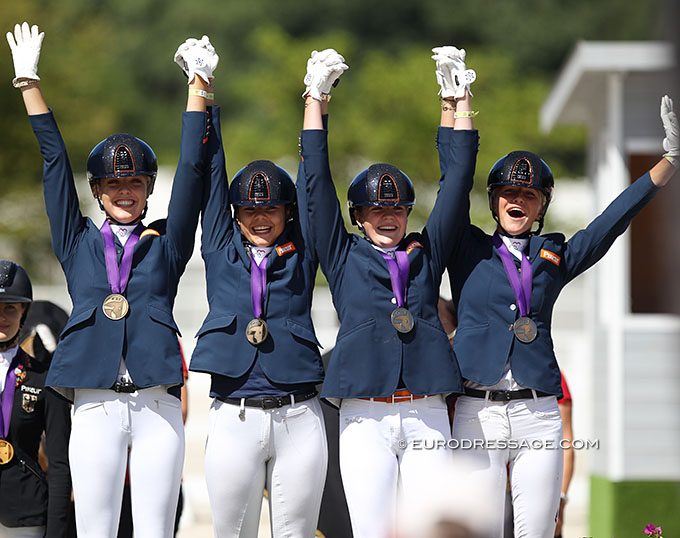 "I didn't have much time for the Europeans and we trained so hard. When I heard that Poland wasn't happening, I was knocked out of my socks, because we were on the right track," said Hopman. "We took it east for a while and waited to make sure it was certain." 
In June, Hungarian entrepreneur Arie Yom Tov came to the rescue and offered to host the Pony Europeans at his facility, Stable Unikornis, in Hungary the last week of August.  Pony riders sighed in relief, but it also meant less that there were less than two months of preparation for the Championships.  When she heard that the 2020 Euros moved from Strzegom to Pilisjaszfalu, Hopman was elated. "I was so happy that tears of joy rolled over my cheeks. We did it in such a short time," said Sita. 
After placing second twice at the two Dutch team selection trials, Hopman was selected and at the 2020 Europeans, it all came together. Hopman did face some scary times at the start of the event because at the horse inspection her excited pony initially measured out as too tall. The re-measurement, however, proved to be sufficient for Uthopia to move on with the competition and continue his show week in Hungary. 
Hopman and Uthopia rose to the occasion and won team silver after riding 72.866% which was no less than 6% above her personal best mark in the team test. In the individual test they were 11th with 72.648% and in the Kur to Music they finished with 74.930% and ranked 10th
"Such a Beautiful Adventure"
Coach Adelinde Cornelissen took to Facebook and wrote with pride about the efforts and achievements of her student.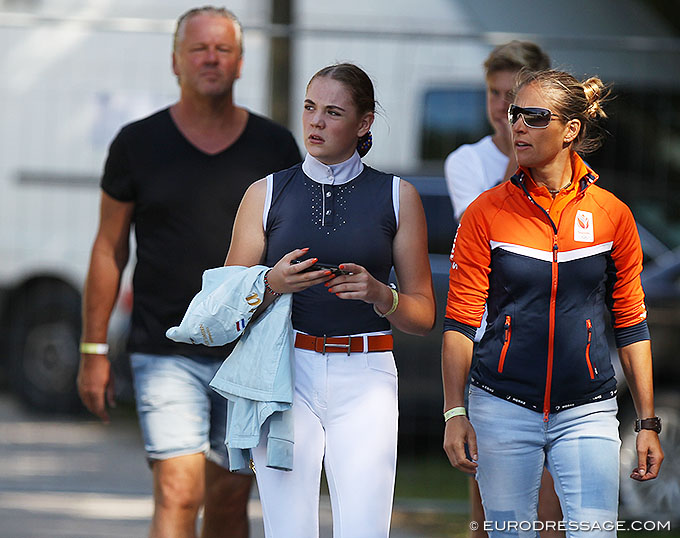 "It was such a beautiful adventure. Not just the European Championships, but also the road to there," Cornelissen stated. "She developed so much, not only in her riding but also personally. It's incredibly brave to move into an apartment at age 15, about 100 km away from home. Suddenly she had to arrange everything herself, cook, clean, etc. And she rode every horse that was presented, even 3-year old stallions which we just saddle broken."
The blow was big when Strzegom cancelled. 
"This is part of mental training, to set new goals," said Adelinde. "It was so cool that the Europeans were happening after all, but also very exciting. They hadn't been to a show in half a year, there was a big chance in between and they didn't know how they would measure up, but at the two team selection trials they showed what they got. At the Europeans they got a bronze medal and individually they stood their ground. I'm so incredibly proud that she was able to do all this."
For Sita it's now time to say goodbye to ponies and move onto horses. Her goal is junior level on horses. 
"The only problem is I don't have a horse yet," she chuckled. "My goal is to ride European Junior Riders Championships, train young horses and get my high school degree."
Photos © Astrid Appels - No Reproduction Allowed
Related Links
Dutch Pony Team for 2020 European Youth Championships Selected
Germany, a League of their Own in Team Competition at 2020 European Pony Championships
Dutch Youth Selections Conclude at 2020 CDN Schijndel, Pony Riders Have First Trial