2020 CDI-W Brno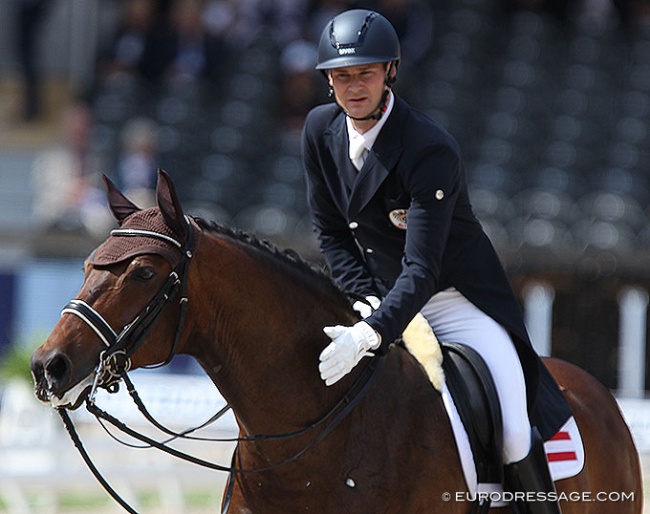 Austrian dressage rider Florian Bacher used to lead a double life. At one moment you could see him dressed up in the traditional outfit of the Spanish Riding School riding exhibitions on Lippizaners in Vienna, at other time he wears his tails and enters the CDI ring. in 2018 Bacher resigned from the SRS and is now a "mainstream" dressage rider, recently celebrating a double World Cup win at the 2020 CDI-W Brno in the Czech Republic.
While the 2020-2021 World Cup qualification circuit is slightly up in the air with more and more winter indoor competitions getting cancelled, the Central European League is going full swing outdoors with the most recent CDI-W in Brno, Czech Republic on 29 - 30 August 2020. 
In Brno, Austrian Grand Prix team rider Florian Bacher booked his third and fourth CDI victory in his career, taking home his first CDI trophies ever in Wiener Neustadt in April 2019. 
World Cup Victory
Aboard the 11-year old Oldenburg gelding Fidertaum (by Fidertanz x Rubinstein x Pik Kaiser), Bacher scored a winning 72.456% in the Grand Prix ahead of country mate Christian Schumach on Donna Karacho (70.870%), and he repeated that feat in the Kur to Music. The pair won the freestyle, riding to Carl Hester's 2012 Olympic Games freestyle music for Uthopia, with 77.300% and edged out Schumach, who finished second with 75.820%
"Fidi, as we call him, felt really good in the warm up as well as in the arena," Bacher told Eurodressage about his show experience in Brno. "After it rained the whole night heavily, it was difficult conditions for the horses as the footing was very slippery. In the arena he struggled a little bit with the surface, but he did a really good job."
Bacher and Fidertraum first represented Austria on the team at the 2019 European Dressage Championships in Rotterdam, where they were 28th in the Grand Prix Special. They finished the year by winning the 2019 Austrian Grand Prix Champion's title.
Over the past year, the pair has been working on conditioning and strength. "Since 2019 until now we have worked a lot to make him stronger. As he is really secure in all the exercises, I work to take more risks in the test," said Florian. 
Combining Spanish Riding School with Competition Sport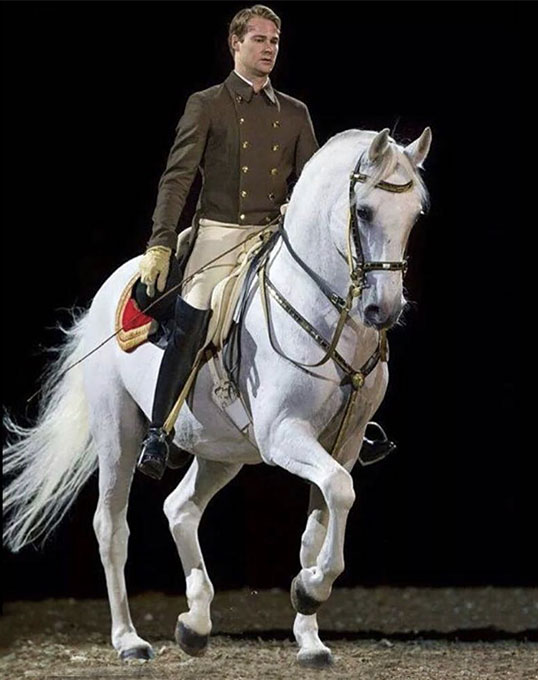 In August 2001 Florian joined the Spanish Riding School at age 16 and through the laborious SRS process it took ten years to get officially promoted to "Rider" status. For 8 years he officially rode on the Riders team until 2018.
Bacher was one of the very few Spanish Riding School riders who combined his job in Vienna with a high performance competition career on the FEI circuit.  The 34-year old Florian made his international FEI show debut in 2013 aboard Ruby Lady, an Oldenburg mare by Rohdiamant x Weltmeyer. She was previously shown by Austrian junior rider Alina Larissa Djaber Ansari and after Florian competed by Austrian Silvia Sverak.
Bacher resigned from the SRS in 2018. 
"After 18 years working as a rider at the Spanish Riding School I decided that I wanted to fulfil my dream and fully focus on working on my own international dressage career as well as training students up to this level," he said. 
When asked if it's two different worlds riding classical dressage in Vienna or in the FEI replies, Bacher replied, "I don't think that it was too difficult to switch between SRS and the FEI. I think if it is done correctly, there is no big difference between the two. Classical dressage as well as dressage at FEI competitions should be done with good horsemanship."
At the moment Spanish Riding School rider Florian E. Zimmermann is the only one combining SRS with FEI sport.
Training Fidertraum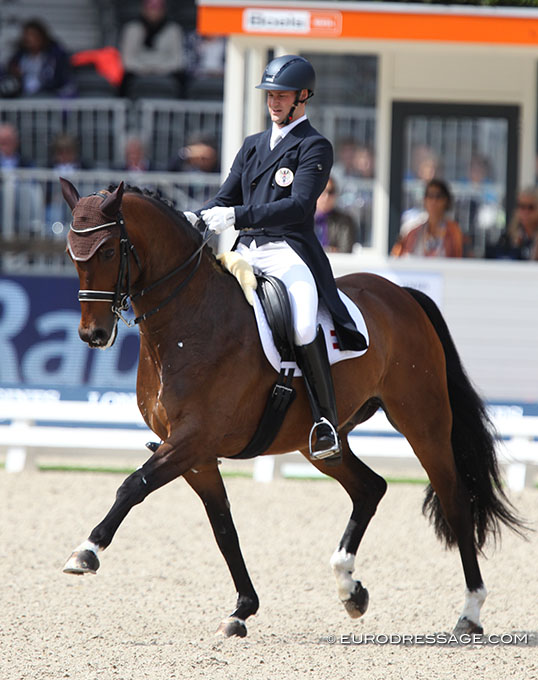 Fidertraum is bred by Claus Fenske and closely related to former French team horse Noble Dream (Marc Boblet), whose grand dam No Time is dam of Fidertraum. No Time is also dam to the small tour horse Wustensoh Sahib (by Wolkentanz II), competed by Marion Wiebusch and Ines Wiese.
Fidertraum was first competed in Germany by Kirstin Klepin in 2012, but sold via the 2013 Oldenburg Spring Elite Auction to Austrian Verena Lehnhart, now Florian Bacher's wife.
In 2017 Florian and Fidertraum made their CDI debut at small tour level at the CDI Fritzens and in 2018 they moved up to Grand Prix. 
The corona lockdown in the spring of 2020 was a good period to focus on one's own riding. 
"With the lockdown i think it was hard for so many people, also for me," Florian admitted. "We were not able to teach or give clinics, but i enjoyed the quiet time with my horses and the training. I think specially the younger horses improved a lot."
Training for the Future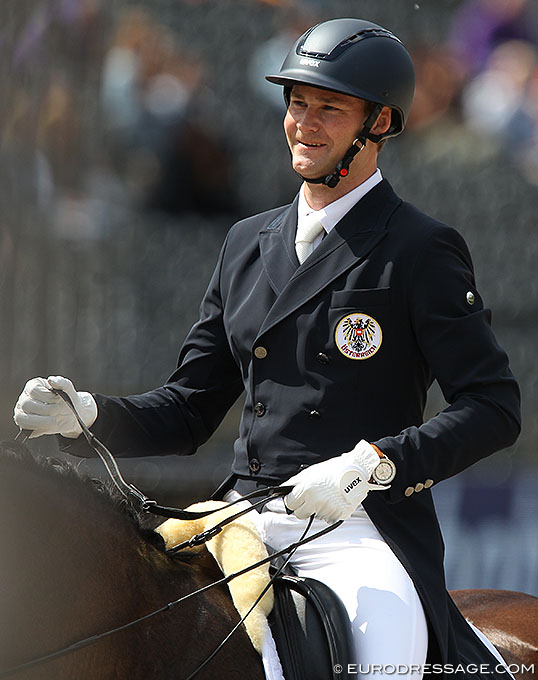 Bacher has been initially trained by Arthur Kottas and currently works with Carl Hester although the corona pandemic has kept him grounded on the European mainland. Before the lockdown, Florian's wife Verena purchased youngster Notorious (by Negro x Johnson) from Charlotte Dujardin.
"I train with Carl Hester if he is around, because I also do the in-hand work with his horses," said Florian. "I also train with Sabrina Reinwald. She helps me at competitions and at my stable I work with Florian Zimmermann. He is my eyes on the ground, as well my wife if she has the time."
When asked what his competition plans are for the rest of the year, Florian replied that he's unsure. 
"I think it is a bit difficult to plan too far ahead at the moment with competitions," he said. "As I only did one World cup this year it is not really possible to go to the Finals, but it is a long term goal for sure."
Related Links
Scores: 2020 CDI-W Brno
Simoncic, Ochsenhofer, Grabenwöger, Ahorner, Porsche, Bacher Win 2019 Austrian Dressage Championships
Austrian Team Selected for 2019 European Dressage Championships
Scores: 2019 European Dressage Championships
Isabell Werth Wins in Front of 2,000 Dressage Fans at 2017 CDI Fritzens
Hohenwarter, Thonhauser, Wurzinger, Porsche, Gmoser, Valenta, Weinbauer Win 2017 Austrian Championships
Jazzmate, Price Highlight of 2013 Oldenburg Spring Elite Auction