Sweden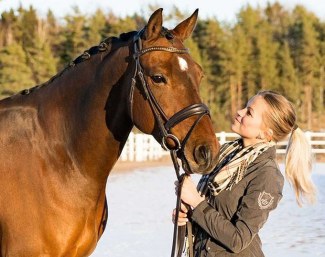 Swedish horse dealer Bjarke Laustsen of Gunnarlunda has reached a settlement with the buyers of his horse Edinyo after a four year legal battle. 
Instead of going to court, Laustsen decided to pay a settlement of 825,000 SEK (79,265 euro) after four years of trials and tribulations for a horse of which the original purchase price was 250,000 SEK (24,000 euro).
Laustsen and his wife Patricia Florin run Gunnarlunda Dressage in Sweden, a dressage sales facility.
The couple is known for having sold six-figure euro horses Akeem Foldager (Hanni Toosbuy Kasprzak & Andreas Helgstrand), Amplemento (Antonia Ramel), Conde Nord (Lauren Asher), and Gammelenggards Zappa (Peter Studer).
Four Year Legal Battle
In 2016 Edinyo sold to 17-year old Ebba Graversen, but he soon turned out to have back problems that made him unrideable.
Veterinary examinations showed that it had problems with kissing spines and the horse ended up getting euthanized. Initially the buyers tried to return the horse and reclaim the purchase price, but Laustsen refused. This led to a legal battle that lasted four years and ended in the settlement. 
According to Ridenews.se, the court initially ruled that Bjarke's company had to repay the purchase price as well as legal costs, but he refused to pay and claimed that Ebba destroyed the horse with her bad riding.
Exposing Horse Dealers
In July 2019 Swedish newspapers Sydsvenskan and Helsingborgs Dagblad reported on dubious Swedish horse dealers with millions of debts and business bans, who continue to sell horses.  One of them is Bjarke Laustsen.
According to Sydsvenskan the pile of lawsuits against Bjarke Laustsen has grown at Helsingborg District Court the past 10 years. Several cases were won by the buyers, but they struggled to get their money back as Laustsen's company that had to pay, declared for bankruptcy.
Several witnesses stepped forward with horse sales at Gunnarlunda that have gone sour. One witness stated that Laustsen talked them into using "his" vet clinic for the pre-purchase exam.
In 2016 former Swedish pony team rider Emma Tegelskar purchased "America" for 500,000 SEK (60,000 euro) as her junior rider's horse. She has a bad accident with him crashing into a concrete wall and suffered a severe concussion, whiplash and nerve fibre damage which resulted in three years of pain and her dropping out of high school. Emma's mom wanted to return the horse, but Laustsen offered her to pay 1,780 euro monthly board fee while he tried to resell the horse or buy back the horse for 200,000 SEK (23,700 euro), because he believed Emma damaged the horse's reputation. 
Swedish Consumer Purchase Act 
Laustsen was offered the opportunity to react to Sydsvenskan's investigation and he stated: "It's a real abuse, because I have really sold top, top top horses to these girls for little money. They have not been able to handle them. They have been offered to get their money back, but did not want to. They wanted to have double or triple the money. And that is not right nor reasonable."
According to Ridenews.se, the buyers wanted compensation for the veterinary bills they had incurred by having the horses treated.
The Swedish Consumer Purchase Act protects buyers and puts the responsibility for errors with the seller for the first six months if it can not be proven that the buyer caused these errors. Laustsen believes the Swedish legal system fails here. 
"The Consumer Purchase Act is made for goods such as cars and televisions. It is not made for live animals," he said.
Source: Tidningen Ridsport - Ridenews.se
Related Links
Gammelenggårds Zappa Sold to Switzerland
Conde Nord Sold to Lauren Asher
Zgander Sold to the Rothenberger Family
What's Happening: March 2014 - Part 2
Akeem Foldager Secured for Denmark
Alive and Kicking Sold to Charlotte Dujardin