2020 Dutch Dressage Championships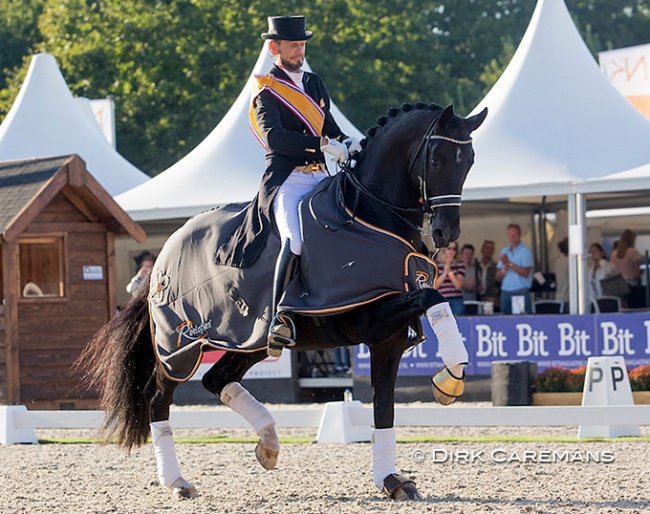 Children rider Kebie Raaijmakers, junior Robin Heiden, young rider Daphne van Peperstraten, U25 rider Jeanine Nieuwenhuis and senior Grand Prix rider Edward Gal became the winners in their age classes at the 2020 Dutch Dressage Championships in Ermelo, The Netherlands, on 17 - 20 September 2020. 
Although the Dutch Nationals catered to a reduced capacity audience, the corona lockdown and limited amount of competitions this year brought a large crowd to feet to fill the stands and VIP section in Ermelo. The 2020 edition appeared better attended than the 2019 Nationals which had a staggering small audience. With sunny summer weather throughout the weekend and an action packed programme, the Dutch Championships became a year highlight to me. 
Children: Kebie Raaijmakers Gold
The Children Championships was a roller coaster event with riders bouncing from low to high places and reverse on the leader board. Dutch team rider Kebie Raaijmakers finished on the highest step of the podium thanks to her winning first ride on a score of 80.400%.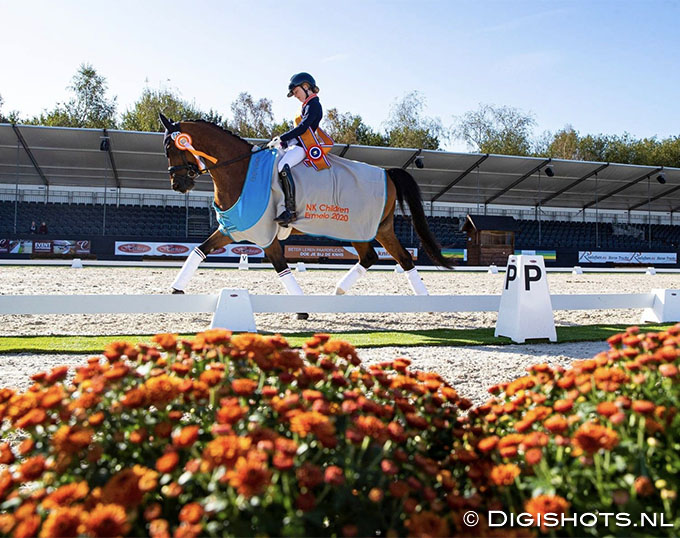 Riding the children routinier Happy Feet (by Tuschinski x Animo), she was sixth in the second round with 72.445% but her total of 152.845 points gave her gold.  Veerle van Hof and the 12-year old Don Diabolo (by Westpoint x Polansky) scored silver after placing third in round 1 (76.225%) and winning round 2 (76.537%). She totalled 152.762 points and was just a fraction short of the title. The bronze medal went to Maura Knipscheer aboard the 15-year old Amaretto (by Krack C x Jazz). She produced two consistent results, 76.425% and 75.778%, to finish third with 152.203 points, also a minimal difference with the other two podium place-getters. 
"This was a nice revenge to my fourth place at the European Championships," said Raaijmakers who is the newest rider in a long succession of riders of the double European Children Champion Happy Feet. "I had a few costly mistakes. He did cross canter in the strike off and changed lead in the extended canter. I thought, "I'm going to finish my ride nicely and just hope for a good enough score." It was very exciting and it turned out well." Raaijmakers is looking to make her transition to junior level next year.
Juniors: Heiden Best in Field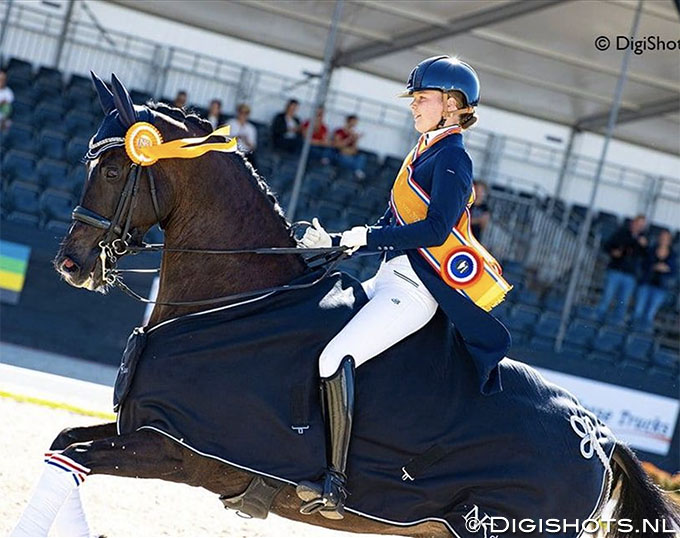 Robin Heiden was already the best Dutch rider at the 2020 European Junior Riders Championships and she continued to prove her worth at the Dutch nationals. Fourteen combinations competed in round 1 and 8 moved on to the second round.  Two riders of the Dutch European Championship team did not have a nationals as planned. Shanna Baars and Fernando performed below par and did not move to the second round, while Evi van Rooij opted for her second horse Egea instead of Don Tango B.
Heiden and her 9-year old home bred KWPN gelding Gasmonkey (by Tuschinski x Ferro) were a league of their own, winning round one with 72.828% and round two with 76.875%. Their winning total of 149.703 points put them almost four percent ahead of the silver medal winners, Sanne van der Pols  on the 13-year old KWPN bred Cuvanck PP (by Downtown x Munchhausen). They posted 71.364% and 74.375% for a total of 145.739 points. The bronze went to Fleur Prinsen and the 10-year old Game (by San Amour x Gribaldi). She was third n day one with 69.798% and improved her score to a 72.625% in round two to finish with bronze on 142.423 points. 
"I've never been Dutch champion before," said a thrilled 17-year old Robin. "I'm super happy and proud of Goofy. He really liked it here. After the Europeans he got three weeks off and we took it easy. A week ago we picked up training again and it went so incredibly well. I can't wish for a better horse. When he hears the music during the freestyle, he switches on and ups the ante." Heiden is trained by her parents Jeany and Pieter and sometimes gets coaching from Emmelie Scholtens and Coby van Baalen. 
Young Riders: Daphne van Peperstraten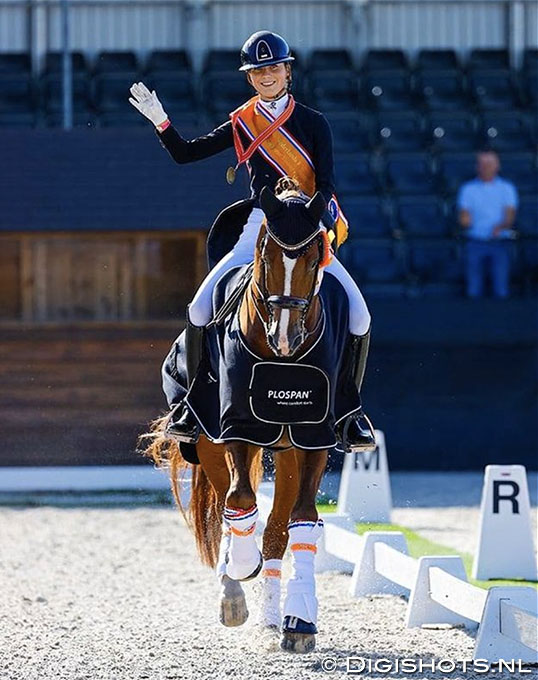 Fifteen combinations were entered for the Young Rider division and 8 rode the freestyle finals. European Championship team gold, individual test bronze and kur gold medal winner Daphne van Peperstraten reigned supreme at the Nationals, leaving behind individual test gold medal winner Marten Luiten by almost two percentage points, even though Luiten won the Kur. Team rider Quinty Vossers decided to skip this year's Dutch Championships. 
Just like in Budapest, it was a neck-to-neck race between Van Peperstraten and Luiten. The former won the first round aboard her loyal ride, 13-year old Cupido (by Johnson x Duko), with 76.569% but placed second in the freestyle with 78.542%. However her total of 155.111 points placed her on the highest step of the podium. Luiten and his 10-year old KWPN mare Fynona (by Ampere x Gribaldi) were second in the first round (74.412%) but dominated the Kur with 79.083%. Their total of 153.495 points was good for silver. For Thalia Rockx and her 9-year old home bred Golden Dancer de la Fazenda (by Bretton Woods x Florestan) the bronze medal with 151.366 points was a sweet consolation after getting eliminated at the Europeans when her horse bled from his lip after a spook. They scored 73,824% and 77,542% in Ermelo. 
"I didn't have a Young Riders' title yet and it's super nice to have achieved one now," said Van Peperstraten who has already been Dutch pony and junior champion. "Last year I had silver. It is fun that it's such an exciting battle. Marten and I are neck-to-neck and we get along so well. I wanted to continue the trend from the Europeans. Cupido was really up for it and on my aids. I really had to watch hum to make sure we stayed faultfree," the Law student added. Daphne wants to take Cupido to Under 25 level while riding Young Riders with her second horse Hotmail in 2021.
Under 25: Nieuwenhuis Takes Three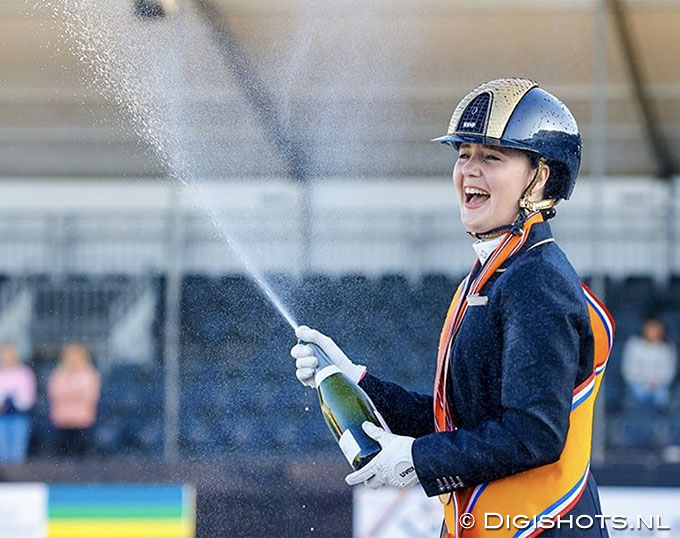 Jeanine Nieuwenhuis concluded her last year as Under 25 rider with her third, consecutive title aboard Tim Coomans' 15-year old KWPn gelding TC Athene (by United x Jazz). All four Dutch European U25 Championship team rider were present in Ermelo, although Febe van Zwambagt brought her second horse Fyeo instead of Edson. 
Nieuwenhuis, who won double European silver in Budapest in August, won her third National U25 gold after winning both rounds. She scored 77.350% in round 1 and 80.917% in the freestyle to total 158.267 points and stay miles ahead of the rest. The silver medal went to Jasmien de Koeyer aboard  the 11-year old Esperanza (by Desperados x Krack C). They were second twice with 71.923% and 77.208% to total 149.131 points. Febe van Zwambagt and  the 10-year old Fyeo (by United x Jazz - unrelated to TC Athene) scored the bronze medal with 147.120 points and scores of 71,453% and 75,667%. 
"It's insane to win and the nice thing is that it becomes more attainable to continue onwards in the senior Grand Prix," said Nieuwenhuis who was moved to tears. "To finish my time as a youth rider in this way is just very special. I rode my first Europeans as a junior in 2012 and if you see how far I got, it is a dream." When asked why she didn't ride in the senior division, she replied, "I discussed it with my trainer Tim Coomans. We wanted to close off my time as a youth rider in style. Gold is of course nicer than placing fifth with the seniors. At this moment at least. We have more future hopes in the barn and with Athene it is possible to ride in the senior division. That is the dream. With the team we built around us, it should be feasible."
Seniors: Edward Gal Brings Totilas Magic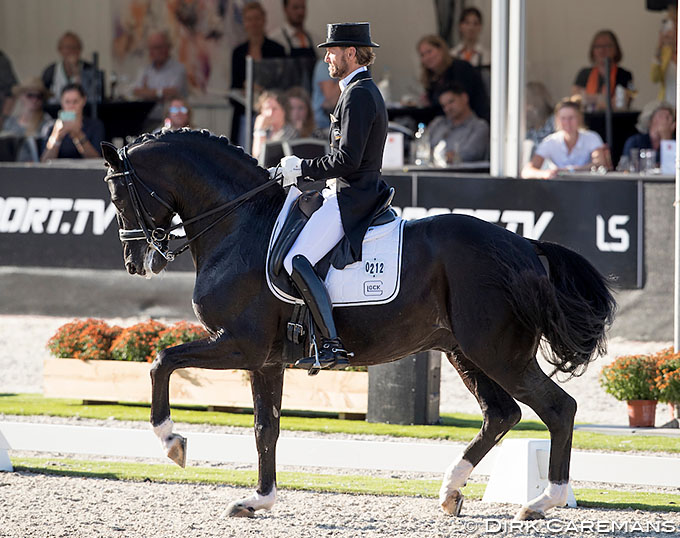 The senior championships, which were contested by two rounds, were packed with no less than 28 combinations in the first round, the Grand Prix Special. Twelve of them moved on to the Kur to Music Finals on Sunday. 
Riding on the wave of magic that Totilas conjured up ten years ago and which continues to resonate in the dressage world, Edward Gal and the 9-year old Hanoverian Toto Jr (by Totilas x Desperados) brought the judges and crowds under their spell and cruised to the Senior Grand Prix title, the 11th in Edward Gal's career.  
In the first round, the Grand Prix Special, Gal and Toto Jr presented their potential for the future for the first time in front a big(ger) Dutch audience, with only one regional Grand Prix test down their belt. The panel of judges in the Special (Sanders, van Twist,  Verbeek, de Bel, and Hamoen) rewarded the promising ride with a whopping 80.681%.
In the Kur to Music, Gal played on the emotions of the crowds and judges, as well as his own, by using Totilas' music and bringing memories back to the dance floor. Toto Jr is brimming with power and athleticism and has this magical aura, but is still very green at Grand Prix. It is interesting to see how the all-Dutch panel of judges in the freestyle (Wolters, Wolfs, Sanders, Hamoen, Verbeek) handled the assessment of this brand new combination with a halo of epic proportions. Stardom, talent and potential clearly outweighed the key principles of dressage. Toto Jr certainly showed incredible bits, such as a impressive bounce in his passage, mind blowing ground coverage and airtime in the trot half passes, and an exceptional quality of extended walk.  The judges disregarded the lack of regularity in paces (lots of passage and extended trots were uneven in stride length), correctness in execution of the movements (trot extensions without overtrack and lengthening of the frame; the piaffe without sit), and lightness in the contact (the right snaffle rein in a loop, a firm right curb and regular gaping and jaw crossing) for the sake of the spectacular.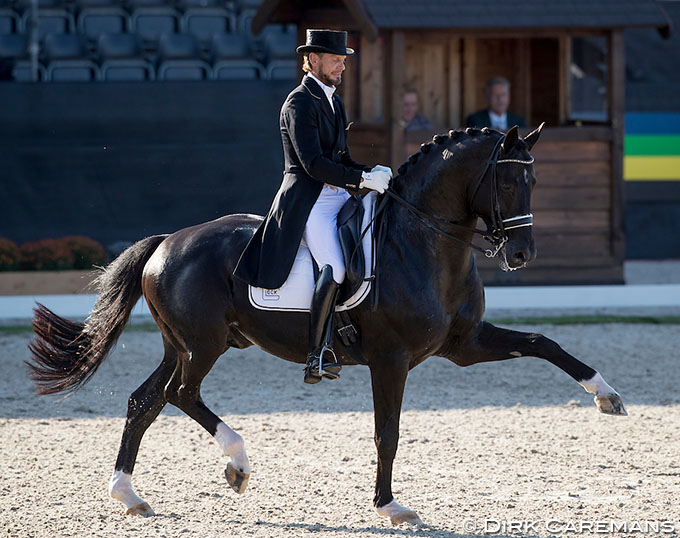 Gal did his trick and like a David Copperfield brought magic and awe to the arena, which only few combinations achieve these days. The panting judges eagerly rewarded the Totilas freestyle with an 86.150%. Based on the quality of the horse, there is no doubt about the winner of the 2020 Dutch Grand Prix Championship: a total of 166.831 points made Edward Gal the 2020 Champion. 
"When Toto was three years old I know that if there were to be a horse to perform Totilas' Kur it would be him. I have waited seven years for this," said a visibly pleased Edward Gal. "Today it was also exactly ten years ago that I became World Champion with Totilas in Kentucky. It's risky to say this but I have the feeling that Toto will be better than his sire. I'm very happy with how he went today. It's only his third show at this level and it says a lot about his quality the way he handled it. To my feeling today was better than yesterday. It's nice to know for the future that he grows during  a competition. I feel with Toto a lot of things that I felt with Totilas. This makes this title so special to me."
With a secure double second place, Hans Peter Minderhoud and the 12-year old KWPN stallion Dream Boy (by Vivaldi x Ferro) earned the silver. They scored 76.489% with an energetic and expressive Grand Prix Special and got 82.525% for the freestyle on Sunday. They finished on 159.014 points to be the reserve champions.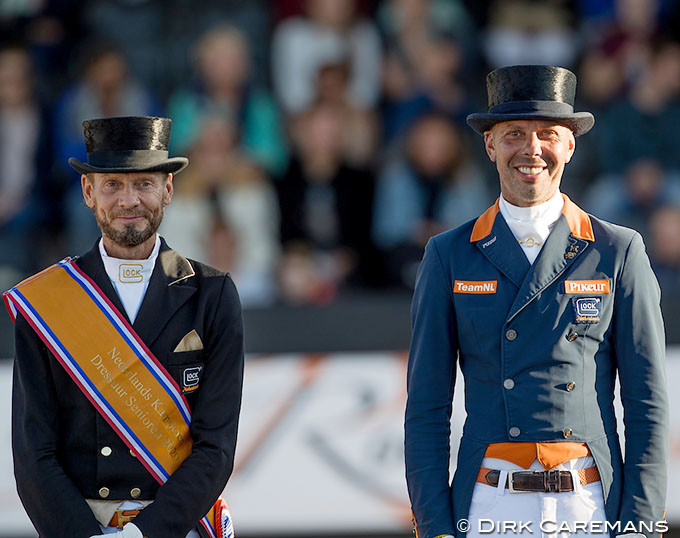 "The Story of my life," Minderhoud joked after getting silver once again. "I'm very happy with my second place. Dream Boy showed himself super. Jumping Amsterdam in January was his last show. It's nice to go into the arena again after a period without shows. I'm happy that we got the chance to ride a Dutch Championships with a nice battle at a fantastically organized show. Finally this laziness can be sweated out."
Emmelie Scholtens and the 12-year old KWPN stallion Desperado (by Vivaldi x Havidoff) had a bit of a wobbly start in the Special and were fifth with 72.809%. Clearly showing some lack of competition routine due to the corona lockdown, this duo did not immediately show the right accuracy in test riding. However, they upped their game in the freestyle and placed third in the Kur with 81.400%, gaining bronze and thereby pushing Marlies van Baalen and Ben Johnson (by Johnson x Ferro) from the podium.
"I totally did not expect but hoped to be back on the podium," said Scholtens. "This wasn't really my show. I was in excellent form last week. I need competitions to get in top shape."
Results - 2020 Dutch Dressage Championships - Ermelo
Children
1 Kebie Raaijmakers - Happy Feet - 80,400 - 72,445 ---- 152,845
2 Veerle Van Hof - Don Diablo - 76,225 - 76,537 ---- 152,762
3 Maura Knipscheer - Amaretto - 76,425 - 75,778 ---- 152,203
4 Fleur Kempenaars - Ivanto - 67,575 - 73,773 ---- 141,348
5 Elise De Loos - Enzo - 67,500 - 72,685 ---- 140,185
6 Flore Woerts  - Vlingh - 68,575 - 71,380 ---- 139,955
7 Jessica Nesselaar - Cream On Top  - 64,425 - 72,820 ---- 137,245
8 Dominique Van Dalsen - Westerhuis Ferguson - 66,775 - 67,597 ---- 134,372
9 Fenne Van Den Berg - Isala's Arielle - 65,175 - 67,889 ---- 133,064
10 Anne van Gruijthuijsen - Ferdinand  - 61,800 - 69,889 ---- 131,689
11 Veerle Farla-  Formidable - 63,900 - 62,852 ---- 126,752
12 Toesja van Veen - Namorado - 57,775 - 65,227 ---- 123,002
Junior Riders
1 Robin Heiden - Gasmonkey 72,828  - 76,875 ---- 149,703
2 Sanne Van Der Pols - Cuvanck PP 71,364 -  74,375 ---- 145,739
3 Fleur Prinsen - Fame 69,798 - 72,625 ---- 142,423
4 Lara van Nek - Fariska 68,737 - 72,583 ---- 141,320
5 Pem Verbeek - Fernando Torres 67,530 - 71,750 ---- 139,280
6 Evi Van Rooij - Edea 68,788 - 69,375 ---- 138,163
7 Fleur van de Walle - Havanna 66,465 -  70,417 ---- 136,882
8 Jo-Anne Koch - Dalivia 65,657 - 70,375 ---- 136,032
Young Riders
1 Daphne van Peperstraten - Cupido - 76,569 - 78,542 ---- 155,111
2 Marten Luiten - Fynona - 74,412 - 79,083 ---- 153,495
3 Thalia Rockx - Golden Dancer de la Fazenda - 73,824 - 77,542 ---- 151,366
4 Milou Dees - Fransesco -  69,167 - 73,042 ---- 142,209
5 Shanna Baars - Farzana G -  67,843 - 73,417 ---- 141,260
6 Thessa Gilbers - Gominka Est - 68,186 - 70,792 ---- 138,978
7 Bente Hedeman Joosten - Hippy Evitia - 67,353 - 69,792 ---- 137,145
8 Britney De Jong day - Caramba - 67,990 - 69,000 ---- 136,990
Under 25 Riders
1 Jeanine Nieuwenhuis - TC Athene  - 77,350 - 80,917 ---- 158,267
2 Jasmien de Koeyer - Esperanza - 71,923 - 77,208 ---- 149,131
3 Febe van Zwambagt - Fyeo - 71,453 -  75,667 ---- 147,120
4 Mercedes Verweij - Four Seasons - 70,000 - 71,125 ---- 141,125
5 Jeanine Nieuwenhuis  - Ewoud - 67,991 - 71,917 ---- 139,908
6 Corinda Luttjeboer - Cirano DC - 69,359 - 69,542 ---- 138,901
7 Bo Oudhof - Colt Sollenburg - 66,197 - 72,542 ---- 138,739
8 Skylar Bos - Choice Finch - 68,505 - 69,875 ---- 138,380
9 Lotte Van Den Herik - Winner - 66,325 - 67,833 ---- 134,158
10 Sarah Van de Meer - Elton John - 66,196  - 62,083 ---- 128,279
Seniors
1 Edward Gal - Toto Jr. - 80,681 - 86,150 166,831
2 Hans Peter Minderhoud - Dream Boy -  76,489 - 82,525 159,014
3 Emmelie Scholtens - Desperado - 72,809 -  81,400 154,209
4 Marlies van Baalen  - Ben Johnson - 73,426 - 80,575 154,001
5 Vincent Van Gasselt - Delacroix II - 72,638 - 80,025 152,663
6 Madeleine Witte-Vrees - Cennin - 72,936 - 77,500 150,436
7 Adelinde Cornelissen-  Zephyr - 72,106 - 78,225 150,331
8 Lynne Maas - Electra - 71,404  - 76,675 148,079
9 Marieke van der Putten - Her Majesty TF - 69,021 - 74,750 143,771
10 Diederik van Silfhout - VMF Chardonnay  - 69,638 - 73,825 143,463
11 Kebie Van Der Heijden - Beach Boy-  69,085 - 71,750 140,835
Yessin Rahmouni -  All at Once - 69,106  - EL --- 69,106
Related Links
Gal and Toto Jr Take Comfortable Lead in 2020 Dutch Dressage Championships
Van Nek, Luiten, Rockx, Van Silfhout, Nieuwenhuis, Gal Win 2019 Dutch Dressage Championships
Buijs, Van Peperstraten, Rockx, Nieuwenhuis, Gal Win 2018 Dutch Dressage Championships
Van Peperstraten, Donkers, Maas, Meulendijks, Gal Win 2017 Dutch Dressage Championships
Oudhof, Nieuwenhuis, Gal, Meulendijks, Van Silfhout Crowned 2016 Dutch Champions 
Scores: 2015 Dutch Dressage Championships
Scores: 2014 Dutch Dressage Championships
Scores: 2013 Dutch Dressage Championships
Edward Gal and Undercover Win 2012 Dutch Dressage Championships
Minderhoud, Witte-Vrees, Krooswijk and Te Riele Proclaimed 2011 Dutch Dressage Champions
Gal Prolongs Grand Prix Champion's Title at 2010 Dutch Championships
Edward Gal and Totilas Conquer 2009 Dutch Championships
Adelinde Cornelissen, 2008 Dutch Dressage Champion
2005 Dutch Championships: Van Grunsven Star of Holland for 12th Time