Rhinelander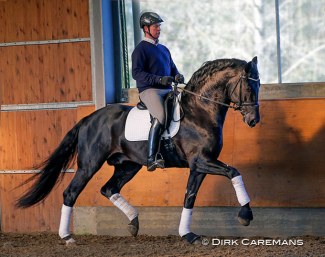 The Belgian bred Rhinelander stallion Special Agent Amour has passed away on 27 September 2020. He was 12 years old.
Special Agent Amour was by San Amour out of New Spring de la Bastide (by Polidiktus van de Helle x Feo x Goldspring de Lauzelle).
He was bred and owned by the father-son duo Hugo and Philippe Jorissen in Belgium. 
The black was presented at the 2010 Westfalian Stallion Licensing and named premium stallion.
He did his 30-day stallion performance test two years later in 2012 in Schlieckau and scored 8.84 for dressage and 6.98 for show jumping to finish on a total of 8.11 points. He retained his licensed status through sport by qualifying for the Bundeschampionate via a Belgian show in October 2013 on a score of 75.40 points. 
Successful Sport Career as a Youngster
Special Agent Amour had a super start in sport as a youngster.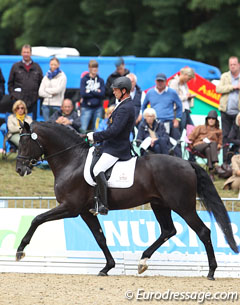 German Jana Freund presented him at the 2011 Bundeschampionate as a 3-year old and placed fourth in the Finals. At the 2012 Bundeschampionate he finished 5th in the Finals.
Under owner Philippe Jorissen he got selected to represent Belgium at the 2013 World Young Horse Championships in Verden, where he was 27th in the preliminary test (7.08) but had to be retired in the consolation finals. 
Special Agent Amour was considered the Grand Prix hopeful for Belgian 2010 WEG Team rider Philippe Jorissen, but the stallion never broke through in sport at FEI level.
Special Agent Amour injured himself while breeding in 2015 and it meant the end of his sport career.
Legacy
Although Special Agent Amour was not widely marketed as a breeding stallion, he was quite liked by breeders. In Germany he has 14 offspring registered for sport. He has no licensed sons. 
Special Agent Amour mainly catered to the Belgian market mainly after getting BWP approved in 2011. Several of his still young offspring have made their mark in sport already. 
Miss Dior van den Bruel (by Special Agent Amour x Florestan) won the silver medal at the 2017 Belgian Young Horse Championships. She also won the mature mare class for 5 and 6-year olds at the 2017 Belgian Warmblood Mare Championship. Miss Dior was supposed to go to the 2017 World Young Horse Championships in Ermelo, but after a highly contentious selection process another horse was favoured by the selectors.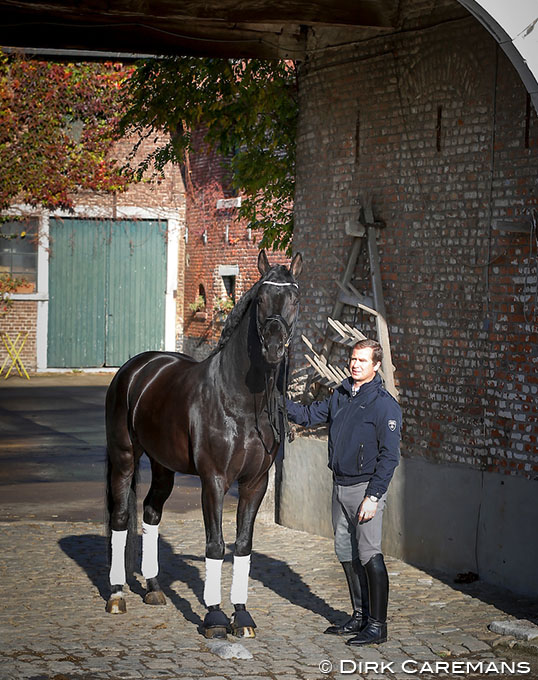 Arnaud Serre and Sylvain Massa's Portuguese Sport Horse bred Dionysos de Massa (by Special Agent Amour x Xaquiro) scored the bronze at the 2017 French Young Horse Championships.
Early Demise
Special Agent Amour passed away untimely. He started to colic and was transported to the equine clinic, where he was operated on. 
"Special had a rupture in a blood vessel in his liver. We think he rolled and got his intestine stuck between the pancreas and liver. The intestine moved back into the right place, but ruptured a vessel. We only found out the cause on the operation table and his chances for survival were very slim. We are all in shock and can't believe it. What started out as a breeder's dream turned out into a nightmare," Jule Jorissen told Eurodressage. 
Jule continued, "fortunately we still have several of Special's children playing around here at the yard."
Related Links
Belgian Horses Selected for 2013 World Young Horse Championships
Belgian Delegation for 2017 World Young Horse Championship after Major Imbroglio
Jack Sparrow DE, Obelle Amour de Tamise, Nias van het Blejanhof Win 2017 BWP Corsendonk Cup
Orpheus van het Kinschot Wins 2017 BWP Suitability Competition
Scores: 2013 World Championships for Young Dressage Horses
Special Agent Amour and Sniper van de Helle Win Fifth 2013 Belgian WCYH Selection Trial in Jeneffe
Inshallah de Muze, Champion of the 2011 BWP Stallion Licensing
Scores: 2012 Bundeschampionate
Rhinelander Riding Horses Selected for 2012 Bundeschampionate