France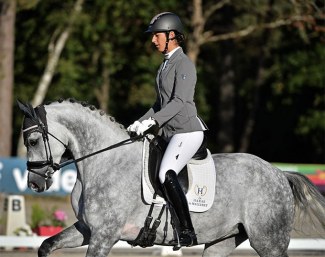 French professional dressage rider Pauline Guillem has accepted the position of in-house rider at the French dressage stud Haras de Malleret.
The 27-year old Pauline Guillem has been a successful French youth team rider, beginning on ponies and moving up to Under 25 level.
She represented France at the 2008 European Pony Championships on Ivry de Montoux and at the 2009 European Pony Championships with Marin des As. 
In 2011 she made the transition to junior level with Whisper Gold (by Gribaldi x Wanderbusch II), who took her to the 2011 European Junior Riders Championships and then to Young Riders level in 2012-2014.
Between 2014 and 2017 Guillem did not compete internationally but she returned to the CDI show scene in 2017 at medium tour level with Whisper Gold. The pair competed only very lightly at international shows, their last being in July 2019. In 2018 the pair won bronze at the French Under 25 Championships.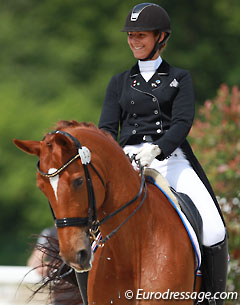 On a national level she has been establishing herself as a professional rider, in particular as a young horse trainer. She won silver at the 2019 French Young Horse Championships with Magic Moment and bronze with  Loudzi Gold at the 2020 French Young Horse Championships. 
Guillem began riding horses for Malleret in 2020, including Barcelona de Malleret (OLD, by Bretton Woods x Diamond Hit), with whom she placed fifth at the 2020 French Young Horse Championships. 
Pauline will now join Alfonso de la Chica Parras as in-house rider at Haras de Malleret in Le Pian Medoc as of 1 January 2021.
She will bring Floyd Pepper, Romulus and Barcelona and will get training from Annick Dauban and Hans Heinrich Meyer Zu Strohen.
Related Links
Maximus Jung HP du Wincke, Djembe de Hus, James Bond de Massa Win 2020 French Young Horse Championships
Haras De Hus' Horses Djembe, Don Vito and Dorian Grey Sweep 2019 French Young Horse Championships
Jawurek, Bonifay, Noel, Gallinard Win 2018 French Youth Riders Championships