Australia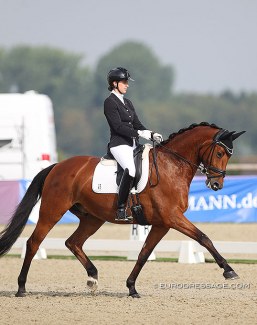 Keeping up with the tradition of announcing a team selection, then receiving complaints of not adhering to the rules, and back pedalling on its decision, the Australian Equestrian Federation has revoked the selection of Schöffner and Cosmopolitan to the 2020 World Young Horse Championships. 
Contested Selection Schöffner and PBM Cosmopolitan
Two days after announcing the first group of Australian combinations selected for the 2020 World Championships for Young Dressage Horses in Verden, Germany, on 9 - 13 December on its website, the Australian NF pulled the press release offline and revoked the selected status of one combination: German Anna Catherine Schöffner on the Australian owned PBM Cosmopolitan, Jan Smith's 6-year old German Sport Horse by Concetto x Larimar.
Cosmopolitan's owner has been wrongfully accused of favouritism in the team selection process, sharing the same name with Australia's Grand Prix team selector Jan Smith. 
Although Schöffner followed the official procedure to apply for Australian team selection and was officially approved by the federation, complaints from rival competitors for a team spot followed, citing that a non-Australian bred horse cannot be ridden by a rider of a different nationality except Australian. 
Australian ownership of the horse does not suffice for Australian team selection, according to FEI rules, which EA apparently was unaware of and did not double check before announcing team selection.
Psychological Damage
Equestrian Australia has kept up to its standard causing severe psychological damage to its riders with its erratic, unchecked team selection system. The amount of lawsuits that have followed any major championship team selection is unparalleled in Australia. 
Schöffner is distraught about the revoked selection as well as the unsportsmanlike behaviour of some Australian riders who felt injustice had been done with her being selected as a German rider on an Australian owned horse.
"... happy too early. No WM for Cosmo & me," Schöffner took to Facebook. "Some people have pulled out all the stops to prevent me from participating in the WM. We officially applied through the Australian Federation and received an acceptance on Monday morning. Today there was cancellation because the FEI rules cannot be adhered to. We understand that you have to follow the rules BUT we don't understand that the Australian FN doesn't know these rules and we don't understand the bad reactions towards me. I love my job, my horses and the World Cup was a very big dream. BUT WE WILL NOT GIVE UP!"
Photos © Astrid Appels
Related Links
First Australian Horses Selected for 2020 World Young Horse Championships
Sue Hearn's Remmington Tests Positive to Controlled Medication
Layne Out, Hearn on 2016 Australian Rio Olympic Dressage Team
Burgess Wins Appeal, to Replace Tomkinson on Australian WEG Team if La Scala Passes Vet Check
Australian High Performance Program under Review after Controversial Olympic Selections
Hayley Beresford Loses Appeal with CAS on Australian Olympic Selection