Oldenburg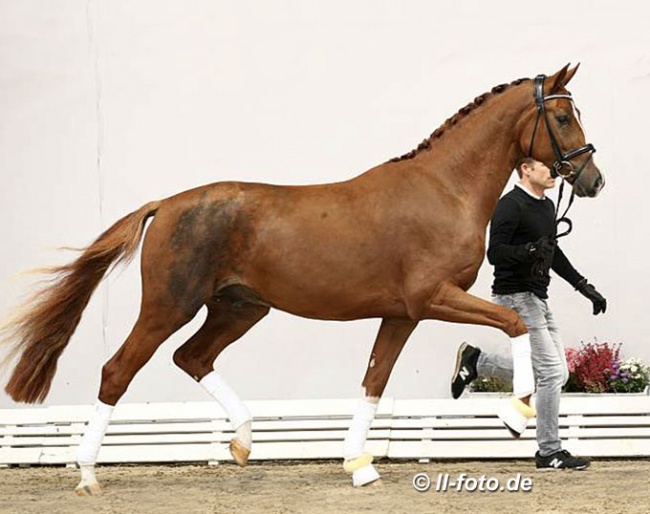 The Oldenburg breed society has announced the list of 2.5 year old colts that have been accepted for the 2020 Oldenburg Stallion Licensing in Vechta, Germany, on 19 - 21 November 2020. 
Around 160 dressage stallions registered for the pre-selections in Vechta, and a collection of 38 colts have been accepted to move on to the actual licensing in November, which at the moment is announced to take place without an audience. 
Seven of the 38 selected colts are bred abroad in either Denmark, Belgium, Holland or Great Britain. 
The best represented sire is the Dutch bred and originally Westfalian licensed Vitalis (by Vivaldi x D-Day), who took over the role of flagship stallion from Fürstenball at Paul Schockemöhle's stallion status in Mühlen, Germany. He has four sons selected for the licensing out of 19 that were originally entered for the pre-selection.
The second best represented sire is Gerd Sosath's 7-year old sire For Dance (by For Romance x Rubiloh) with three sons selected out of five entered! The mass breeder Secret (by Sezuan x St. Moritz) has two sons selected out of 9 entered, just like KWPN sires Bordeaux and Desperado. Ibiza had 10 entered and only 1 made the cut.
The selected dressage colts are:
nn (by Baron x De Niro x Sergeant Pepper) - Breeder: Elisabeth Wegert
nn (by Bernay x Desperados x Sandro Hit) - Breeder: Elke Lubahn
Lordswood Bernstein SL (by Bonds x Quaterback x Rohdiamant) - Breeder: Stefanie Löhmann
nn (by Bordeaux x Fürst Piccolo x Wolkenstein II) - Breeder: Arndt Schwierking
nn (by Bordeaux x Quattro B x Grandeur) - Breeder: Bernhard Arkenberg
nn (by Champagner x Wolkentanz x Askan) - Breeder: Heinrich Ramsbrock
nn (by Desperado x Dimaggio x Lanthan) - Breeder: Ralf M. Schäfer
nn (by Desperado x Sandro Hit x Plaisir D'Amour) - Breeder: Britta Budeus-Wiegert
Dancing Sir Gold (by De Niro Gold x Sir Donnerhall x Tananarivo xx) - Breeder: Günter Vorwerk-Woebkenberg
nn (by Diamond Hit x Laurentio x Partout/T). - Breeder: Johannes Westendarp
nn (by Don Deluxe x Fürstenball x Conen) - Breeder: Johannes Westendarp
nn (by Everdale x Licotus x Rouletto) - Breeder: Lars Wenke
nn (by Fahrenheit x De Niro x Lord Liberty) - Breeder: Dieter Scherwitzki
nn (by Fahrenheit x Sir Donnerhall x Lafontaine) - Breeder: Bernd Broghammer
nn (by For Dance x Zack x Diamond Hit) - Breeder: Jörg Bös
nn (by For Dance x Real Diamond x Florestan I) - Breeder: Josef Lutz
nn (by For Dance x Sungold x Royal Diamond) - Breeder: Uwe Schroeder
Woodlander Fort Worth (by For Emotion x Dimaggio x Caprimond/T.) - Breeder: Lynne Crowden (GB)
nn (by For Romance I x Robespierrot x Osmium) - Breeder: Marianne van Mourik (B)
Fortunate (by Foundation x Quaterback x Weltmeyer) - Breeder: Zuchthof Vogel
Franze (by Franklin x Sezuan x Romanov) - Breeder: Henrik Hansen  (DK)
nn (by Fürst Fabrice x Irdenkreis/T. x Ragazzo) - Breeder: Henrike Folkens
nn (by Fürstenball x Sandro Hit x Donnerhall) - Breeder: Dr. Rolf-Peter Schulze
Nobilisyade NVDW (by Habanna x Landjonker x Jazz) - Breeder: J. van de Wiel (NL)
nn (by Ibiza x Sandro Hit x Weltmeyer) - Breeder: Dr. Friederike Rehkamp
nn (by Marc Cain x Prestige Pilot x Pokal) - Breeder: Willem Klausing
nn (by Quantensprung x Don Schufro x Belissimo M) - Breeder: Heinz Ahlers
nn (by Sandro Hit x Destano x Wolkentanz) - Breeder: Johann Martens
nn (by San Francisco x Florencio I x Sion) - Breeder: Gestüt Vorwerk/Max-Theurer
nn (by Secret x Rohdiamant x Grundstein II) - Breeder: Harli Seifert
nn (by Secret x Don Larino x Corradino) - Breeder: Hartwig Mueller
nn (by Sezuan x Sandro Hit x Lanciano) - Breeder: Stutteri Pax (DK)
nn (by Veneziano x Sir Donnerhall x Don Davidoff) - Breeder: Felix Tiemann
Veyron Hena (by Vitalis x L'Espoir x De Noir) - Breeder: Alexandra & Sören Buchreitz  (DK)
nn (by Vitalis x Florencio I x De Niro) - Breeder: Werner Dullwebe
Vito van de Wulfsdam (by Vitalis x Sandro Hit x Feiner Stern) - Breeder: Jose Vancoillie (B)
nn (by Vitalis x Don Frederico x Londonderry )- Breeder: Sigrid Schmidt
nn (by Vivaldi x De Niro x Sandro Hit) - Breeder: Alfons Kramer
Related Links
2020 Oldenburg Stallion Licensing Without an Audience
German Breed Societies Follow Suit: Untested Colts Allowed to Breed in 2020
The Future of the Stallion Licensing in Germany Will Bring Change