2020 Hungarian Young Horse Championships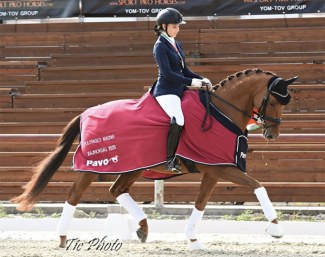 The 4-year old Lowy-Tar, the 5-year old Barrosa Noir, the 6-year old Brillant Mokka Sahne, and the 7-year old Bentley became the winners of the  2020 Hungarian Young Horse Championships held at the national equestrian centre in Budapest on 9 - 11 October 2020. 
The Young Horse Championships coincided with the Nationals after several date and venue changes to the corona pandemic. 
In the 4-year old division the 20-year old Young Rider Csenge Patik steered Jozef Acs' liver chestnut Dutch warmblood gelding Lowy-Tar (by Galandro x Olivi) to victory on an 81.20 point score.  Following in her wake was Peter Edmar aboard Arie Yom-Tov's KWPN bred La Bamba (by Chagall x Ferro) on a score of 80.400. The bronze medal went to Csaba Szokola aboard Laszlo Fabian's Merlin (by Millennium x Contendro) with 76.00 points. 
Gabriella Tecsy-Papp reigned supreme on her own black mare Barrosa Noir (by Barroso x De Niro) in the 5-year old division, taking the national title after riding an 80.00 point score. Tamar Balint and Joszef Furi's gelding Enigma (by Emmerton x Higi Linkel) were the runners-up with 75.60%, while Peter Edmar scored his second medal, this time a bronze, with Arie Yom-Tov's KWPN bred Kathmandu (by Grenoble x Sorento) with 75.20 points in the final round.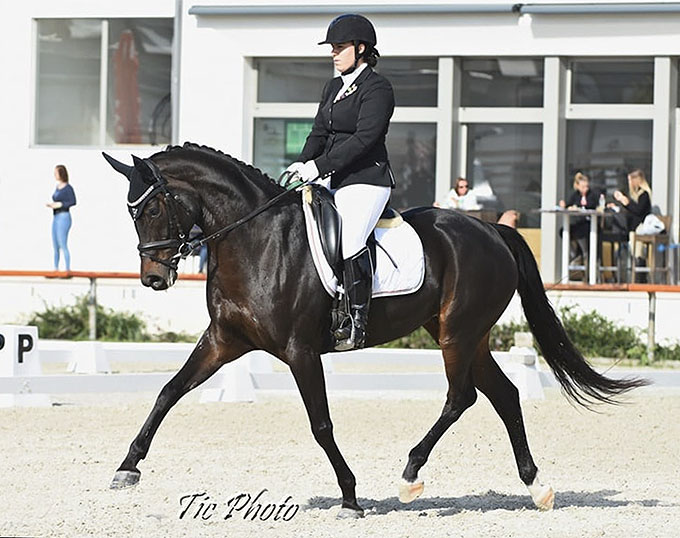 In the 6-year old age class Antonia Galfi battled it out against Csenge Patik for the champion's sash. Galfi aced the finals aboard Monika Madaras' Hanoverian mare Brillant Mokka Sahne (by Sarotti Mokka Sahne x Furst Heinrich) with a score of 78.60 points. After winning gold in the 4-year old class, Patik added a silver medal to her tally aboard Sandro Busi's Holsteiner mare Clair (by Clarcon x Quite Capitol), who is originally named Classic Claire. The bronze went to Csaba Szokola aboard EDU-Horse Ltd's British bred Oldenburg gelding MSJ San Sebastian (by San Amour x For Compliment) with 75.60 points. 
Just four horses contested the 7-year old division and Robert Acs topped the board with Gyula Hoffer's DSP bred Bentley (by Bordeaux x Quaterman). He scored 76.60% for the title. Zsofia Samoly and her own Hanoverian bred Christo (by Christ x Wind Dancer) were the reserve champions on a score of 73.60%, while Larissza Anna Lokos ended up with the bronze aboard Pannon Royal Rosetta Star (by Rockefeller) with 72.60%. 
Photos © Ticia Tokodi / Tic Photo
Results - 2020 Hungarian Young Horse Championships - Budapest
4-year olds
1 Patik Csenge  - Lowy Tar - 81,200
2 Edmár Péter - La Bamba - 80,400
3 Szokola Csaba - Merlin - 76,000 
4 Malaczkov Fanni - Lord Leicester - 73,400 
5 Bálint Tamás - Silverline -  71,600
6 Ballun Katalin - Furstin - 70,600
7 Nagy Dominik - Siglavy Capriola XVI - 70,000
8 Edmár Péter - First Apple - 68,000
Gyorsok Luca - Damon Hill Devereux - DNS
5-year olds 
1. Técsy - Papp Gabriella - Barrosa Noir - 80,000
2. Bálint Tamás - Enigma-  75,600
3. Edmár Péter - Kathmandu -  75,200
4. Sedlmayer Eszter - Ciacon - 74,400
5. Jankovich Anna - Spirit - 73,400
6. Tamás Domán - Don V - 68,600
Szokola Csaba - Gardenart - DNS
6-year olds
1. Gálfi Antónia - Brillant Mokka Sahne - 78,600
2. Patik Csenge Kata - Clair - 77,800
3. Szokola Csaba - MSJ San Sebastian - 75,600
4. Sáfár Anna - Santis - 74,400
5. Edmár Péter - Jemima LH - 73,000
6. Kafka Zsófia - Frances - 70,400
7-year olds
1. Ács Róbert - Bentley -  76,600
2. Sámoly Zsófia - Christo - 73,600
3. Lőkös Larissza Anna - Rosetta Star - 72,600
4. Edmár Péter - Irish Coffee BH - 72,200
Related Links
First Look, Francois, For Joy, Vivaldo's Sun Win 2019 Hungarian Young Horse Championships
Francois, For Joy, Jamiroquai Win 2018 Hungarian Young Horse Championships
Stiffelio, Die Oder Keine, Kitti Win 2017 Hungarian Young Horse Championships
Jamiroquai, Kitti, Fly With Me Win 2016 Hungarian Young Horse Championships