2020 Austrian Warmblood Young Horse Championships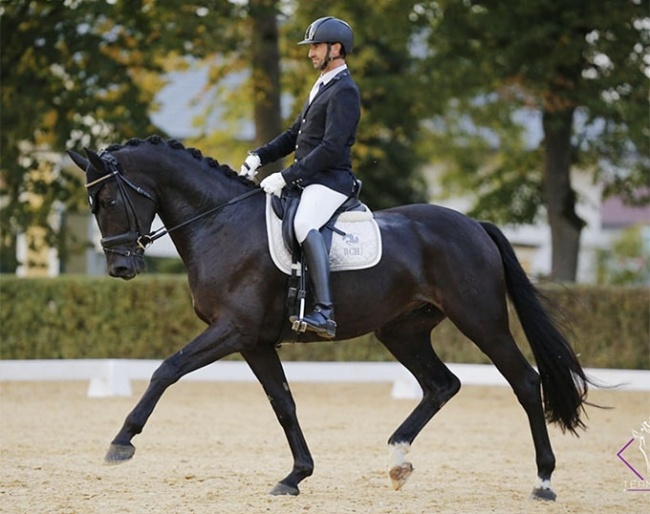 Dark Knight Rises and Zefferelli van de Fils became the winners of the 2020 Austrian Warmblood Young Horse Championships which were held in Stadl Paura on 9 - 10 October 2020. 
The Austrian Warmblood Young Horse Championships normally take place during the AWÖ Breed Championships, but due to corona the event was split up over two weekends.
Furthermore, the Young Horse Championships are run over two divisions, age classes rather atypical for the rest of the world. AWÖ groups together the 4 and 5-year olds and have a separate class for the 5 and 6-year olds.
Dark Knight Rises
The serial winner Dark Knight Rises reigned supreme in the 4/5-year old class.  The Austrian warmblood gelding by De Niro and bred by Jurgen and Bettina Frantsits was the 2015 AWO Foal Champion and sold to rider Martin Hauptmann then. In 2019 the black was the 4-year old champion and this year he dominated the 4/5 year old division. 
Hauptmann and Dark Knight Rises won the Friday class with 8.52 and judges Elisabeth Hudec-Semeleder and Ines Holzleitner-Schinko also favoured him on Saturday with an 8.2 total score. 
The reserve champion was Sandra Steixner aboard La Bella Rosa (by Dancier). They scored a total of 8.04. The mare impressed the judges with her walk and submission. The mare is bred by Alexandra Otter and owned by the rider. 
Zefferelli van de Fils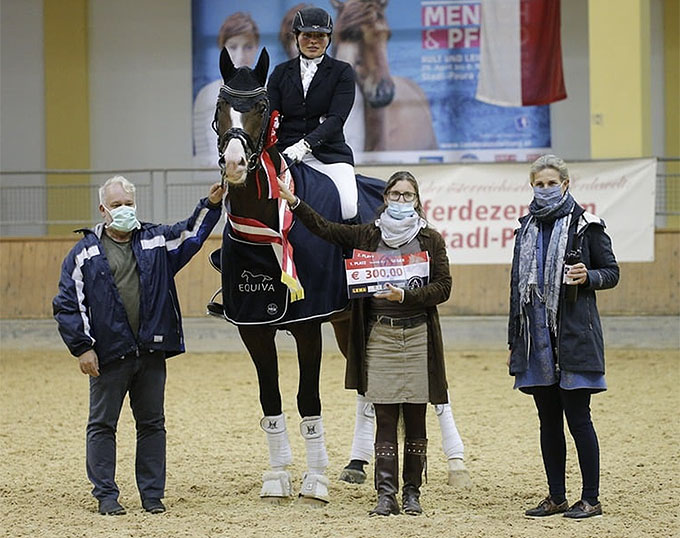 In the 5/6-year old division, Ulrike Prunthaller steered Wenzel and Edda Schmidt's Zefferelli van de Fils (by Zack) to the title. 
The 6-year old stallion was the last horse to go on Saturday and scored 8.20 for the victory.  Bred by Josef Pumberger and presented by Bartlgut rider Prunthaller, the horse was already reserve champion in 2018 but now reigned supreme. He scored high marks of 8.5 for trot and canter
For the 5-year old Dark Knight Rises the weekend in Stadl Paura was a full schedule for this young horse, who was also presented in the 5/6 year and had to perform in two further tests at L-level. He placed second with 8.18 points. 
Results - 2020 Austrian Warmblood Young Horse Championships
4/5-year olds
1. Martin Hauptmann - Dark Knight Rises (by De Niro) -  8,20
2. Sandra Steixner - La Bella Rosa (by Dancier) - 8,04
3. Tanja Scherf - Quantum Glück (by Quantensprung) - 7,98
4. Romana Scharf - Light my fire (by Londonderry) - 7,88
5/6-year olds
1. Ulrike Prunthaller - Zefferelli van de Fils (by Zack) -  8,20
2. Martin Hauptmann - Dark Knight Rises (by De Niro) -  8,18
3. Martin Hauptmann - Donna Romantika (by For Romance) - 8,08
 Photos © Team Myrtill 
Related Links
Questore und Rotkäppchen Earn Title at 2020 Austrian Warmblood Breeding Championships
Fenomenal, Dark Knight Rises, Faveur EM, Fürstenberg Win 2019 Austrian Warmblood Young Horse Championships
Livaldo, Faveur EM, Skylight G, Saphir Win 2018 Austrian Warmblood Young Horse Championships
D'Artagnan, Furstenberg and United Europ Win 2017 Austrian Warmblood Young Horse Championships
Furstenberg, Jacarda M, Flamini, Cantate L Win 2016 Austrian Warmblood Young Horse Championships 
Beretta, Lynggaard, Morgenstern, Sir Raphael Win 2015 Austrian Warmblood Young Horse Championships
Feine Lady, David, Furst Silvano, Faustus MBH Win 2014 Austrian Young Horse Championships
David, Smeraldo, Sir Sambucco, Rosarius, Del Piero Win 2013 Austrian Warmblood Young Horse Championships