Germany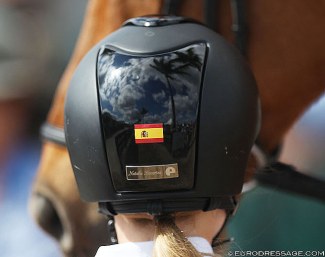 151 of the world's top dressage riders have undersigned a petition to make a formal demand to the FEI to retain the choice for top hats in  international senior Grand Prix level competitions.
Helmets Mandatory as of 2021
At the FEI General Assembly in Moscow (RUS) in November 2019, FEI approved mandatory headgear for ridden sports as of 1 January 2021.
For dressage it means that "Dressage riders must wear protective headgear at all times, in the show ring and out, at FEI events as of January 1, 2021." It will be mandatory for all dressage riders to wear approved protective gear on their heads any time they are mounted on FEI show grounds, including in the dressage arena.
The rule came amidst criticism from especially the equestrian federations representing countries with a strong dressage culture, who wanted to retain the top hat instead of a protective helmet. 
"Tradition is important in our sport, but it's difficult to not follow the medical community's advice," said Frank Kemperman, Chair of the FEI Dressage Committee in November 2019 of the new rule decision. "There's no really strong argument against the use of protective headgear in dressage, except that it's a tradition."
A strong argument against the FEI's decision for helmets in dressage is the FEI's discrimination and unfair field of play as the FEI  made exceptions for other disciplines such as combined driving (top hats for driving dressage), reining (cowboy hats) and vaulting (no headgear at all). 
Isabell Werth Shoulders Top Hat Campaign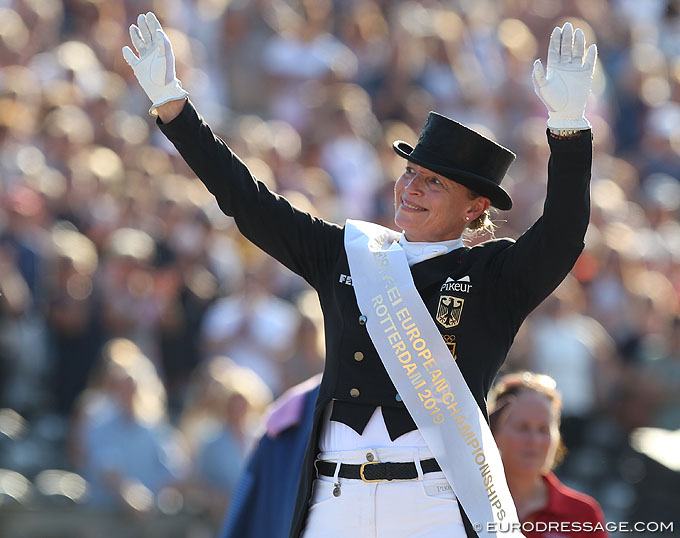 In June 2020, Portuguese Grand Prix team rider Daniel Pinto was the first elite rider to publicly voice his opinion about keeping top hats in play for the senior riders. His column posted on Eurodressage prompted much debate from fans as well as amongst dressage riders themselves.
In the summer of 2020 the world number one, Isabell Werth, decided to shoulder a petition and keep the top hat as a choice. Partnering with the International Dressage Riders Club, they launched an inquiry if there was any interest to keep the top hat in play. The majority voiced an opinion in favour.
"70% of the top riders voted for the top hat," Isabell Werth told Eurodressage in an exclusive interview. "When the new rule was made there was no information and no discussion with the riders. It was made by the medical community, but no accidents have ever happened in the competition ring. There are no helmets in vaulting or Western riding. Why is that less dangerous?"
She continued, "we are not against safety and helmets and we agree that for prize givings and the warm-up it needs to be worn, but in competition we want the top hat. It's a tradition. There was no reason to change the rule. It's a question of democracy."
Petition to Keep Top Hats as a Choice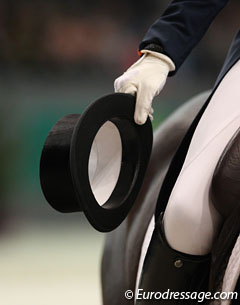 With the 2020 FEI General Assembly (by video conference due to COVID-19) approaching on 23 November 2020, the top International dressage riders would like to make a formal demand to the FEI to keep the option to use the top hat in international competitions for Seniors.
"There has never been a serious accident at an International Dressage competition, and the riders believe there is no reason to change that for Senior competitors at CDI4*/5*, Games and Championships on GP level. The top hat is an essential part of the identity of dressage. The dresscode makes us unique and we feel very strongly that the top hat remain as optional to use, but only at the highest level of competition," they stated.
"For awards ceremonies, the use of protective headgear can remain mandatory. It should be noted that there are other disciplines that are not required to wear helmets, and we feel that this inequality is not warranted. We urgently request that the FEI add this matter to the agenda for the next General Assembly, and change the rule accordingly. We believe it is the right of each individual rider to choose between the use of a top hat or protective headgear. This right cannot be revoked."
Celebrities Sign Petition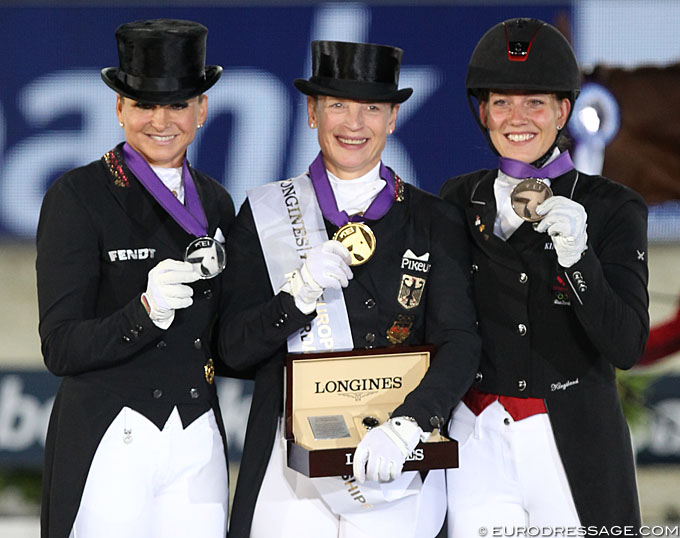 A large group of the famous dressage riders have signed the petition "Pro Top Hat Choice".
German elite riders such as Isabell Werth, Dorothee Schneider, Helen Langehanenberg, Benjamin and Jessica Werndl, and Hubertus Schmidt signed.
The petition further includes signatures of British Carl Hester and Laura Tomlinson; Swedish Tinne Vilhelmson-Silfven and Patrik Kittel; Spanish Beatriz Ferrer-Salat; Finnish Olympian Kyra Kyrklund; Dutch Hans Peter Minderhoud and Edward Gal; Australians Brett Parbery, Mary Hanna and Lyndal Oatley; Spanish Jose Antonia Garcia Mena, Juan Matute Guimon, and Jose Daniel Martin Dockx; Danish Nathalie zu Sayn-Wittgenstein and Daniel Bachmann Andersen. Almost the entire elite Austrian dressage squad (Max-Theurer, Schumach, Weinbauer, Gmoser, Lehfellner, Dearing, Bacher, etc) signed as well.
Also in countries where helmet wearing is mandatory - such as the U.S.A. and Canada - there are riders preferring to retain the top hat. Kasey Perry-Glass, Guenter Seidel, Jill Irving, Brittany Fraser-Beaulieu, Naima Moreira-Laliberté have signed the petition.
The petition also includes names from junior riders (Oskar Ochsenhofer), U25 riders (Benedek Pachl), or riders who have not competed internationally in almost a decade (Wayne Channon, Eva Senn, Christine Traurig, Iullia Printceva).
Some Riders Oppose
Not all dressage riders are in favour of changing the helmet rule. 
German team rider Sönke Rothenberger did not. He believes in helmet wearing and compares this debate to the one when motor helmet wearing was made mandatory. There was initially opposition too, with freedom of choice as the main argument over general safety.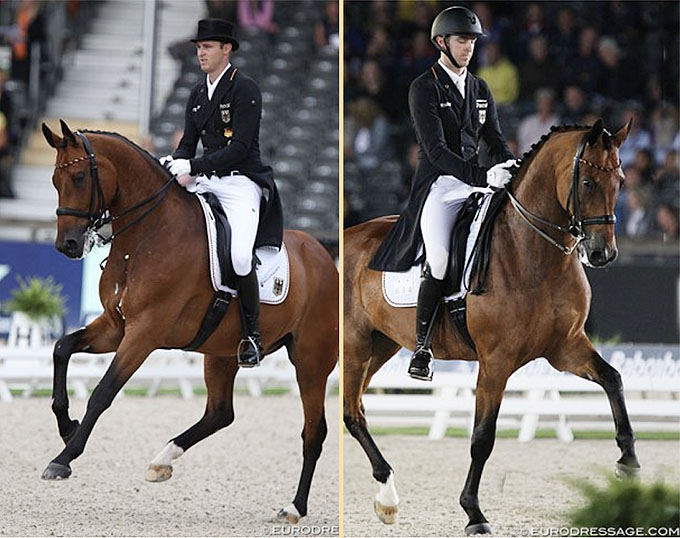 "Of course motor cycles are more dangerous, but the theme of decision right and choice were back then also used as main arguements and a hot topic. Now (helmet wearing on a motor cycle) is an automatism," Rothenberger explained. "We can be pro-active. A helmet protects more than a top hat, we all agree on that, don't we. There are cases in which the helmet saved lives or prevented worse from happening. How many injuries have happened in the indoor cycling sport? None? Still the professionals were a helmet."
Australian Simone Pearce, who got seriously injured in a riding accident last year, is against changing the rule. 
"I've seen so many articles about top international, influential riders petitioning to keep top hats in the sport and it really concerns me," said Pearce. "I don't think it's right to publicly encourage young riders to ride without a helmet in any situation!!! We as professionals have a duty to be positive role models to the younger generations and to the equestrian community alike! I understand the argument that the rate of accidents in the competition arena is very low; however it is possible so why not eliminate any risk."
American Grand Prix team rider Katherine Bateson-Chandler wrote, "I do not respectfully disagree with this, I disagree with no respect honestly. This is a sport. Helmets make it safer. Life is larger than sport. Brain injuries change lives. Not just the athlete's. All the people who love and support them. It is selfish and irresponsible to risk a brain injury that can be reduced or eliminated with a helmet. This isn't a fashion discussion. Technology evolves to make sport safer. Hockey helmets, ski helmets, bike helmets .. the list goes on. It is backwards thinking and small minded to encourage anyone not to wear a helmet."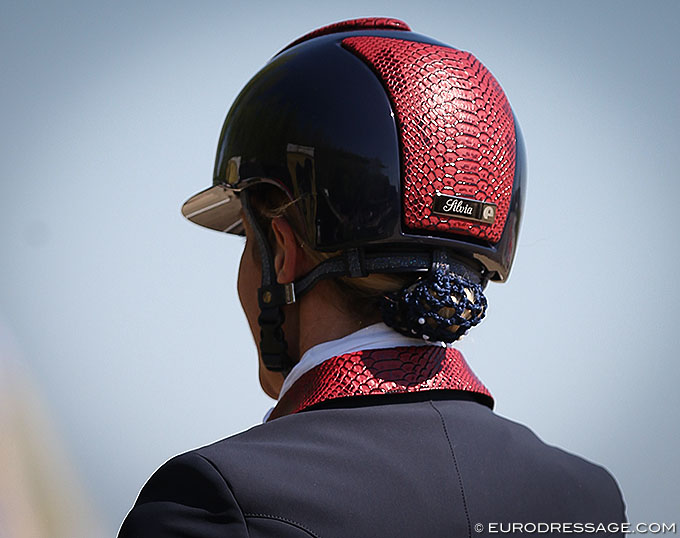 Canadian team rider Jacqueline Brooks stated, "I think the discussion on whether or not an adult does or does not have the right to wear or not wear a helmet at home has long been exhausted. The intrinsic problem with the spirit of this petition is that it is asking for the ability to wear a top hat at the most prominent and most publicized events our sport has to offer. These are the videos and pictures that are featured on live-streams, social media and hard print magazines and calendars. Youth emulate their idols. In all sports. They want to dress like them, look like them and ultimately perform like them. The last thing anyone wants is someone lying in a hospital bed clutching a crushed top hat because they wanted to look like and be like a champion of our sport."
Petition Link
The petition is a project of the IDRC. No public link is available to undersign it as the signatures are handled through the IDRC.
Photos © Astrid Appels
Related Links
Daniel Pinto: "Top Hat or Helmet - Shouldn't it be Each Rider's Choice?"
FEI Adopts Protective Headgear Requirement for All Riders as of 2021
Hold on to Your Safety Hat, Helmet Rule in Place 1 January 2013
Isabell Werth Shows Off Golden Helmet in Frankfurt and Makes a Statement