2020 British Youth Riders Championships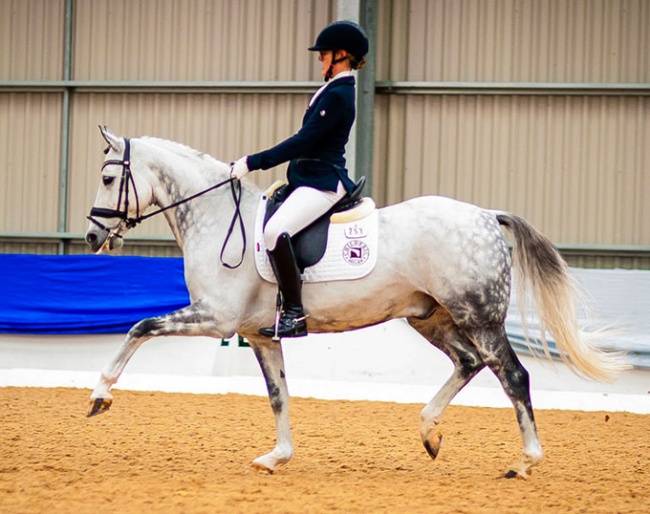 Pony rider Mette Dahl, children rider Ruby Hughes, junior rider Holly Kerslake and young rider Caitlin Burgess became the winners of the 2020 British Youth Riders Championships held at Vale View Equestrian Centre in Melton Mowbray, Leicestershire, on 31 October - 1 November 2020. 
The championship per age division was contested over two rounds, the team championship and individual test. The combined percentages decided the final placings. 
Mette Dahl, 2020 British Pony Champion
The Pony National Championship featured 8 combinations and was a close-fought contest with Mette Dahl and Sofia Games jostling for top spot.
The new partnership of Sofia Games and Mister Snowman won the Pony Team Test with 70.85%, but it was Mette Dahl's winning Pony Individual Test that secured her the title. Mette and her partner, the scopey grey George Clooney BS, delivered two super tests to earn scores of 70.64% and 69.55%.
Mette and George Clooney BS (by Caesar 171) came to Vale View fresh from three top-three placings including a freestyle win at Keysoe international.
"It's a very nice feeling to come here and do well," said Mette. "He's had some time off since Keysoe CDI because I've had exams. I had no expectations at all so to come back with this is a big deal."
Describing George and the day's performance, Mette explained, "He's a got a really nice, big expression and the judges really like that. I was pleased to be able to get the expression in the trot work today and good energy in the canter. I'm very happy.
"I've had George for two years now and we've not done too much together just yet," continued Mette. "Looking ahead, I'm hoping for some more CDIs. I have two more years in Ponies and hopefully we will have a Euros in that time, but that's a very long goal. It would be good to get there at some point."
Mette (14) has enjoyed much success this year, having won the Children on Horses divisions at Le Mans CDI in February with her father Anders' former top ride and Olympic horse Selten HW.
Second place belonged to Sofia Games with Janet Oliver and Katie Games' Mister Snowman. They posted 7°.85% and 68.65% to land the silver medal.
The overall third place went to Beatrice Butterworth with Sharon Butterworth's Carlsson. She placed third twice with 69.06% in the team test and 68.33% in the individual. 
Ruby Hughes, First Ever British Children Champion
The FEI instated the Children division in 2015 and hosted its first European Children's Championship in Vidauban, France, that summer. The Under 14 dressage division for children is an elementary level competition for kids between the age of 12 and 14 already competing on horses instead of ponies.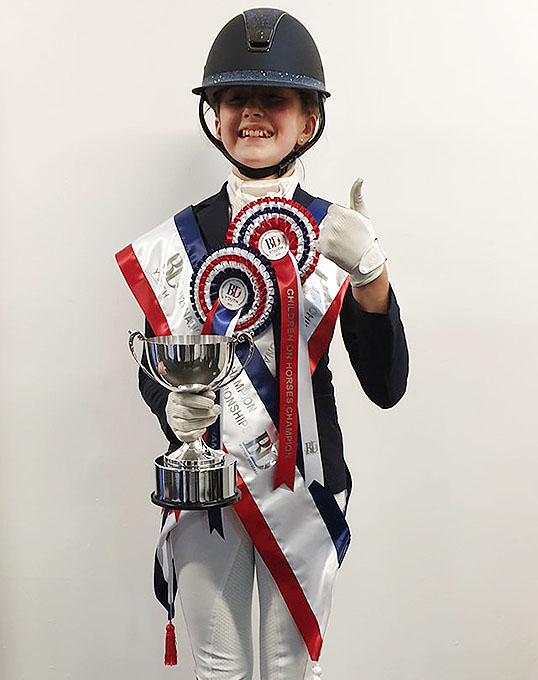 Five European Children Championships have been held so far, but Great Britain has never fielded a single combination. In their first National Children Championship just one rider competed. 
Children rider Ruby Hughes made up for in class what the division lacked in quantity. The 12-year old achieved the highest score on both days with Nancy Scott's Classic Bee Gee, which not only secured them the Champion's title but also the overall title of "BD U21 National Champion." The pair achieved scores of 73.35% and 72.27% for their expressive and off-the-floor performances, their way of going showing much scope for the future.
Ruby, daughter of Gareth and Rebecca Hughes, has represented Great Britain internationally in equestrian vaulting for the past two years culminating in her selection for the European Vaulting Championships in Ermelo last year – a phenomenal achievement for someone so young. All the while, she's been studiously developing her skills as a dressage rider at her home base in Warwickshire.
"He [Classic Bee Gee] was so good," said Ruby, talking after her winning ride on day two at Vale View. "He looked after me so much, and even though he was tired he still tried his heart out."
Ruby originally had former British team pony Le Chiffre (previously ridden by Lara Kuropatwa) in her barn, but vaulting and school duties put pony sport a bit on the back burner. She recently began competing pony Hilkens Showgirl, while Le Chiffre moved on to a new rider, Libby Hart, in September. With Classic Bee Gee, aptly known as Barry, as in Barry Gibb, Roby rode the qualifications for the Nationals. 
Bee Gee is a new ride for Ruby. The 14-year-old bay KWPN gelding was bought by owner Nancy Scott earlier this year and his young rider has partnered him since the middle of lockdown. 
"We went to Holland, just to look at horses… then we saw him," explained Ruby. "We couldn't really leave him behind to be honest because he was so special! He's a lovely horse. He's got a very smart mind but he uses it to put into his work which is a wonderful feeling."
Talking about their future plans Ruby said, "I would like to do Juniors on him in years to come, and maybe try to go to the Children on Horses Europeans next year. That would be great, I'd love to do that."
Kerslake Scores Junior Title
Holly Kerslake (16) collected the National Junior Championship title with winning rides in both the Team and Individual tests with 70.22% and 71.14%. Holly's British Pony team compatriot Annabella Pidgley, who has also recently moved into the Junior ranks, claimed second place with Sarah Pidgley's powerful Belissimo M son, Belafonte. Claudia Davis and Fergus RT completed the podium in third.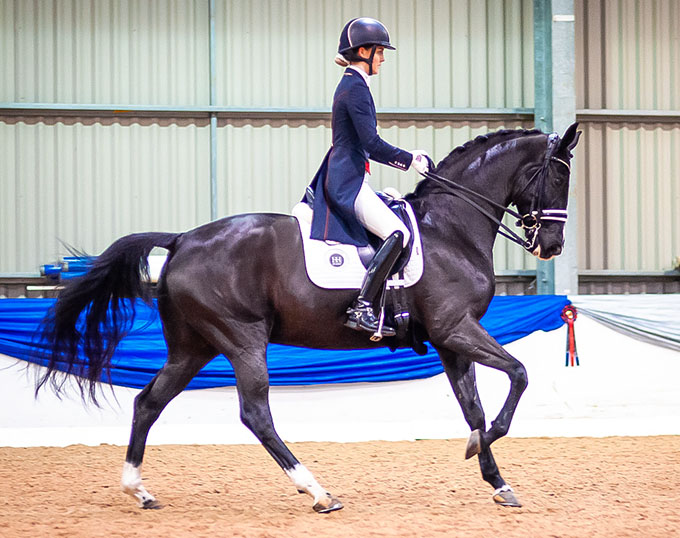 Twice British team member at Pony European Championships with Valhallas Zorro, Holly Kerslaje is now making her way in Juniors with Laura Summers' KWPN mare Extasia (by Zucchero x Sandro Hit). Holly has ridden the 11-year-old for little more than twelve months and during that time they've formed an impressive pairing.
"I was really happy," said Holly before her journey back home to Devon. "Yesterday I had a little bit of an underpowered test, so today I tried for a bit more power which paid off and the things I had to improve on yesterday I managed to improve on today, which was really pleasing."
About Extasia, Holly says, "She's definitely a mare and quite a princess but we all love her, and she always tries her best. She'll go in the arena and no matter what, I know I can rely on her - I know she'll give me 100%. We've got quite a good relationship now so she always looks to me for trust.
"During lockdown I did lots of training. I'm very lucky that I train with Anna Ross and I could continue to train online via video. It was really helpful. It was a good time to perfect everything before coming out competing again. And it's good to be back competing. I definitely missed competing!"
Talking about what's next for the pair Holly said, "Hopefully we'll get some internationals again next year, to get out and get some experience. My main goal would be the Junior Europeans but we'll just see how everything goes and take each competition as it comes.
Pidgley brought two horses to Vale View, Belafonte (by Belissimo M x Wendekreis) and Dibert L (by Vivaldi x Balzflug). With Belafonte she finished second overall, after placing second in the team test on 69.68% and third in the individual test with 69.64%. On Dibert L she posted 67.11 (5th) and 69.64% (3rd).
Claudia Davis produced consistent rides, earning 69.18% in the team test and 69.47% in the individual. She finished on the bronze step of the podium.
"I'm really happy," said Claudia. "It's really special as it's my first big stay away show with Fergus who I only got in May so obviously I haven't been able to compete him that much. I'm so so happy with him this whole weekend.
Talking about how she met the 10-year-old Uphill-sired gelding, Claudia said, "He was with my trainer Dan Sherriff who had competed him to PSG, and then I groomed for Dan a few times and I just fell in love with the horse. Dan let me ride him a couple of times and was impressed with how we got on, then a few discussions later he ended up in my arms in May. Hopefully he'll be my Young Riders horse, all being well.
"He's 18 hands, maybe a bit more… I haven't actually had the stick on him yet. Going from a 14.2 to 18 hands has been a challenge but he's not difficult at all in the way that he really helps you out when you ride. He's got a lovely personality and we get on so well. He's definitely a BFG, a yard favourite."
Burgess Gets Young Rider Gold
Caitlin Burgess (19) and Chocotof won the National Young Rider Championship title by a sizeable margin. In a small field of 7 riders, the pair posted 71.75% and 71.57% for the victory.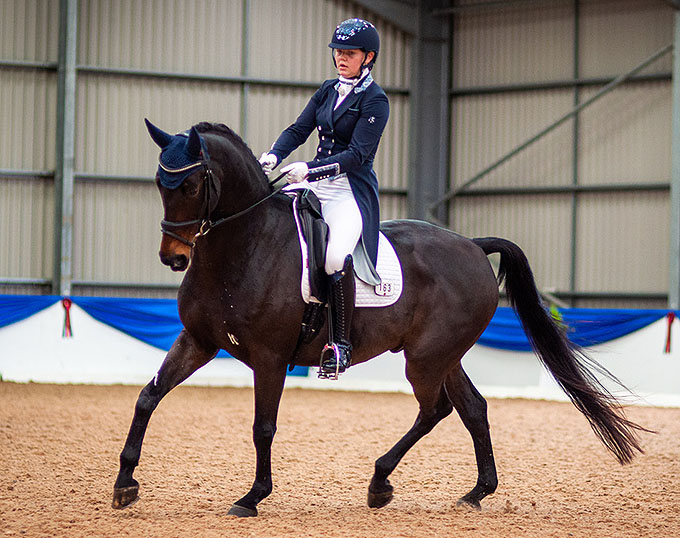 The Devon-based combination have enjoyed a super year. They won the Young Rider Freestyle at Keysoe CDI in March and were runners-up in all three Young Rider classes at the October Keysoe CDI. Their performances here at Vale View were supple and full of energy and expression.
"He's full of energy this week so both tests were a little difficult," explained Caitlin. "I couldn't really do a lot. I just had to sit there and do little bits to try and keep him calm, but he remained focused and that's more than I could ask for.
"It's so good to come back out to more of a championship show again, but lockdown to be honest has done us the world of good," said Caitlin who's based at Henriette Andersen's Oxfordshire yard. "He's come out of lockdown so much better and we've dropped under 70% twice."
Caitlin has owned Chocotof (by Lord Leatherdale x Negro), known at home as Stanley, for five and a half years and together they've gone from Elementary to Inter I. "I know him inside and out," she says. "He's so naughty but so happy. He has to be the centre of attention all the time but he loves his job and he really tries his heart out. In the early days of our partnership he was a little bit wanting to do his own thing, but he's now on my side and is super.
"With Aachen cancelled, the Europeans next year will be the main aim," she said. 
Young Rider Second went to Charlotte Snape and the 18-year old Hanoverian gelding Camelot III (by Carabas x Davignon). She was second in the team test with 696.9% and third in the individual test with 68.77%.
Rebecca Bell and the 13-year old British bred AES mare Nibeley Union Hit (by Union Jack x Sandro Hit) completing the top three. They scored 67.63% for a fourth place in the team test and moved up to second place in the individual with 69.78%
Text by British Dressage, edited by Eurodressage
Photos © Fenwick Photography
Results - 2020 British Youth Riders Championships - Vale View
Pony Riders
1. Mette Dahl - George Clooney BS, 140.19
2. Sofia Games - Mister Snowman, 139.50
3. Beatrice Butterworth - Carlsson, 137.39
4. Lauren Geraghty - WS Jackson, 134.50
5. Demi Howard-Cartwright - Fin C We, 133.34
6. Scarlett John - BKS Grand Design, 132.72
7. Ronni-Mae Morgan - DST Carluccio, 132.45
8. Evie Daniel - Brouwershavens Viceroy, 127.86
Children Riders
1. Ruby Hughes - Classic Bee Gee, 145.62
Junior Riders
1. Holly Kerslake - Extasia, 141.36
2. Annabella Pidgley - Belafonte, 139.32
3. Claudia Davis - Fergus RT, 138.65
4. Annabella Pidgley - Dibert L, 137.94
5. Soraya Rogers - Evita I, 136.67
6. Ellie Roberts - Zante, 132.89
7. Charlotte Neal - Walter's Fable, 131.91
8. Gracie Catling - Tsjebe Fan 'e Vesta Hoeve, 131.33
9. India Durman-Mills - Escade, 130.90
10. Sophie Taylor - Jerrydale, 129.82
11. Eliza Ireson - Calva la Cornilliere, 124.34
12. Emily Coller - Flabbergasted II, 123.67
Young Riders
1. Caitlin Burgess - Chocotof, 143.32
2. Charlotte Snape - Camelot III, 138.46
3. Rebecca Bell - Nibeley Union Hit, 137.41
4. Juliette Lindsay - Highcliffe Apollo, 134.99
5. Jessica Hickey - Ziezo I, 131.53
6. Charlotte Lutener - Full Fusion BS, 130.87
7. Chloe Naylor - Karisma, 127.57
Related Links
Whitelaw Win 2018 British Pony Championships
Kuropatwa, Jesty, Lucas Win 2015 British Youth Riders Championships
Horobin, Blackmore, Thurman-Baker Win 2014 British Youth Riders Championships
Barton, Scruton, Knapton Win 2013 British Youth Riders Championships
Fry, Davis, Woodhead Win 2012 British Youth Riders Championships
Williams, Knapton, Woodhead Win 2011 British Youth Riders Championships
Harris, Bates, Cartwright, 2007 British Youth Rider Champions