Germany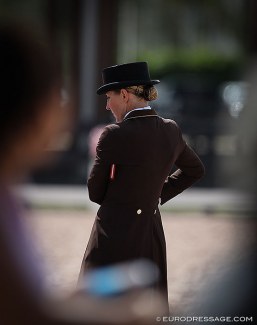 Isabell Werth, the world number 1 dressage rider and most decorated rider of all times, continues her "Pro-Choice Top Hat" campaign ahead of the 2020 FEI General Assembly.
Werth hopes to have a last minute rule change tabulated on the agenda of the FEI Board Meetings during the General Assembly, which will happen by video conference due to covid-19 on  23 November 2020. She wishes the assembly to extend exemption from a blanket requirement for protective headgear for all riding dressage events as of 2021..
The 51-year old wants an exception for senior riders competing at 4* and 5* level and at championships to be given the choice to wear a top hat or helmet for the competition test. Warm-up and prize giving will remain with helmet. 
Werth Campaigns for Pro Choice
Isabell Werth shouldered a petition, endorsed by the International Dressage Riders Club, which featured 151 signatures from top riders who all wanted to have the choice between helmet and top hat in senior top level competitions.
In a recent interview with Dressage-News, Werth emphasized the following: "Please, give us a choice. It is never too late. It is not a question of whether I am older or old-fashioned. It is a matter of choice."
Yesterday Dressursport Deutschland posted another related interview with Werth who said she is "amazed what discussion the IDRC petition caused. It is not about helmet or hat from a safety perspective. It is about adults and experienced dressage riders having the freedom to choose. I urge people to refrain from populist opinions, which are fused into the discussion right now, and stick to the facts. We are not old fashioned, neither dumb or ignorant, we are also not against helmets. We only want one thing: the freedom to choose to wear either a helmet or a top hat in the test. It is all about the right for self determination of adult people."
The argument that the elite riders serve as role models, Werth considers a "pseudo argument." She argues that "this role model function will not be touched, as youth riders, the U18 generation, will have to wear a helmet mandatorily, as well as all riders in the warm up and prize giving."
Werth again points out the double standards that the FEI handles: reiners are allowed to wear an unprotective cowboy hat and vaulters wear no head protection at all.
Due Process
When Werth's petition became public, the FEI immediately responded that the right process for rule revision requests has not been followed and that the deadline of 1 March had already passed.
An FEI spokesperson confirmed that they will not be putting this rule change request on the agenda. 
 Consultation documents published on 26 October 2020 before the 2020 FEI General Assembly show that not one NF has indicated it opposes the new helmet rule.
Photo © Astrid Appels
Related Links
Top Riders Sign Petition to Retain the Choice for a Top Hat in Grand Prix Competition
Top Hat Petition "Too Late" as Rule Revision Request Deadline was 1 March 2020