F.O.C.U.S.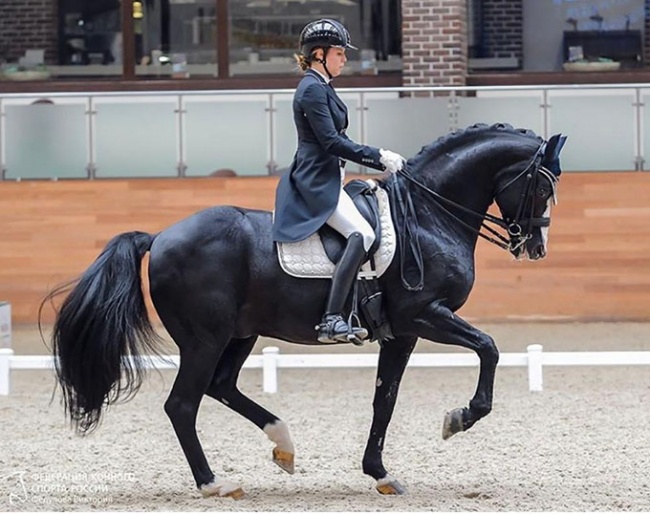 Maria Klementieva is a 38-year old Russian international Grand Prix rider, who is a mother of three, has majored in Public relation at EFAP International School of Communication in Paris, and her focus set on riding at the 2024 Paris Olympics.
Fluent in four languages, Maria represents a new wave of young Russian dressage riders, who are learning from trainers with expertise steeped in the old Russian tradition. Maria widens her vision by also moving across borders for mileage and inspiration to fuel her Olympic ambitions.
Coached by Ukrainian Inna Tzydrenkova, Maria us not afraid to move outside the closed circles of the Moscow dressage world. She has been competing across Europe since 2018. 
Stallion Armada
Although Maria has grown up with horses around her, she had her lightbulb moment only six years ago when she took her daughter to riding lessons and realized the fire was burning inside herself. She decided to seriously commit to dressage. 
In a short period of time Klementieva's parents purchased a strong armada of top talented dressage horses with a clear future for Grand Prix for their daughter.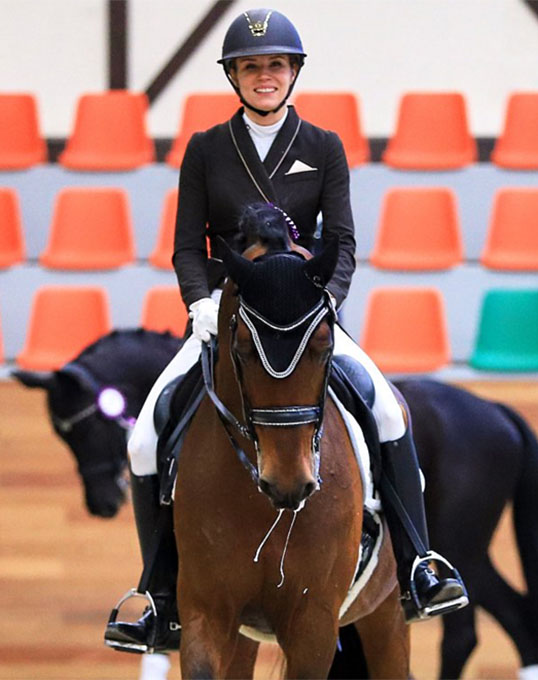 Their first purchase was in Juy 2017, when they secured the mega talented, American bred Hanoverian Doctor Wendell MF (by Don Principe x Sandro Hit) in Germany. The horse's breeder and owner, Maryanna Haymon, had shipped Doctor Wendell MF to Europe to be sold after several American elite Grand Prix riders turned him down for not good enough. At the moment, the stallion is one of Europe's hottest shooting stars on the Grand Prix scene!
In the summer of 2018 Maria acquired two stallions from Wilhelm Rüscher-Konermann in Germany: Champagner (by Catoo x Aljano), who won silver at the 2016 Bundeschampionate, and Baccardi (by Belissimo M x De Niro), who was sixth at the 2017 World Young Horse Championships.
She made her international small tour debut on Doctor Wendell MF at the CDI Nice in August 2018 and rode her first international Grand Prix a year later at the same show. 
An Inconvenient Situation
New to international competition sport, Klementieva learnt a big lesson in top level competition sport, the hard way, i.e. to carefully screen the staff she works with.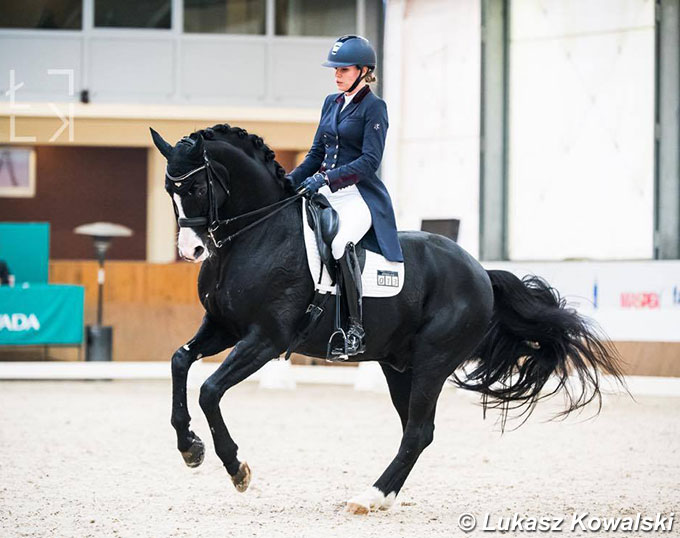 As her regular groom had visum issues to travel outside Russia, she relied on her coach to provide a substitute groom for the CDI Lillestrom in February 2020 in Norway. The person she ended up hiring did not share her way of handling horses and was caught red-handed whipping Maria's stallion in the stables of the competition.
Taking full responsibility for the situation as the "Person Responsible," Maria was given an FEI Yellow Card for animal abuse and burnt her fingers. She walked away from Norway as if her teeth were pulled. 
"It was a a very very stressful, disappointing and yet educational experience," Klementieva admitted. "I really do love my horses, I take great care of them and do try to give the best I can. Unfortunately, I can not be there next to them 24/7 and there were some things which escaped from my control. I still don't know what exactly happened then, but since then I always travel with cameras, which I install in the boxes, and I can see online every second, what they are doing. Night hours are also recorded with the infrared vision. So hopefully now, I will 99% of the situations are under my control."
Return to Showing
Due to the corona pandemic, Maria was forced to stay in Russia for a long-time as Putin kept the borders closed. In her own country she became the silver medal winner at the 2020 Russian Grand Prix Championships after winning the Grand Prix with a score little over 70%.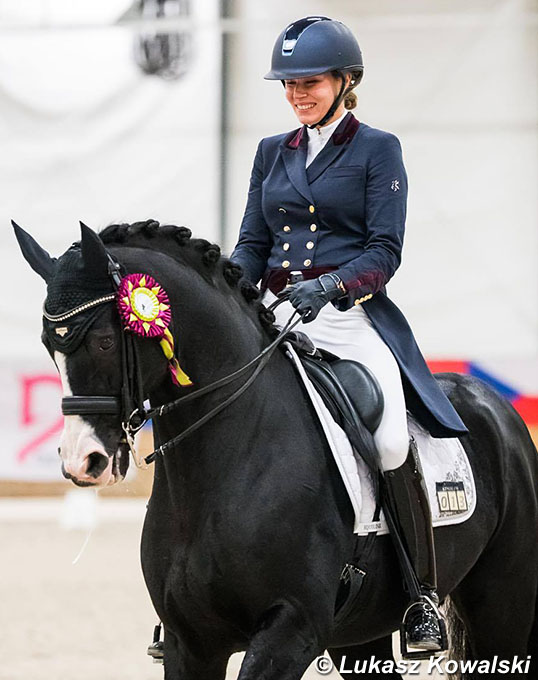 In the autumn corona restrictions were relaxed in Russia and Maria returned to the CDI arena with Doctor Wendell MF at the 2020 CDI-W Fot in Hungary, where she posted 69.130% in the Grand Prix and 71.550% in the freestyle
One month later at the 2020 CDI-W Zakrzow in Poland on  22 - 25 October 2020, Klementieva and Doctor Wendell upped the ante and after a 6th place in the Grand Prix with 68.674%, she produced a personal best ride and score of 75.900% in the Central European League World Cup qualifying freestyle. 
"We really felt very comfortable and were pleased with the very friendly surrounding," Maria said about her Zakrzow experience. "Doc usually is very nervous in new places. He's a stallion and new smells, new horses, a new arena, always make him more excited. Normally he needs a few days to settle, but in Zakrzow he was calm from day one. In the Grand Prix he was a bit shy, didn't really show what he's able to do. On the second day in the freestyle he was already himself: very active, expressive and very special. He was completely with me and gave his all at that moment. That made me extremely happy and the scores were like the cherry on top of the cake."
Doctor Wendell is her number one in the barn and Maria's heart horse. 
"He's my one and only, my super special, beautiful and generous partner," Klementieva gushed. "Doc already know how to do the movements when I bought him as an 8-year old, but we both obviously improved over the years together. He's my soul mate. He is just so friendly, and tender and loving. The only thing he can not do is speak! But he expresses so much with his face."
Eager to Learn, Paris in Sight
Klementieva is putting all her energy in bridging the gap between an amateur dressage rider and a professional, elite athlete.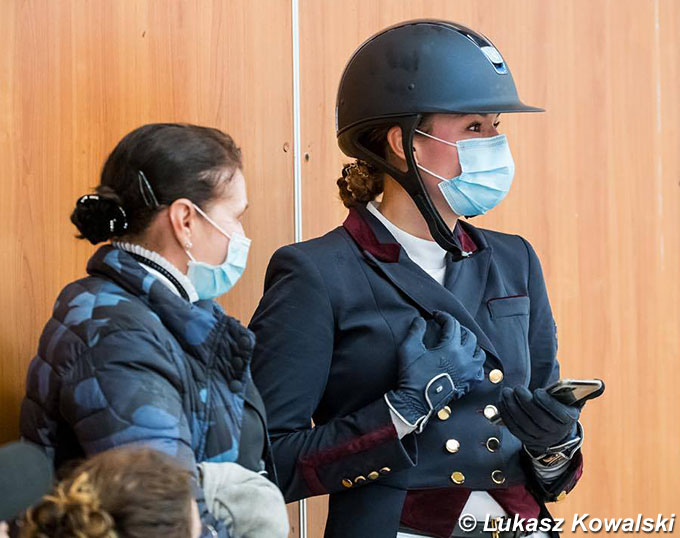 "I have a big gap between me and most professionals in knowledge and experience," she admitted. "My main target is now to reduce that as much as I can. I'm riding four to five horses every day, at different levels, I'm learning to work from the ground, I'm reading books, I'm taking master classes with different professionals to achieve the maximum I can. I'm learning how to train a horse to grand prix. All this hard work is starting to give back."
Like any ambitious rider, Maria dreams of the Olympic Games and has put the 2024 Games in Paris as her goal. 
"I think that 2024 is feasible," she said. "At least I'm working hard in that direction and I have a few talented horses in my barn that I can rely on"
Related Links
Maria Klementieva Disqualified from 2020 CDI Lillestrøm After Abuse Incident
American Bred Doctor Wendell MF Sold to Europe, American Breeders Struggle to Sell Domestically
Champagner Sold to Russia
World Young Horse Finalist Baccardi Sold