Portugal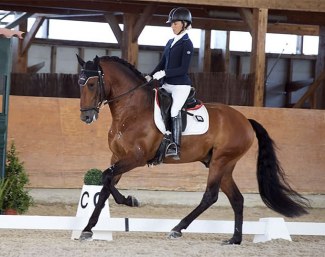 This year two Lusitano bred horses have been selected to represent their breed at the World Championships for Young Dressage Horses in Verden, Germany, on 9 - 13 December 2020. 
While the PRE horse from Spain has been a regular competitor at this World Championship format, the Lusitano from Portugal has been remarkably low represented at the event, of which the first pilot edition took place in 1997 and has been held annually since 1999.
Only very few young Lusitanos were presented, reflecting the moderate interest from Portuguese breeders, trainers and riders for this young horse championship.
"Lusitano breeders and owners tend to see their horses as Grand Prix horses, which is a proven fact the last years" said Maria Caetano about the fact that there has been low participation from Portugal before. "So they prefered to wait and show their horses later on in bigger classes. I believe that we have more and more competitive Lusitanos for the young horses classes. I clearly notice that the breed is on a positive development path at young horse level as well as in the big tour."
Famous Lusitanos that did make it to Verden is the top producing Lusitano stallion of the moment, 2012 Olympian Rubi AR, the international Grand prix horses Coroado, Fenix de Tineo, Talisco, and Zaire.
Jasmim Plus and Irano da Estribeira to Verden
This year, two Lusitanos will be going to Verden and they are Jasmim Plus and Irano da Estribeira. 
Portuguese Grand Prix champion and multiple times team rider Maria Caetano will be piloting the 6-year old Lusitano stallion Jasmim Plus (by Escorial x Peralta). Bred and owned by Vasco Francisco Freire of Dressage Plus, the bay Jasmim arrived in Maria's care at the end of July.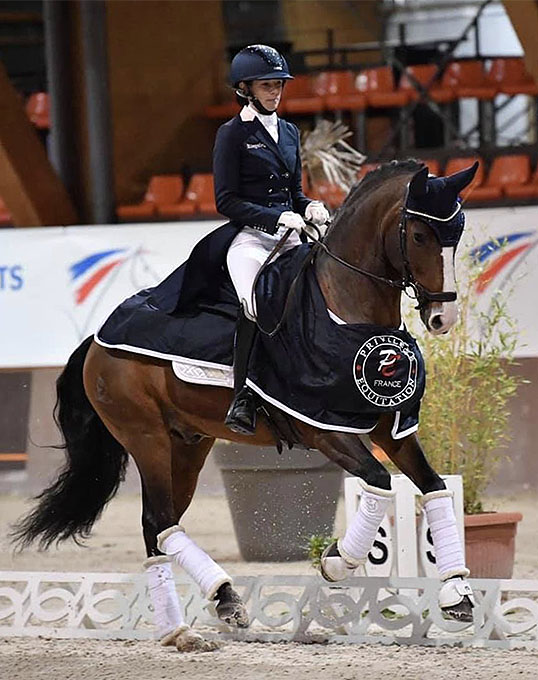 Quoting him as "one of the best Lusitanos I ever rode," Maria made her competition debut with him at the 2020 CDI Beloura in Portugal at the end of August, winning both 6-year old classes with 79.900 and 82.400 points. 
"It's a great pleasure to come back to Verden some years after being there with my mate Coroado," said Caetano. "Jasmim is doing very well! He is an amazing horse, always willing to perform and shown his wonderful movements! I'm quite confident to show him in the 6-year old class and show the Lusitano power side by side with the super warmbloods!"
French Grand Prix Champion Charlotte Chalvignac-Vesin will be competing the 7-year old Irano da Estribeira (by Rubi AR x Hostil JGB). The combination first made headlines by winning the bronze medal at the 2020 French Championships for 7-year old dressage horses with a score of 73.252%. Irano is owned by Olivier and Marie Arnal.
"It's a nice reward for this darling little horse, which has been with us for more than two years," said Chalvignac about her selection. "He has been the favourite of my husband Jean from day on and is now rewarded for his daily work with him. I am grateful to Olivier and Marie for their unwavering confidence and support and thank them for sharing their love for the Lusitano with us."
Lusitano Ranked 6th on the 2020 WBFSH Breeding Ranking
This year the Portuguese Lusitano horse studbook scored 10,007 points on the 2020 WBFSH World Dressage Ranking and landed sixth place, a historic feat. Never before has the Lusitano breed been ranked so highly, sandwiched by other major European warmblood studbooks.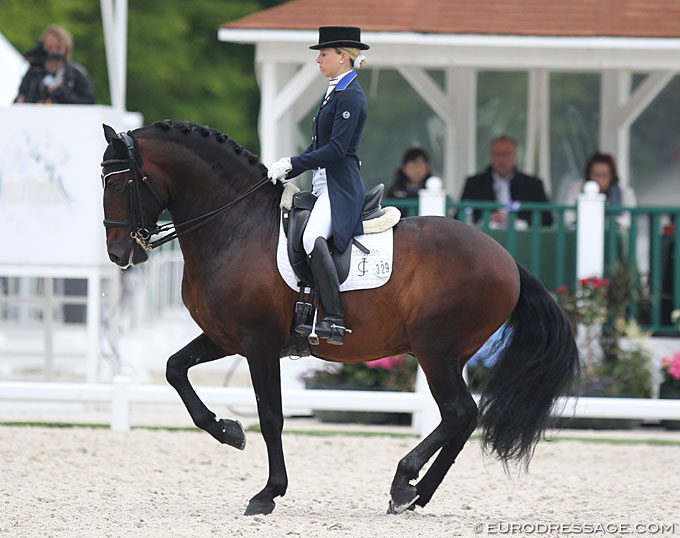 This achievement is even more impressive considering the small size of the studbook which registers less than 4,000 foals born annually, compared to around 11,000 foals born per year for the WBFSH leading studbook, KWPN.
The top contributing horses to this ranking are Joao Torrao's Equador MVL (by Quo Vadis) and Anne Sophie Serre's Actuelle de Massa (by Pastor). Monte Velho Stud has two horses of their stud contributing to this results, a feat only managed in the past by the Portuguese National Stud of Alter. The third best contributing Lusitano is Esporim (by Pagao), ridden by Irish Anna Merveldt and owned by Higgins, Greco and Mazza. Maria Caetano's young Grand Prix horse Fenix de Tineo (by Rubi AR), Mexican Martha del Valle's Beduino LAM (by Dardo II), and Vasco Mira Godinho's 9-year old Garrett (by Unico) complete the list of top contributors for Lusitano's historic WBFSH ranking. 
"It's amazing the development Lusitanos are showing on the WBFSH ranking," said Caetano, whose barn is full of Lusitano stars. "It shows the consistent work done during the last years by breeders, riders, sponsors and trainers! Actually I believe the breed can go even further in the next few years."
Photos © Rui Pedro Godinho - Les Garennes - Astrid Appels
Related Links
KWPN and Weihegold Top 2020 WBFSH Dressage Ranking
Maria Caetano Welcomes Two New Young Talents in the Barn
Favereau and Deauville de Hus Win 2020 French Championships for 7-Year Olds