Westfalian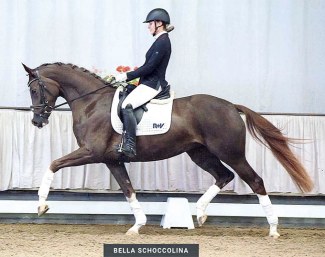 French Grand Prix riders scooped up two of six horses that were auctioned for a second time by the Westfalian breed society after Russians ended up not paying for the six horses they bought in the 2020 Westfalian Autumn Elite Auction in October. 
The price highlight was Belmore (by Belissimo M x Fidertanz), who initially fetched 50,000 euro in the Elite auction on 4 October, but now re-sold for 33,500 euro to the U.S.A.
The mare Bella Schoccolina (by Benicio x Fidertanz), which first sold for 19,500 euro, now fetched a better price, 25,500 euro, and moves to France. Bradley Cooper (by Bon Coeur x Rohdiamant) had an original price of 18,000 euro, but now sold to a French client for 26,500 euro. 
According to Dressprod, French Grand Prix team rider Charlotte Chalvignac Vesin bought  Bella Schoccolina, while Under 25 rider Cedric Gallinard acquired Bradley Cooper.
Swiss clients bought Lancome (by Libertad x Florestan) for 12,500 euro and Sweet O'Hara (by Scuderia x Furst Heinrich) for 17,500 euro
Fabiola (by Finnigan x Hochadel) sold to the U.K. for 18,500 euro
Related Link
Russian Buyers with Empty Pockets, Six Westfalians At Auction, Again