Horse Sales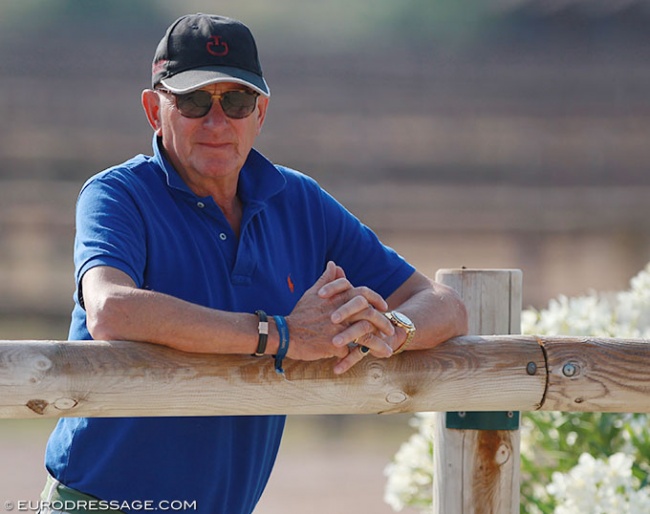 For German horse dealer Jochen Arl the United States has always been the land of opportunity. American horse owners, riders and trainers are passionate and committed about reaching the top of U.S. horse sport and find their way to Europe to acquire the best of the best. 
More than forty years in the business of matching riders to talented horses, Jochen prides himself in having no less than nine of "his" horses competing at the highest echelons of American dressage sport, at the moment
Stepping Stone Contango
The Belgian based Arl began operating as a horse dealer in the 1980s and made his introduction onto the U.S. horse scene in 1995, when managed his first major American deal brokering the sale of the licensed Grand Prix stallion Contango to Mary Alice Malone's Iron Spring Farm.
The Oldenburg bred Contango (by Contender x Kronprinz) sold in 1993 to the Dutch duo Nol Gerritse and Frans Koeman and was trained to Grand Prix level. Jochen then brokered the sale of the 7-year old licensed stallion to Malone.
The preferent sire Contango not only became the foundation stallion of Iron Spring Farm, but also gave his owner 33 Grand Prix and Grand Prix Freestyle wins and six regional Championship titles. Contango sired international Grand Prix horses Ravel (Steffen Peters), Alcazar (Katherine Bateson-Chandler), and Caravella (Megan Lane), as well as seven licensed sons. 
Making Their Mark at the CDI-W Thermal
Fast forward forty years later: Jochen has built a tightly knit network of clients on both the East and West Coast.  The results achieved at the most recent, back-to-back international competition "Desert Dressage" in Thermal, California, from 13 till 23 November 2020 are a testimony to his vision and ability to find some of Europe's nicest horses for an American clientele.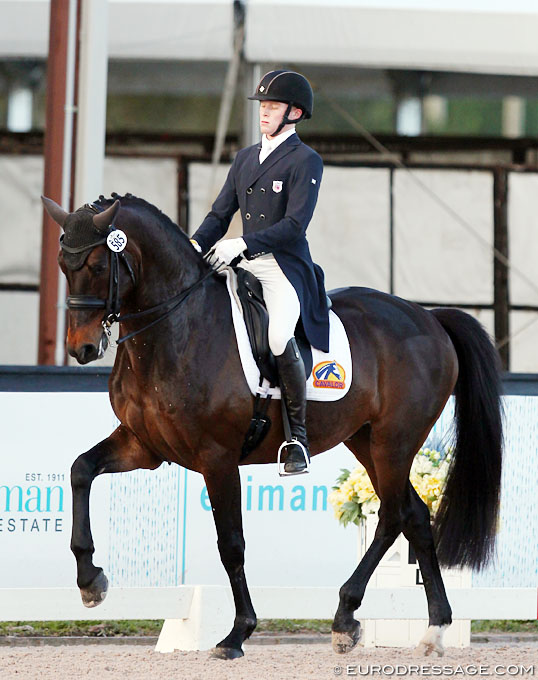 Rising star Benjamin Ebeling scooped up five trophies in all five Under 25 classes he rode in Thermal. Aboard the 12-year old Belgian warmblood Illuster van de Kampert (by Spielberg x Contango), which Jochen sold to the U.S.A. in the spring of 2016, Ebeling scored winning marks up to 73.955%
In Thermal the 31-year old Dawn White-O' Connor made her international small tour debut aboard Akiko Yamazaki's 8-year old KWPN gelding Hudson M (by Cadans M x Tuschinski). Sold by Jochen to Yamazaki's Four Winds Farm in March of this year, the bay gelding competed in his third CDI in his life and first on American soil. They were 5th in the Prix St Georges with 67.353% and second in the Intermediaire I with 69.412%. The pair also competed in two national Test of Choice classes, scoring a winning 76.176% in the Prix St Georges and winning 72.794% in the Inter I.
The 16-year old Hanoverian gelding Don Antonio (by Don Frederico x A Jungle Prince), sold to the U.S.A in 2016, is proving to be a valuable Grand Prix schoolmaster to 52-year old Tina Caldwell, who is gaining mileage with the bay at her third CDI in her career in Thermal. 
Striking Gold with Akiko Yamazaki
One of Jochen's most loyal partners is none other than Akiko Yamazaki, long-time sponsor of U.S. Olympian Steffen Peters. Yamazaki and Arl first struck gold when Jochen sourced Rosamunde as Steffen's successor for Olympic ride Ravel. The mare ended up winning 30 international dressage classes and represented the U.S.A. at the 2017 World Cup Finals in Omaha.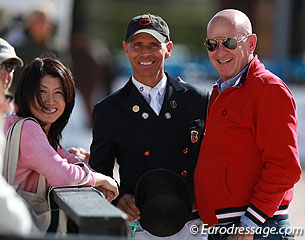 Akiko is a highly accomplished Grand Prix rider in her own right and is supporting her two rising dressage daughters, Miki and Emi, along the way. Since Rosamunde, Jochen has been supplying Akiko with a steady stream of outstanding dressage talent. 
Aboard the 13-year old KWPN gelding Chopin R (by Jazz x Ferro), Akiko most recently became the reserve champion in the 2020 California Regional Dressage Championships at Intermediaire II level.  With the 10-year old Danish gelding Gronskovlunds Romeeo (by Skovens Rafael x Rotspon) she placed fourth in the 2020 U.S. Developing Grand Prix Horse Championships.
Junior rider and American team vaulter Miki Yang took on the ride on Akiko's small tour horse Donavan, a 13-year old KWPN gelding by Vivaldi x San Remo. The newly minted pair successfully campaigned in Miki's first Prix St Georges tests at the CDNs at Greenville Equestrian Center and Starr Vaughn Fall Dressage. Mother and daughter have temporarily swapped horses as Akiko is now riding's Miki's 10-year old Portuguese Sport Horse-registered Ascot de Massa (by San Amour x Galopin de la Font). 
Arl has a long standing training collaboration with Portuguese Grand Prix rider Maria Paes do Amaral, who prepared three of these sales horses - Illuster van de Kampert, Don Antonio, and Gronskovlunds Romeeo - before their departure to the United States.
Florida Success
Also on the East Coast of America horses sold by Jochen have proven their worth for U.S. dressage sport.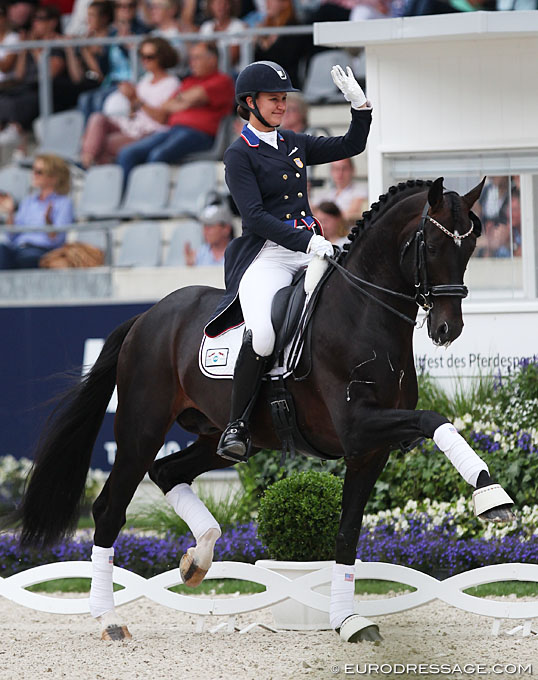 Prime example is of course Betsy Juliano's Salvino (by Sandro Hit x Donnerhall), who with Adrienne Lyle has been a fixture on the U.S. Dressage Team. Lyle and Salvino won team silver at the 2018 World Equestrian Games, finished 7th at the 2019 World Cup Finals in Gothenburg, and are short listed for the 2021 Tokyo Olympics. 
The 24-year old Sara Hassler and Harmony Sport Horses' KWPN gelding Boitano (by Santano x Whinny Jackson) clocked four international victories at small tour level in 2019 and claimed the bronze medal at the 2019 U.S. Small Tour Championships. This year they moved to big tour level and captured the 2020 U.S. Under 25 Champion's title. Jochen sold Boitano to the U.S.A. as an FEI hopeful in 2014
Interested to find out which other international calibre horses Jochen has for sale in his portofolio? Feel free to get in touch with him. 
Photos © Astrid Appels
Related Links
Ruoste and Kontestro DB Post New Personal Best Score at 2020 CDI Oldenburg
Jochen Arl and Henri Ruoste's Shared Dream of 2020 Tokyo Olympic Games Within Reach
Jochen Arl Shifting Gears, Putting Henri Ruoste in Drivers' Seat of Horse Sale Business
Akiko Yamazaki Acquires Jochen Arl's Hudson M as Grand Prix Hopeful for Dawn White-O'Connor
Famoso, New Rising Grand Prix Star at Werndl Yard in Aubenhausen
Three Rising Grand Prix Horses Find Their Way to the U.S.A.
American Syndicate Acquires Sandronnerhall for Adrienne Lyle