IDRC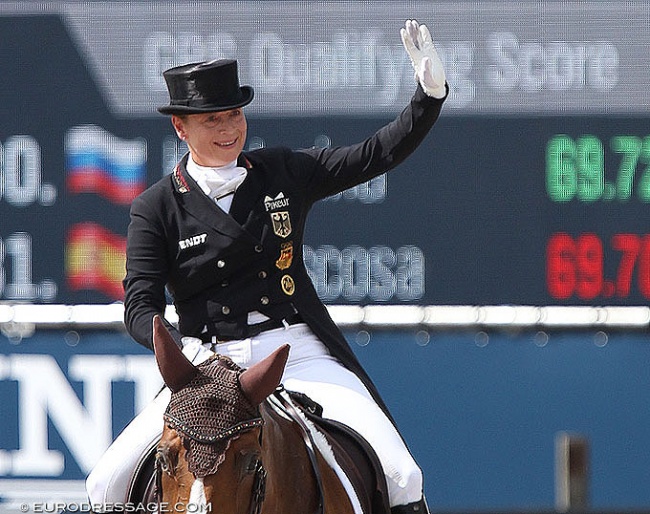 At the General Assembly of the International Dressage Riders Club (IDRC) on 7 December a new board of directors has been elected. This is the first major renewal of the IDRC board in 10 years. 
German core
German Olympian and world nr 1, Isabell Werth, has been elected president of the club, succeeding Kyra Kyrklund who took on the position in 2010. Kyrklund will stay on as vice-president. 
German DOKR selection committee member Klaus Roeser has been elected secretary-general, succeeding Wayne Channon, who resigned two years ago but remained on post ad interim until a successor was found. 
German Grand Prix rider Michael Klimke has been elected treasurer. 
New Board Members
There has also been a rotation of sitting board members. 
Remaining on the board are Spanish Beatriz Ferrer-Salat, who is the FEI Dressage Committee Athletes' Representative, as well as Catherine Haddad (USA). 
In-coming Board members are Carl Hester (GBR), Hans Peter Minderhoud (NED), Victoria Max-Theurer (AUT) and Yvonne Losos de Muniz (DOM).  They replace outgoing members Hayley Beresford (AUS) and Evi Strasser (CAN).
The IDRC Board is now back at maximum capacity of 10 members. 
New Life into the IDRC 
The new Board was elected during a virtual General Assembly.  New life has been breathed into the IDRC, whose weight has been carried by the same core group of people for at least a decade.
The IDRC website had not been updated for the past three years and its Facebook page is administered by a group of fans, not connected to the IDRC, who allow any type of dressage content appear in the feed. A public board available to riders world wide has been missing. 
The reboot of the IDRC has been led by Isabell Werth, who in this corona year has had more time to actively engage herself in matters that concern the riders. She feels their voice is insufficiently heard within the FEI Dressage Committee, where the rules and decisions of the future of the sport are taken. 
The IDRC General Assembly was attended by just 30 members out of 270 that the club counts. About 60 of them have been paying their membership fee (50 - 100 euro per year).
Related Links
German Take-Over of the IDRC - Isabell Werth Running for President
International Dressage Riders Clubs Signs Memorandum of Understanding with FEI
Top Riders Sign Petition to Retain the Choice for a Top Hat in Grand Prix Competition
Agreement Reached Between IDRC and FEI, Kyrklund Appointed Dressage Committee Athletes' Rep