IDRC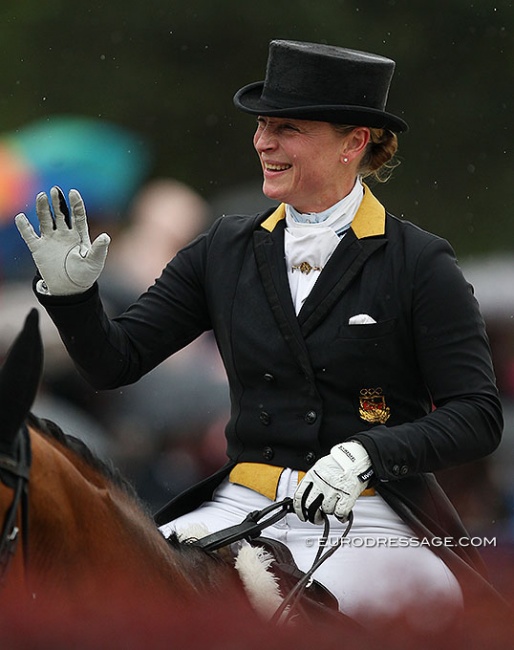 Isabell Werth is running to succeed Kyra Kyrklund as president of the International Dressage Riders' Club (IDRC). 
The IDRC was founded in 1986 and is the official body for athletes representation with the FEI.
Finnish OIympian Kyra Kyrklund has been IDRC president since 2010, when she succeeded Margit Otto-Crepin.
German Take Over
On 7 December 2020 the IDRC will be holding its General Assembly via Zoom, where several functions are up for election. 
For years the IDRC has been shouldered by the British based dressage riders Kyra Kyrklund (as president) and Wayne Channon (as secretary-general). 
Three positions are up for re-election and there are only three candidates for it, all German. 
Isabell Werth is standing for President, Klaus Roeser as Secretary General and Michael Klimke as Treasurer.
German dressage selection committee member and former FEI Dressage committee member Klaus Roeser is running for the secretary-general position, which is now taken by former British team rider Wayne Channon. 
Time for Reflection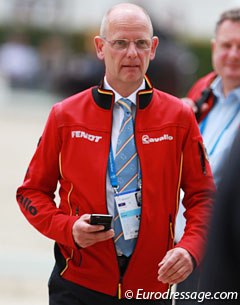 In an interview with Dressursport Deutschland, the world number 1, Isabell Werth, states that due to the corona pandemic she has been home much more than usual, which has given her time to reflect on the state of dressage. 
"Normally one is on the road permanently, travelling and training from show to show. Now there has been sole quiet (in my schedule) and it created the time to be occupied with other matters," Werth explained. "I believe that the international dressage riders need to try to have a strong voice. This has become very obvious recently."
Werth referred to the most recent matters of the mandatory helmet rule, as well as the instatement of the Short Grand Prix for the World Cup circuit. 
"These are issues that concern the riders directly, but in both cases the riders were not consulted," said Isabell. "I believe that this has to change. When I get elected, I want to work on organizing the dressage riders better within the IDRC and position them in a stronger way."
Werth wants to work on improving communication
"We need shorter ways of communication amongst riders," she explained. "We all have no time to read or write long emails. Everything needs to be shorter and function in a very open and trustful way."
Sitting Behind the Steering Wheel
Successors for the top board positions within the IDRC have been searched for years, but no riders were interested to commit and spend their time on sitting behind the steering wheel and running the IDRC.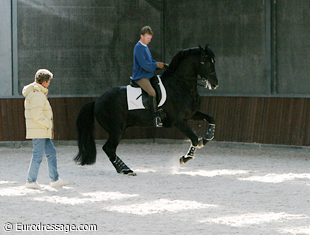 "We opened the opportunity to all international dressage riders and all our members," secretary-general Wayne Channon told Eurodressage. "Isabell has applied for President, Klaus for Secretary-general and Michael Klimke for Treasurer. It is still open for nominations but so far they are the only ones."
Wayne added, "I resigned over two years ago but we needed to find a replacement. Kyra decided this year that she had done enough and wanted the next generation to take over."
The German take-over of the IDRC could be a breath of fresh air within the club. The lack of global representation on the board can only be blamed on those riders, who are not interested to commit. 
"We have a lot of people asking to join as Board Members," Channon added. 
Current IDRC board members, however, is constituted by long-time board members Kyra and Wayne, alongside Beatriz Ferrer-Salat (ESP), Hayley Beresford (AUS), Catherine Haddad (USA), and Evi Strasser (CAN).
The board used to have two more members - Imke Schellekens-Bartels (NED) and Nathalie zu Sayn-Wittgenstein (DEN) - both both resigned when they were appointed team trainer in their countries (2019 and 2017).
Related Links
International Dressage Riders Clubs Signs Memorandum of Understanding with FEI
Top Riders Sign Petition to Retain the Choice for a Top Hat in Grand Prix Competition
Agreement Reached Between IDRC and FEI, Kyrklund Appointed Dressage Committee Athletes' Rep
IDRC President Kyra Kyrklund Issues Statement on IDRC-FEI Feud
Successful IDRC Extraordinary General Assembly Held at Snowhill Farm
FEI Bureau Initiates Suspension Proceedings Against International Dressage Riders Club
Kyra Kyrklund, New IDRC President
Margit Otto-Crepin Resigns as IDRC President
IDRC Refuses to Accept Werth's Resignation as a Member