Russia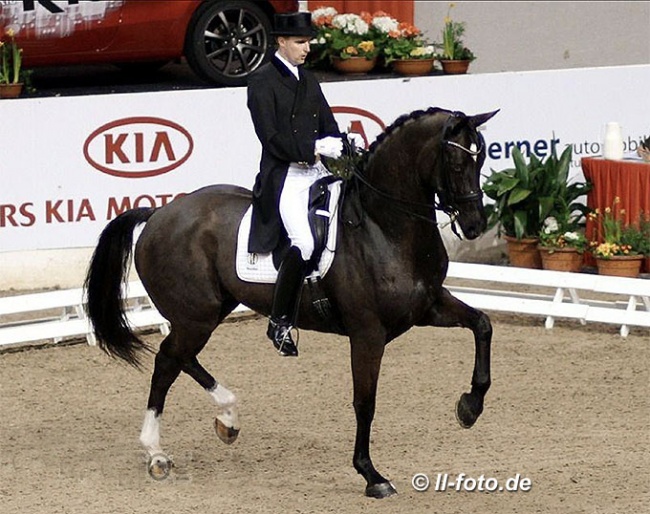 The Russian Grand Prix horse Tacolando Triple R has passed away at age 20 on 2 December 2020.
Tacolando Triple R was a 2000 born KWPN bred gelding by Ircolando out of Efradin (by Akteur x  Cadmus). He was bred by H. van Ramselaar.
The black was selected for the 2003 KWPN Stallion licensing but didn't pass the second phase.
Sold to the U.S.A.
As a 3-year old Tacolando Triple R sold to Dr. Heather Houck and Larry Walmer of Monarch Farm in the United States.
In 2006 he was long-listed for the U.S. team for the World Young Horse Championships under Jan Brons, who rode the horse that year.
American Olympian Robert Dover trained the black to Grand Prix level. In December 2010 Tacolando came up for sale and Dover hoped to find a sponsor to secure the ride for himself as a future London Olympic hopeful.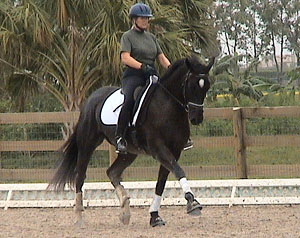 On his blog at the time, doversworld.com, Robert wrote: "if you have that Olympic fire in your blood as well as strong American patriotism, I would ask that you consider my request to purchase this horse and allow me to help Steffen Peters and the others to strengthen our chances for a medal in London … when I commit to making a Team, at least during the last couple of decades, I did it and most of the time, helped to bring home a medal. London will be a great Games and this horse can be a great."
No American buyer was found and Tacolando was shipped to Europe to be sold via Hubertus Schmidt. The German team rider competed the horse at a few national competitions in the summer of 2011, such as Heroldsberg where they scored 71,021% in the Grand Prix and 73,625% in the Special.
Danish Olympic Hopeful
In November 2011 Tacolando sold to Denmark
Andreas Helgstrand and Hanni Toobuy Kasprzak acquired the horse together as Andreas' London Olympic hopeful and potential future back-up horse for Anna Kasprzak. 
Andreas competed Tacolando at just two CDi's in 2012: Vestfold and Bremen, where they scored 66.362 and 70.085% in the Grand Prix tests. The marks were not enough to stand out for Danish Olympic selection despite being short listed.
Russian Schoolmaster
Tacolando then sold to Russian entrepreneur Nikolai Aristov, the owner of the equestrian centre Maxima Park north of Moscow.
In the FEI database, the ownership of the horse changed a few more times, to Andrey Goncharov and to Sergey Tsuverkalov all in 2013, but in principle the horse stayed at Maxima Park the rest of his life.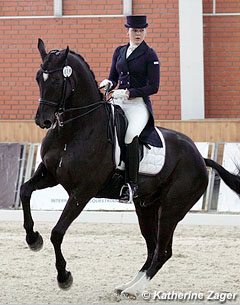 The horse was allocated to the now 29-year old Polina Afansieva, who has been the main resident trainer at Maxima Park since it was built. 
The new pair made its CDI debut in Zhaskhiv, Ukraine, and scored 66.787% on their premier. One month later they competed at the CDI Minsk, which turned out to be their last international ever. 
Tacolando struggled with injuries and in addition he had a very sensitive stomach, which often caused flair-ups of colic. It was decided in the best interest of the horse to no longer travel him. 
"He had a lot of stomach problems and we were afraid to transport him to Europe, because it's quite long trip," Afanasieva told Eurodressage. "The last years he had basic training and was in a good shape, but still had some easy colics sometimes."
Unfortunately on 2 December, Tacolando suffered a major colic attack and despite being rushed into surgery, he could not be saved. The damage inside was too great.
"I'm incredibly lucky that I had such a horse as a schoolmaster," said Afanasieva. "I learnt so much from him; all feelings I git from him will stay with me forever, starting from correct collected riding and to finishing with a fantastic passage."
Photos © LL-foto - private - Katherine Zager 
Related Links
Eurodressage Photo Database: Tacolando Triple R
Russian Polina Afanasieva Stands her Ground Amongst Seniors at 2013 CDI-W Zhashkov
Names of Riders Set on Final 2012 Danish Olympic Short List
Danish Olympic Long List for 2012 Announced
Tacolando Triple R Sold to Andreas Helgstrand
American Short List for the 2006 WCYH in Verden